Flooding driven by heavy rain has prompted evacuations in parts of the UK as Storm Franklin approaches.
There is severe flooding in parts of Northern Ireland, while people in Yorkshire and Manchester have been forced to leave their homes for safety.

The brunt of the new storm is forecast to hit overnight.

Franklin comes days after Storm Eunice killed three people and left 1.4 million homes without power, with nearly 56,000 still to be reconnected.

The Met Office has issued two weather warnings for Sunday evening and Monday:

* An amber warning for wind in the north of Northern Ireland from 00:00 GMT to 07:00 on Monday

* A yellow warning for wind covering Wales, Northern Ireland, most of England and parts of south-west Scotland from 12:00 on Sunday until 13:00 on Monday

More than 140 flood warnings are in place across the north of England, with Yorkshire and Manchester the worst hit by flooding.

North Yorkshire Fire Service has been working to rescue people, posting a picture of one in progress as waters engulfed a caravan site in Knaresborough.

More than 400 homes in south Manchester are being evacuated after two severe flood warnings indicated a danger to life.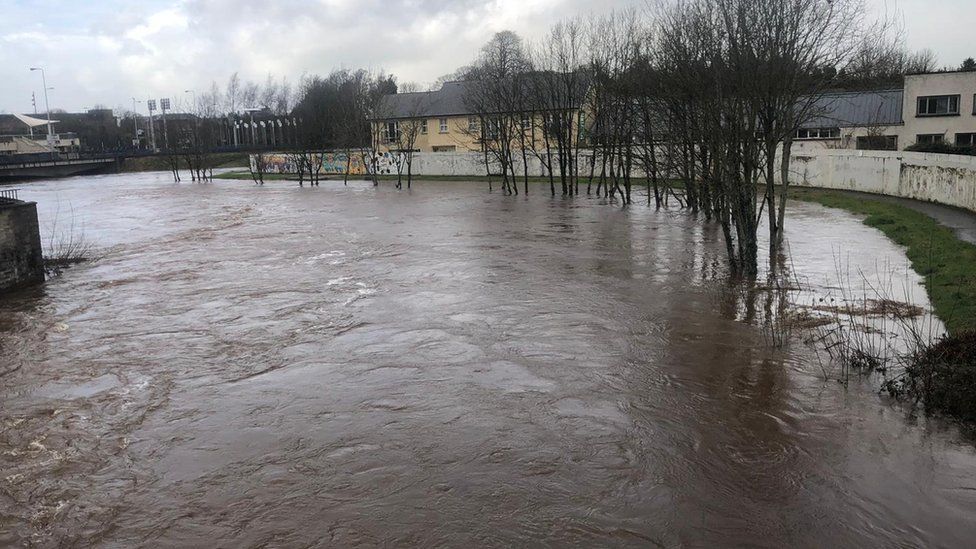 Northern Ireland has also seen severe flooding, with efforts underway to prevent rivers from bursting their banks

In Northern Ireland, heavy rain has caused severe flooding, with counties Londonderry and Tyrone the worst hit.

Efforts are also under way to prevent the Drumragh and Finn rivers from bursting their banks, with workers using pumps to try to keep the water contained.

In Shropshire, the River Severn has been threatening to burst its banks and emergency teams have erected flood barriers in Ironbridge to try to prevent the waters from reaching homes.

The runway lights at Gatwick Airport were knocked out for nearly 20 minutes by the weather at around 18:30 on Sunday evening.

The airport said the outage did not have an impact on flights - although there are some delays and cancellations because of the high winds.

Natural Resources Wales (NRW) said flooding was expected in several areas along the River Severn in Powys.

Eighteen flood warnings and seven alerts have also been issued across the Scottish Borders, Ayrshire, Orkney and the Western Isles by the Scottish Environment Protection Agency.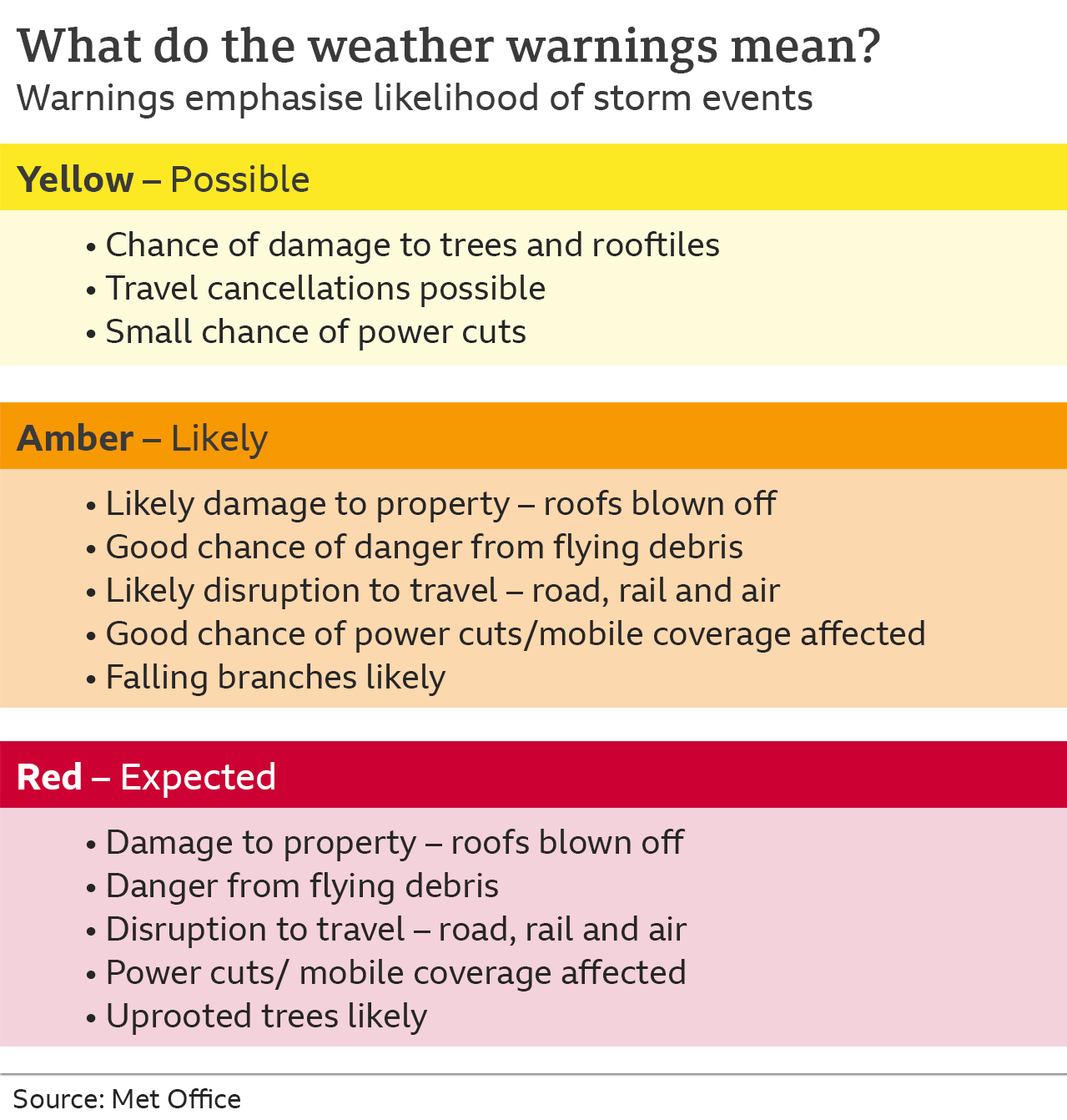 Franklin is the third storm to hit the UK in a week, and follows the disruption from Storm Dudley and Storm Eunice.

High winds could cause further power cuts, transport delays and damage to properties, the Met Office has warned.

Business and Energy Secretary Kwasi Kwarteng said 55,800 properties were still without power - down from 190,000 on Saturday.

He said: "UK Power Networks (SE + E England) is receiving mutual aid from other network operators across the UK to bolster their restoration efforts."

As of Sunday afternoon, the Energy Networks Association confirmed around 56,000 homes still had no power, including 21,500 in South West England, 17,000 in South East England and 12,000 in South England.

It added that around 27,000 homes had been reconnected so far over the course of Sunday.

Electricity provider Western Power Distribution (WPD) said Friday saw the most power cuts the South West has ever experienced in a 24-hour period.

Storm Eunice tore through the UK on Friday bringing widespread disruption as trees were toppled, trains were cancelled, schools closed as well as affecting power supplies.

A female passenger in her 30s died in Highgate, north London after a tree fell on a car. The driver, a man in his 30s, was taken to hospital.

A man died in Merseyside after debris hit the windscreen of a car he was a passenger in.

In Alton, Hampshire, two men were in a pickup truck when it was crushed by a falling tree. The passenger died at the scene while the driver was taken to hospital with serious injuries.

The O2 arena in London will remain closed until Friday after part of its roof was ripped off in Storm Eunice's high winds.

Rapper Dave was forced to postpone his gigs and will announce new dates in the next 48 hours, a statement from the O2 said.

Meanwhile UB40 has been rescheduled to 25 February, Simply Red to 2 and 3 March, The Lumineers to 4 March and Davido to 5 March, the venue said.

Meteorologist Becky Mitchell said this was the first time the Met Office had recorded three major storms in a week since the naming system was introduced seven years ago.

She told the PA news agency: "At the moment we've got a really active jet stream, which is why we're seeing so many storms track right towards the UK.

"We had Dudley on Wednesday, Eunice on Friday and Franklin today."