A 21-year-old woman who killed the "love of her life" by running him over with her car has avoided a prison sentence.
Grace Ross struck Joshua Kerr, 18, near the farm where he worked in Leslie, Fife, on 22 May 2020. He died after suffering a catastrophic head injury.

Ross, who admitted causing his death by careless driving, was ordered to carry out 300 hours of community service.

She was also banned from driving for five years.

In June, the High Court in Glasgow heard how the couple had been together for three years and lived together for two.

Prosecutor Gavin Anderson said that before the incident they had argued over Mr Kerr's finances, including what was described as a "cash app" on his phone.

Mr Anderson told the hearing it was Ross' "suspicion" that the farmhand was hiding things from her.

She had grabbed his phone and got back in her car, accelerating harshly.

She then went on to do a three-point turn on the narrow road and investigators believe she was travelling at just 2.3mph before she hit Mr Kerr.

He fell under the car on his back and both offside wheels went over him - one of which left a tyre imprint on his trousers.

A wheel then ran over his head, causing a "significant" skull fracture.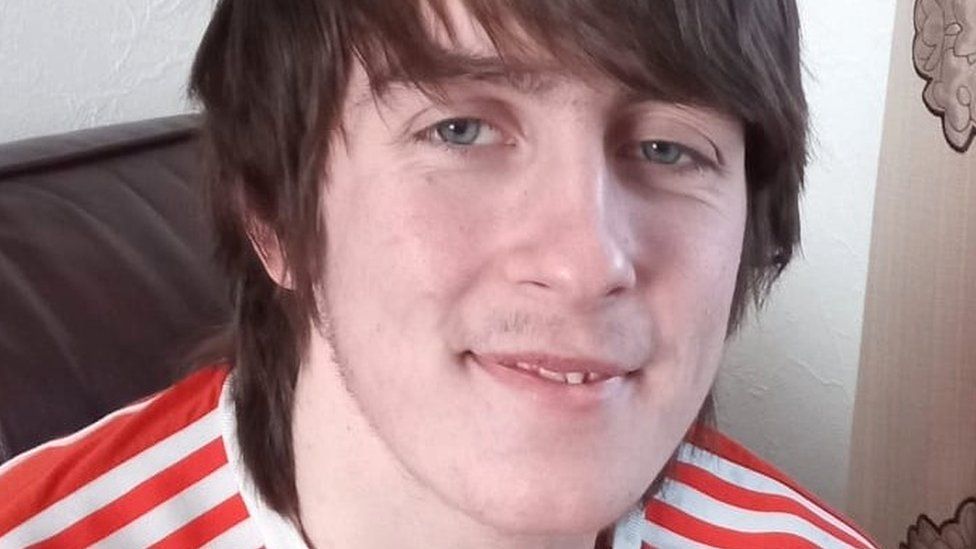 Joshua Kerr died after suffering a significant skull fracture

The court heard that Ross was hysterical and tried to help the teenager before dialling 999.

When police arrived she begged police to let her give her boyfriend "one last hug" but was stopped from doing so.

It later emerged her concerns about the app had been "unfounded".

Ross, from Glenrothes, Fife, appeared at the High Court in Edinburgh for sentencing.

Her lawyer Donald Findlay QC told judge Lord Braid that she was genuinely remorseful for causing Mr Kerr's death.

Mr Findlay also told the judge his client had suffered post traumatic stress disorder having seen her boyfriend die.

He urged Lord Braid not to send Ross to jail saying it was not in the public interest.

'Genuine' remorse

Lord Braid said he had to take into account sentencing guidelines for people under the age of 25 which state that accused young people should only be sent to prison if no other sentence is available.

He also concluded that the circumstances of the collision and its aftermath meant that Ross could be dealt with by a community payback order.

Passing sentence, Lord Braid told her: "You stopped your car, got out of the vehicle and contacted the emergency services. You administered first aid to Mr Kerr.

"I have read victim impact statements which describe the loss and void which have been left in the lives of Mr Kerr's family and friends. There is no sentence that I can pass which can ever fill that.

"I have also taken into account the remorse that you expressed which I accept is genuine.

"I have come to the view that there is a suitable alternative to imprisonment. I will impose a community payback order of 300 hours unpaid work which will have to be completed within 18 months."

'Love of her life'

Ross was initially charged with Mr Kerr's murder before the charge was changed to one of causing death by dangerous driving. In June this was replaced with a charge of causing death by careless driving.

Before sentence was passed, Mr Findlay described the case as being "tragic at all levels" and expressed his condolences to Mr Kerr's family.

He said Ross - who had been due to study politics at university before the incident - had been "deeply affected" by the incident and had suffered PTSD.

He added: "Miss Ross continues to grieve for the loss of her boyfriend, her partner, for the love of her life.

"She has never been anything other than deeply sorry for the events that happened that day.

"This is a case which I would invite your lordship to consider why it would serve the public interest in depriving this young woman of her liberty.

"She is 21 years of age. She has her whole life in front of her."