Thousands of workers across a number of industries are taking, or considering, strike action.
Many unions say wages are not keeping pace with the rising cost of living and their members need a pay rise.

So who's going on strike, when, and how will it affect you?

Railways

Railway unions are in a continuing dispute with the government and railway companies over pay, job cuts and changes to terms and conditions.

No more strike dates have currently been set, but more strikes are very likely, says union boss Mick Lynch after a summer of disrupted travel for passengers. Unions have to give two weeks' notice of any walkout.

Strikes in recent weeks left only 20% of trains running on some days and no services in parts of the country - hitting commuters and people travelling to big events such as the Commonwealth Games.

Barristers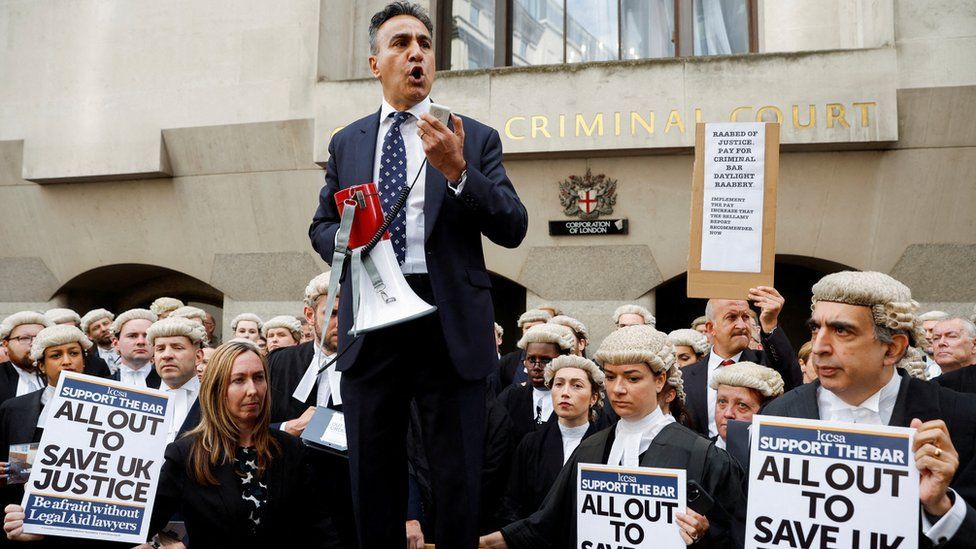 The chairman of the Criminal Bar Association, Jo Sidhu, speaks during a strike in June

Barristers are going on an indefinite, uninterrupted strike over an ongoing row with the government over pay, working conditions and legal aid funding. It is due to begin on 5 September.

During previous days of industrial action between 27 June and 5 August, according to the government some 6,235 court cases were disrupted, including 1,415 trials.

The Criminal Bar Association is asking for a 25% pay rise for legal aid work, after members rejected a government pay offer of 15%.

Postal services

Workers at Royal Mail have voted for further strike action - after already deciding to walk out on 26 and 31 August, and 8 and 9 September.

During strike days, Royal Mail said it would not deliver letters - except for special delivery - and would prioritise Covid tests and prescriptions and deliver as many tracked and special delivery parcels are possible. Post offices will be open, apart from on 26 and 27 August when a few branches will be shut.

The Communication Workers Union (CWU) has asked for a pay rise that reflects the current cost of living.

Container ports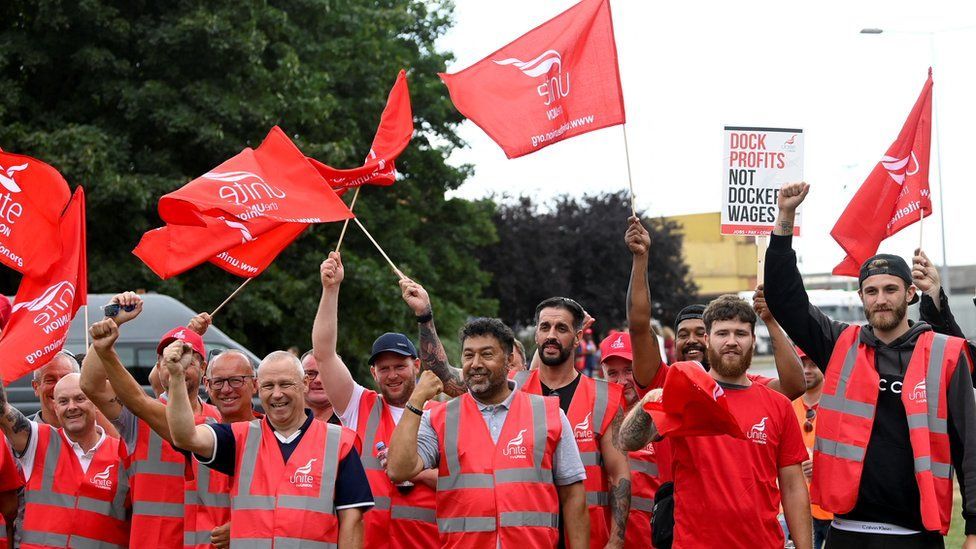 Workers protest outside of the UK's biggest container port in Suffolk

A strike at the UK's busiest container port is under way after union members walked out on Sunday for an expected eight-day walkout.

The Port of Felixstowe in Suffolk handles about 48% of the UK's container trade. Freight transport body Logistics UK said it was "not expecting massive disruption", but shipping group Maersk disagreed - warning that some vessels could be delayed.

Incoming container ships, mainly from the Far East, contain millions of pounds of goods - including clothing destined for High Street stores and electrical components used by factories.

Risk management firm Russell Group says that trade could be diverted to other ports, That move could lead to a delay in goods reaching their buyers.

A previous 7% pay offer from the port operator was described as "significantly below" the rate of inflation by Unite.

Telecoms

BT and Openreach workers have announced fresh strikes after thousands of staff walked out twice in July in a row over pay.

The CWU said about 40,000 members will walk out on 30 and 31 August.

BT said it would postpone any non-essential planned engineering or software updates, in a bid to reduce the impact of industrial action.

Teachers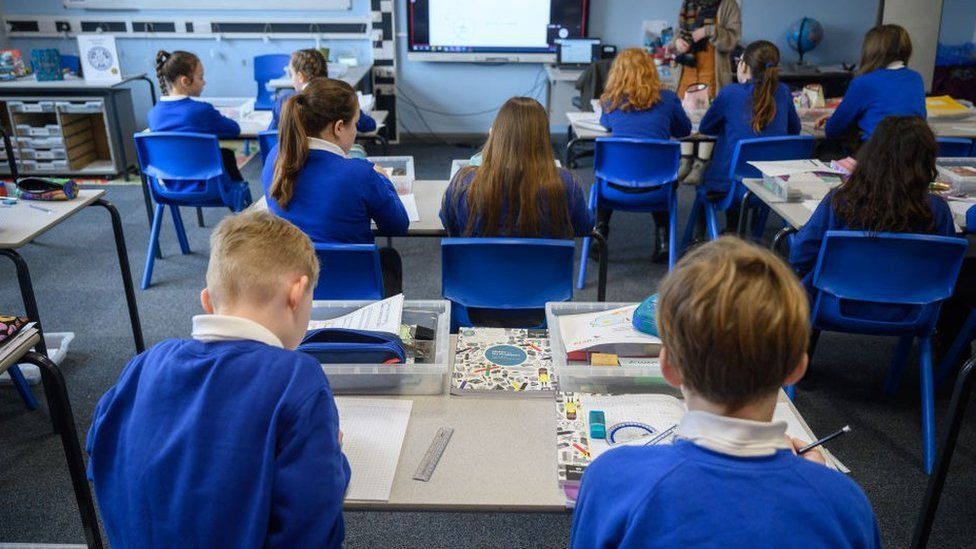 Teachers are asking for a 12% pay rise

Various teaching unions have planned or threatened to take strike action over disputes on pay and working conditions - with unions calling for a 12% pay rise.

NEU members working in sixth form colleges will be walking out on 17 October.. If necessary further strike days will be held on 5 and 20 November.

Members of teaching union NASUWT have also warned of a potential vote on strike action after its members in Wales rejected a below-inflation pay rise.

Hospitals

Unite and the Royal College of Nursing have said that hundreds of thousands of NHS workers will be balloted on strike action in a protest over a salary offer.

The new chief executive of Bristol Royal Infirmary has warned there is a "real risk" staff at Bristol hospitals will walk out in the summer.

Union leaders similarly warned at the beginning of August that NHS workers in Scotland were prepared to strike over pay - including doctors.

Refuse workers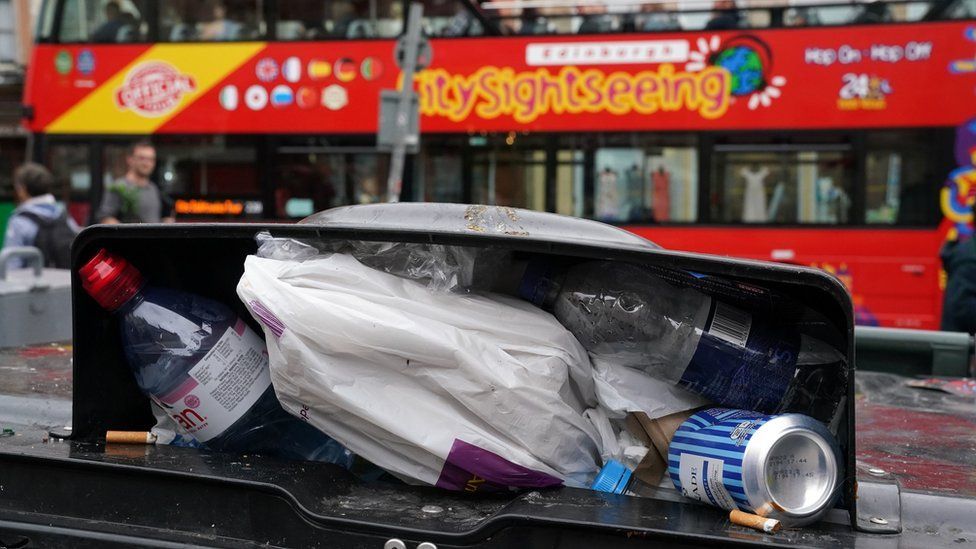 Edinburgh is facing a 12-day waste collection strike

Refuse workers across Scotland are striking after unions rejected a pay offer equivalent to a 3.5% increase.

A 12-day walkout in Edinburgh has started with residents warned to expect "significant disruption" as rubbish has started to pile up across the city.

Other waste collection workers across the country have also planned walkouts, including refuse staff in Windsor and Maidenhead.

What are the rules for strikes?

*  A strike can only happen if a majority of union members agree to it via an organised vote, known as a ballot

*  If workers do decide to take industrial action, the employer must be given 14 days notice, unless otherwise agreed

*  Police officers are banned from taking strike action and nurses have an agreement that they should only walk out if it does not risk the wellbeing of patients

*  Workers on strike can expect to lose wages for the time they do not work

*  People can choose to continue working during a strike

The government has recently introduced a new law allowing businesses to use temporary agency workers to fill in for striking workers.

However, the union Unison says it will mount a legal challenge.