The NHS has begun the biggest mass vaccination campaign in its history, with a jab that protects against Covid-19.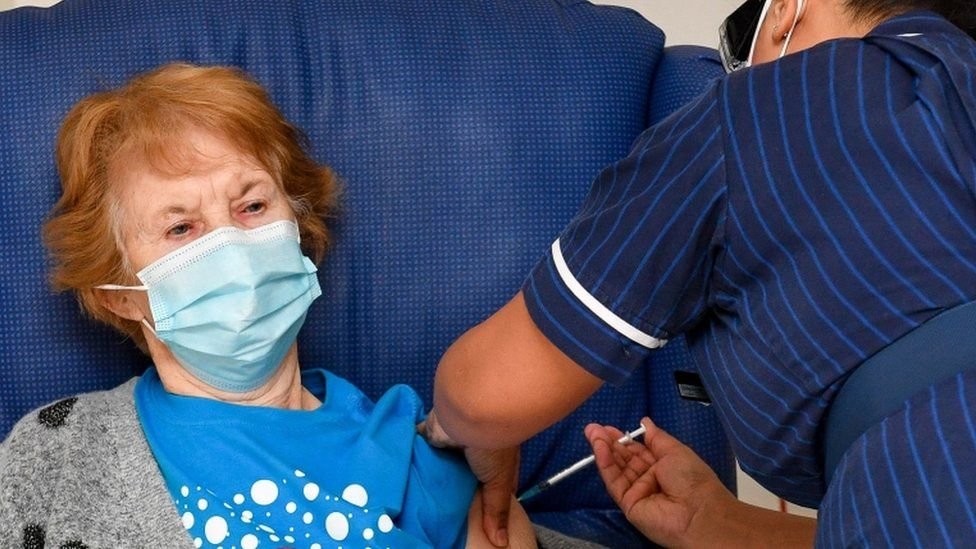 Margaret Keenan, aged 90, was vaccinated at University Hospital, Coventry on Tuesday morning
The Pfizer-BioNTech vaccine was found to be safe and effective by the UK medicines regulator last week, and was approved for mass use in over-16s.

Two other vaccines - developed by Oxford-AstraZeneca and Moderna - could also be approved soon and ready for widespread use.

Who will get the vaccine first?

Broadly, vaccines are being given to the most vulnerable first, as set out in a list of nine high-priority groups, covering about a quarter of the UK population.

They are thought to represent 90-99% of those at risk of dying from Covid-19.

1. Residents in care homes for older adults and their carers

2. 80-year-olds and over and frontline health and social care workers

3.075-year-olds and over

4. 70-year-olds and over and clinically extremely vulnerable individuals

5. 65-year-olds and over

6. 16 to 64-year-olds with serious underlying health conditions

7. 60-year-olds and over

8. 55-year-olds and over

9. 50-year-olds and over

People aged over 80 in hospital, frontline health staff and care home workers have been the first to get the jab at 70 designated hospitals hubs across the UK.

As soon as there is clarity on how smaller batches of the vaccine can be transported safely at ultra-cold temperatures of -70C, care home residents will follow - probably from 14 December.

People will be vaccinated twice - around 21 days apart - and full immunity starts seven days after the second dose.

The second phase of vaccination will focus on the rest of the population, mainly the under-50s, who are much less likely to be ill with Covid-19 and therefore less of a priority.

It could be well into 2021 before this phase begins, by which time more Covid vaccines could be approved for use.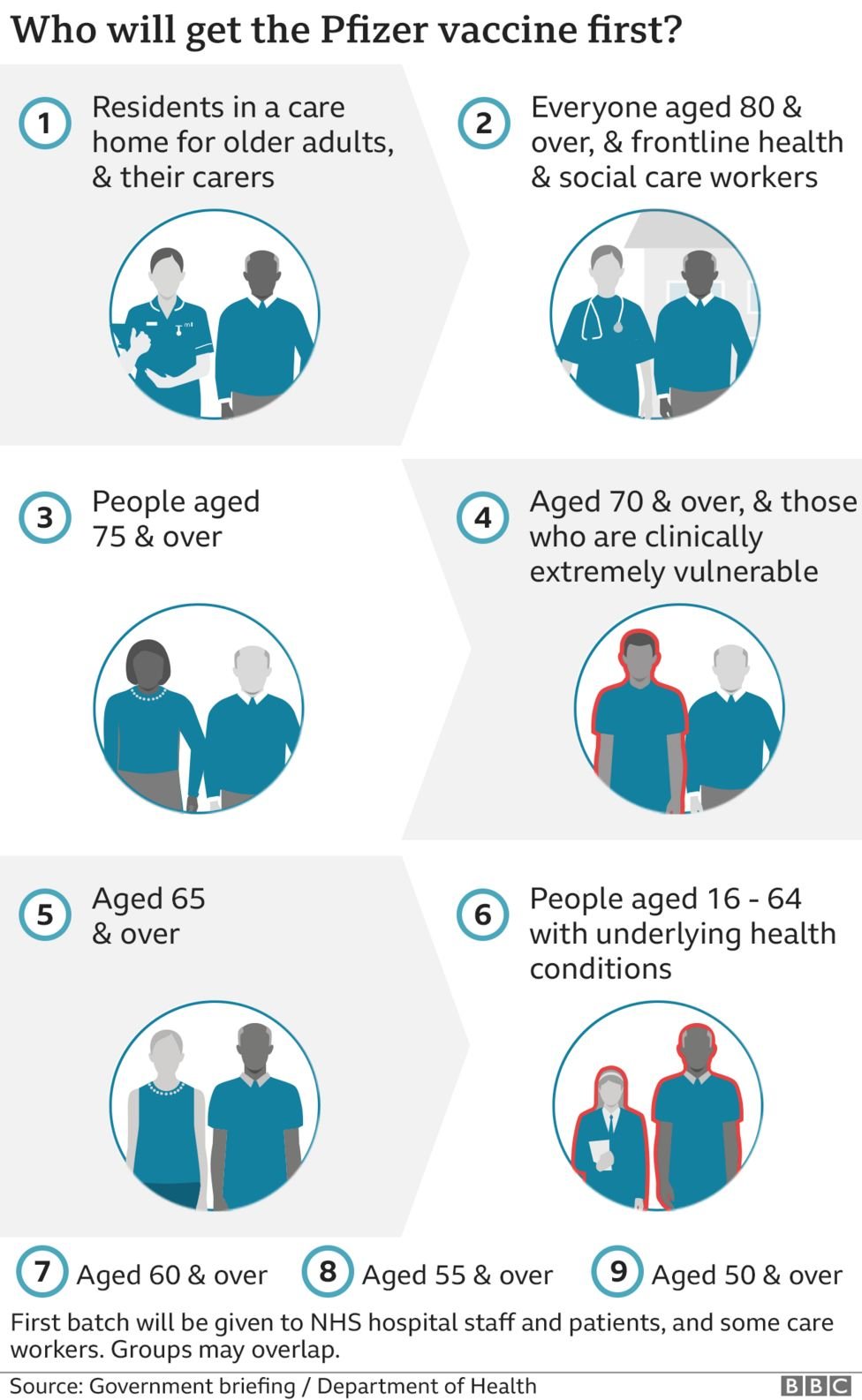 How many vaccine doses are there?

The UK is initially expecting delivery of 800,000 doses - enough for 400,000 people - which will be shared out fairly across the four UK nations.

*  in Scotland, which is receiving 65,000 doses, vaccinators will be first to get the jab

*  in Northern Ireland, a nurse received the first of 25,000 doses

*  in Wales, 6,000 doses will be administered from special centres by the end of this week

*  in England, 50 hospitals are storing and administering the first vaccines

Although the UK was planning to have 10 million doses of the Pfizer jab before the end of the year, it is likely to receive just four million - enough for two million people.

The British-made Oxford-AstraZeneca vaccine is expected to be approved by the UK regulator soon, and millions more doses could be made available quickly because it can be stored at normal fridge temperatures.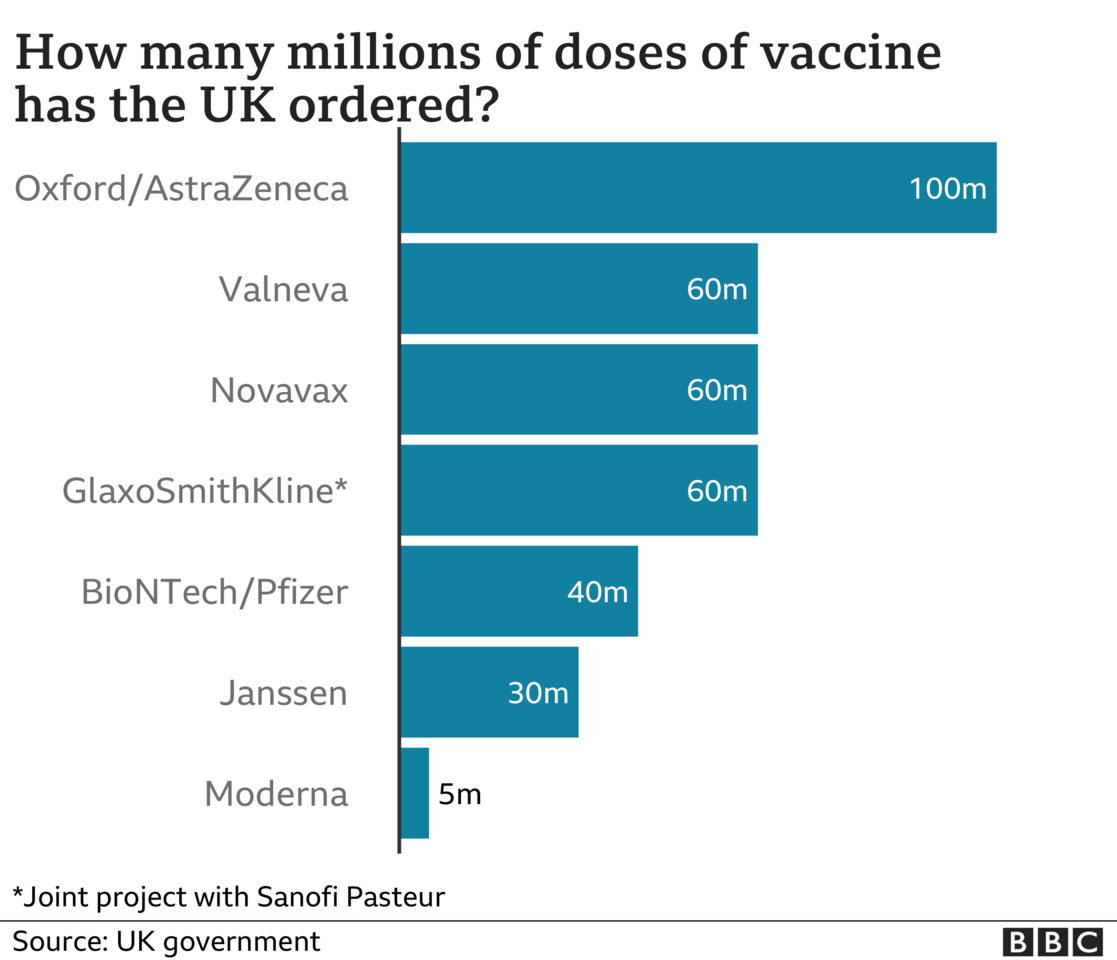 Where will I get a vaccine?

You'll be invited to book an appointment to get a vaccine as soon as it's your turn, probably by letter.

Vaccinations will take place:

*  in hospital hubs - about 70 have been set up across the UK so far

*  in care homes, when the logistics are confirmed

*  in thousands of GP surgeries as stocks become available

*  in sports stadiums and conference centres acting as major vaccination hubs next year

The NHS is recruiting 30,000 volunteers to help with the rollout, including lifeguards, airline staff and students - who will be trained to give the jabs.

Will everyone be vaccinated?

The eventual aim is that as many people as possible over the age of 16 receive a Covid-19 vaccine.

That would be more than 50 million people - a huge challenge.

There is no timeframe on this momentous task, but it's clear that's the long-term plan in 2021.

The NHS has plenty of experience delivering vaccines to huge numbers of people; for example this winter's flu jab should reach 30 million.

A Covid vaccine won't be compulsory though - no other vaccines in the UK are - and experts say this approach doesn't help create confidence in the vaccine.

At present, the government has ordered seven different types of vaccine and expects to receive 355 million doses, including 100 million of the Oxford/AstraZeneca one.

If everyone needs two doses, that would certainly be enough for every adult in the UK.

I'm pregnant - will that affect when I'm vaccinated?

For precautionary reasons, and because the vaccine was not tested on pregnant women during the trials, the official advice is that you should wait until after the birth of your baby.

There is no suggestion the advice is based on any safety concerns with the vaccine.

Pregnant women are likely to be low down the list of priority groups anyway because of their age, and may only be offered a vaccine in the second phase in 2021.

Can I pay to be vaccinated sooner?

No - this vaccine is being rolled out free to people via the NHS.

You can't jump the queue by paying for it, but there should be plenty of vaccine to go round.

Should I leave a gap between getting the flu and Covid vaccines?

If you're eligible for a flu vaccine, you should get it as soon as possible, particularly if you will also be in a high-risk priority group for a Covid jab.

Having both illnesses at once this winter could be dangerous.

At its last meeting, the JCVI recommended leaving at least seven days between the vaccines.