The Conservatives have lost control of their only council in Wales.
Labour has become the biggest party in Monmouthshire, with the final results now declared in the county.

Elsewhere across Wales, Labour gained two councils and lost one, and Plaid Cymru gained three.

Labour regained Blaenau Gwent and Bridgend, and held Caerphilly, Rhondda Cynon Taf, Newport and Torfaen, while Plaid retained Gwynedd and gained Anglesey.

Monmouthshire was the only local authority held by the Tories, but Labour will have more seats this time, and it falls to No Overall Control (NOC).

Welsh Labour leader Mark Drakeford said it had been a "good day for Labour" while Senedd Conservative leader Andrew RT Davies said he accepted things "might not have gone our way".

'We've made gains in every part of Wales'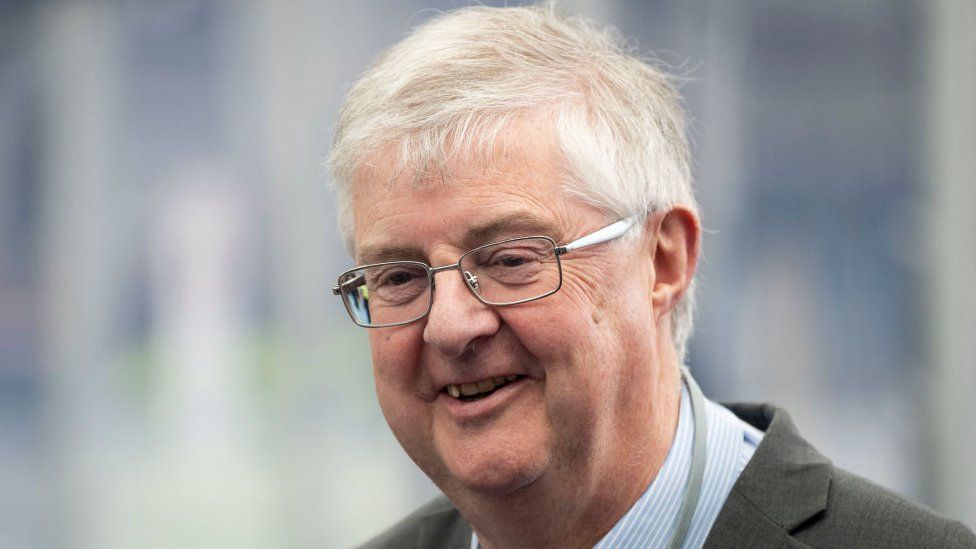 Labour First Minister Mark Drakeford at the count in Cardiff

First Minister Mr Drakeford said: "We've made gains in every part of Wales, (doing) especially well where it's been the Conservatives who have been our main opponents".

The Welsh Labour leader said it set the ground for the party to win seats back lost at the 2019 general election.

Tory Mr Davies said: "We went into these elections with a difficult national picture and it appears that has had an impact."

But he said the Tories had a strong brand. "We have to build on that strong Welsh Conservative brand in the coming months," he said.

The final result in 46-seat Monmouthshire was Labour 22 seats (up 12), Conservatives 18 (down 12), Greens one (up one), Others five (up one). BBC Wales has been told that the Greens will work with Labour.

One seat in the Llanfoist ward had to be settled by a coin toss after the Labour and Conservative candidates finished neck and neck. The coin came down in favour of the Tory.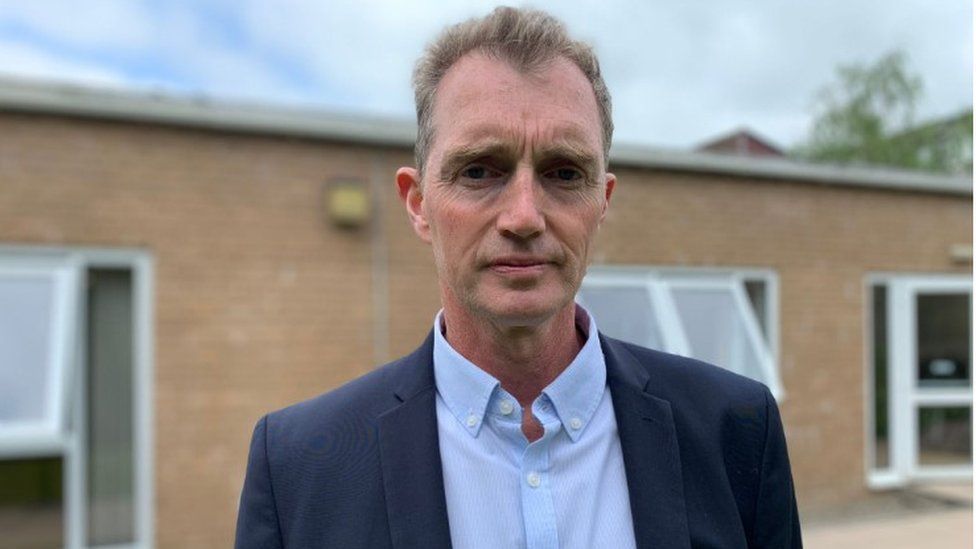 Monmouth MP David Davies says he will continue to support the Tory leadership whatever the results
What do we know?

Labour remains the biggest party in Wales, now controlling eight of the country's 22 councils.

Another 10 councils will not be in the control of any single party, while Plaid Cymru control four authorities.

Having lost Monmouthshire, the Welsh Conservatives have been left with no councils.

There were recounts due in wards in Flintshire and Vale of Glamorgan, but these will not affect the overall results and both councils will be under no overall control.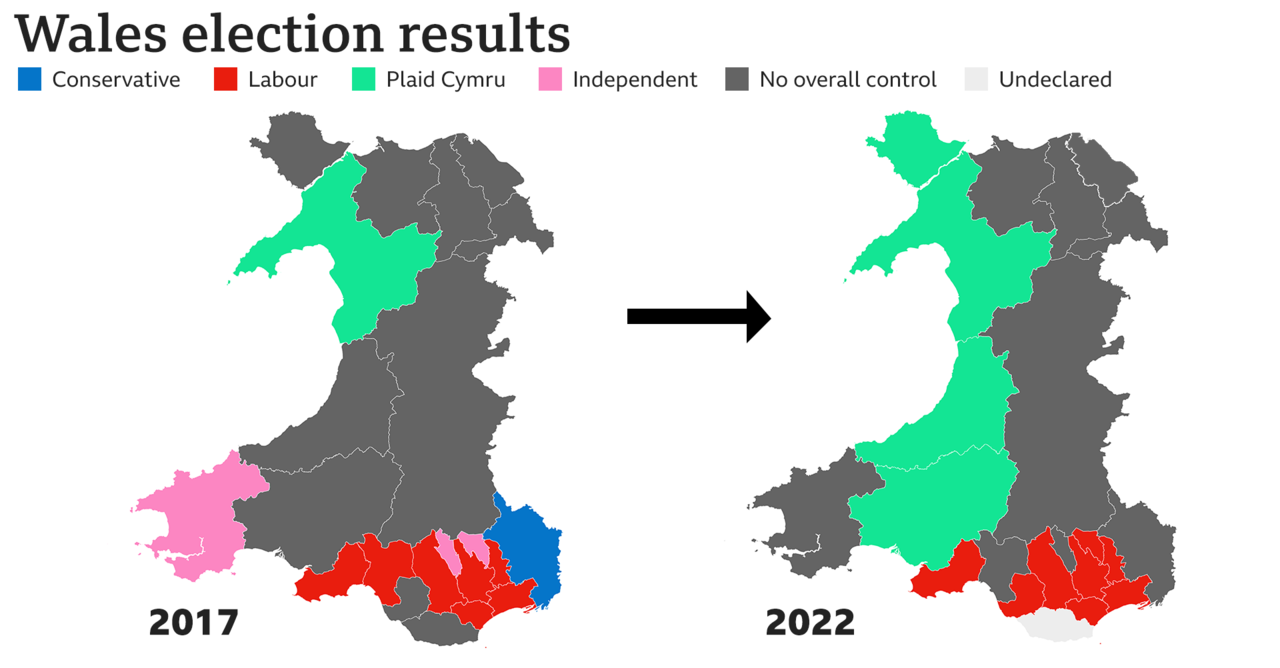 The Liberal Democrats made gains in Powys, while the Green Party won seats in seven councils.

Four council leaders lost their seats - in Blaenau Gwent, Caerphilly, Carmarthenshire and Powys.

In Caerphilly, Labour leader Philippa Marsden received 213 votes in the Ynysddu ward, and was well beaten by two independents - Jan Jones with 1,162 and Janine Reed with 1,150.

The Conservative leader of Monmouthshire, Richard John, spoke of the "hard pain" of results overall for the party.

Welsh Liberal Democrat leader Jane Dodds said it was the start of a "comeback" for her party after making significant gains in Powys, where they were the largest party with 24 seats.

She believed voters were "trusting us again" as a credible alternative to Labour and the Conservatives.

What are the results across Wales?

There will be no final result in Flintshire on Friday, with the results of four seats to be announced on Saturday after recounts, but the council will be under no overall control.

In Flintshire, 63 of 67 seats have been called. The current total is Labour 29, independent 28, Lib Dem four, Conservative two.

Plaid Cymru became the first party to win a council when it gained a majority in Gwynedd, and then later added Anglesey.

In Blaenau Gwent and Bridgend, Labour regained control from independents, with no overall control in Pembrokeshire or Denbighshire - where the Conservatives dropped from the largest party to fourth, with Labour having the most seats.

But Labour suffered a blow in Neath Port Talbot, where it lost its majority to no overall control.

Labour retained Caerphilly, Newport, Rhondda Cynon Taf and Torfaen, where the Tories lost their four seats.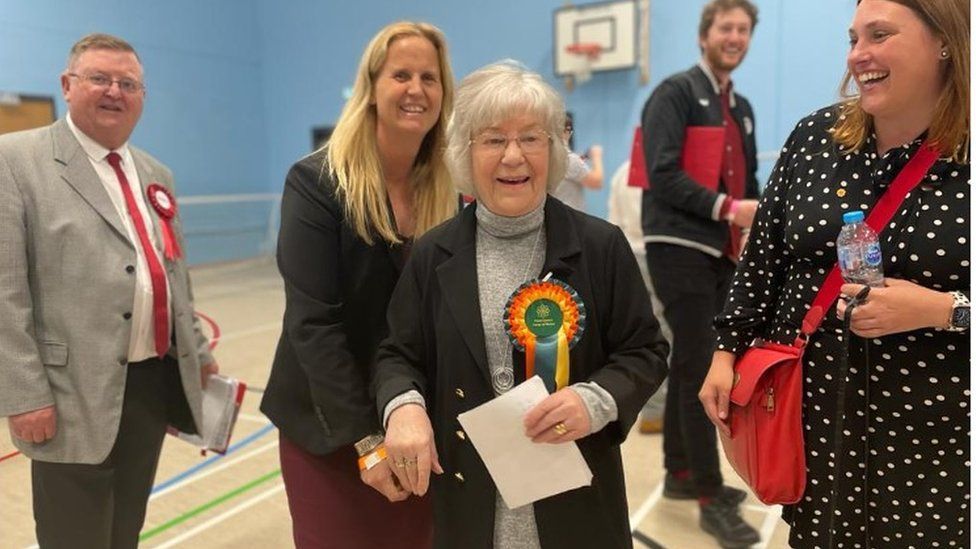 laid's Pauline Jarman lost in Rhondda Cynon Taf, depriving her of the chance to notch up a half century of service

In Merthyr Tydfil, it finished with 15 councillors each for Labour and independents.

There was no overall control in Powys - but the Liberal Democrats gained 10 seats.

The Green Party had their first councillors elected in seven councils, while Propel's one councillor, Neil McEvoy - a former Member of the Senedd (MS) - retained his seat in Fairwater, Cardiff.

What happens next?

If one party's won a majority - that's more than half of the councillors - it can start running the council.

So if there are 50 councillors in your local council, and party X wins more than 25, then party X is in charge.

But what if that doesn't happen? Then we say the council is under No Overall Control (NOC).

That happens a fair bit in Wales - last time around, in 2017, 10 of the 22 councils were NOC.

Then the parties have to get together and come up with a deal to decide who's going to run things - and that can take weeks. Don't worry though, your bins will still get collected.

South Wales East Conservative MS Natasha Asghar said people had "voted on national issues for a local election".

"I don't think this was the time of the place to have made this a statement vote for a lot of people out there, but at the end of the day, we live in a democracy, people have spoken so we have to go with what's decided," she said.

"I think national issues were dominating on the doorstep. I've campaigned with candidates across the region of the south east, and as much as everyone appreciates what the prime minister's been doing with the vaccine rollout and Ukraine.

"Now I think people are looking now more inwards and I think Partygate, Carriegate, whatever gate you want to call it, has been the focus and I think that was very much wrong."

Fellow South Wales East Conservative MS Laura Anne Jones agreed, but added: "There is going to be a natural reaction to a government that's been in power for 12 years (in Westminster)."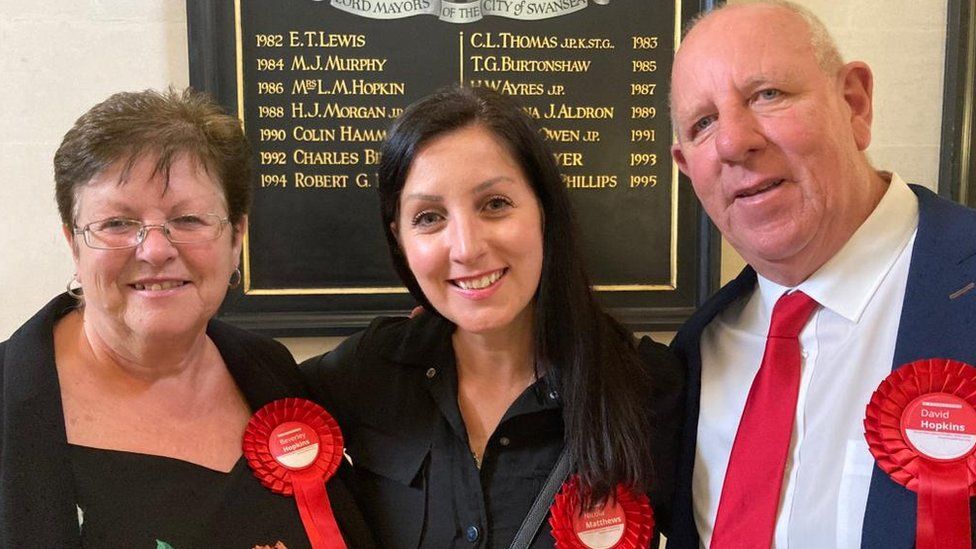 Three members of the same family won seats for Labour in Swansea: Beverley Hopkins, Nicola Matthews and David Hopkins

It was the end of an era in Rhondda Cynon Taf with Plaid Cymru's Pauline Jarman losing her seat after 46 years.

Ms Jarman, also a former member of the Welsh assembly, had represented Cynon Valley, but after boundary changes, failed to win one of two seats in Mountain Ash.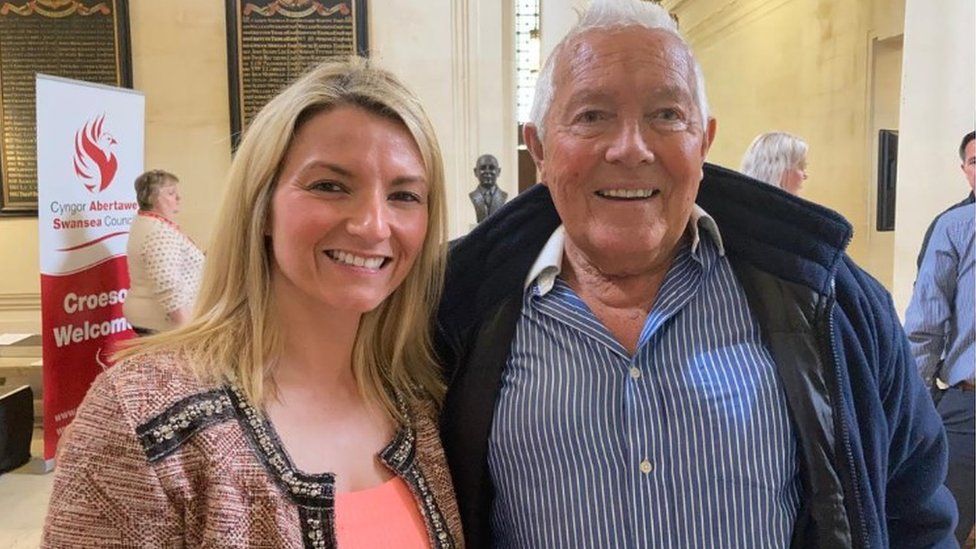 A family affair in Swansea, with Richard Lewis ready to welcome daughter Francesca to the council chambers

Another to lose her seat was Powys council's independent leader Rosemary Harris, who was beaten by the Liberal Democrats.

She said "hard decisions" that had to be made by the council given funding constraints contributed to her defeat.

She is one of four leaders so far to lose their seats. The others were independent Nigel Daniels in Blaenau Gwent, Labour's Philippa Marsden in Caerphilly, and Plaid's Emlyn Dole in Carmarthenshire - although he lost to fellow Plaid candidate Llinos Mai Davies.

Council elections have also taken place in Scotland and parts of England, and votes are also being counted for the Northern Ireland Assembly.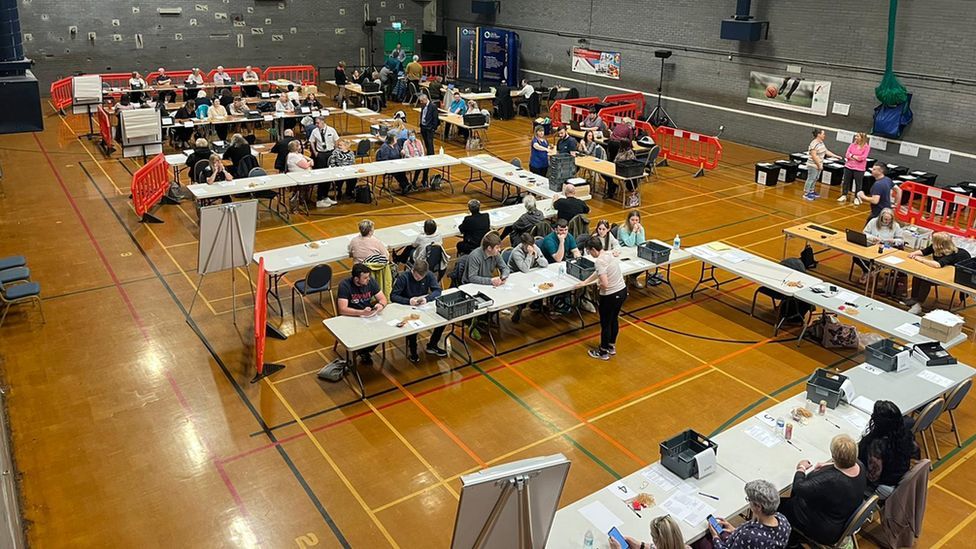 In the last set of elections in 2017, Labour was the largest party, followed by independents, with Plaid Cymru third, the Conservatives fourth and the Liberal Democrats fifth.

Those running the councils will have to grapple with delivering a huge range of services from leisure centres to care for the elderly, as well as setting council tax and managing budgets.

In some councils where no party wins more than half the seats - known as "no overall control" - there may be talks lasting several weeks to decide who runs the authority.