Ukrainian refugees who have passports or ID cards will be able to apply for UK visas online from Tuesday, says Priti Patel.
The move has been done with the approval of the security services, the home secretary told MPs.

It will only apply to people applying under the scheme where they can join family members already in the UK.

The speed of the UK's response has been criticised, with Labour's Yvette Cooper calling it a "total disgrace".

Ms Patel said those applying online would be able to give their biometric data, such as fingerprints, once in the UK - allowing visa application centres to focus on those without passports.

No further details were given about how a second scheme for refugees, in which people and organisations could sponsor Ukrainians to come to the UK, would work or when it would begin.

It had been suggested that the family scheme might be expanded to include relatives of people in the UK on temporary visas but this was not addressed by the home secretary in the Commons.

But the Foreign Office has confirmed that all Ukrainian staff working for the British embassy and British Council in Ukraine plus their dependents are also able to come to the UK.

Prime Minister Boris Johnson said it was right that the UK should have "an offer as generous as possible" that was "as light touch as possible" for refugees, but said it remained important to have checks.

He said "more than 1,000" visas had been issued but added that number would "climb very steeply".

Meanwhile, a UK charity appeal for Ukraine has raised £120m in less than a week. The Disasters Emergency Committee - made up of a group of UK aid charities - said the level of donations is second only to the response to the Boxing Day earthquake and tsunami in 2004.

Ms Patel said the new "streamlined approach" to visas would make the application process "quicker and simpler" but that the Ukrainians with passports can apply for visas online digital system would still allow "important checks" to be done.

Speaking about the issue of security, Ms Patel said the Salisbury poisonings in 2018 had showed what Russian President Vladimir Putin was "willing to do on our soil" and demonstrated that "a small number of people with evil intentions can wreak havoc on our streets".

MPs who had been pushing the government to go further and faster have called the change progress - but many are anxious for more details of the second sponsorship scheme to take in Ukrainians without family in the UK.

An announcement on this may not come until Monday, BBC political editor Laura Kuenssberg said.

Shadow home secretary Ms Cooper asked why it had taken "being hauled into the House of Commons to make basic changes to help vulnerable people who are fleeing from Ukraine?"

She also questioned why there had been a delay when the home secretary had "had intelligence for weeks, if not months, that she needed to prepare for a Russian invasion of Ukraine".

During a visit to the Tapa military base in Estonia, Labour leader Sir Keir Starmer said the Home Office approach to visas had been a "complete shambles that is diminishing our reputation across the world".

He later told BBC Radio 5 Live the Home Office was "chopping and changing" policies and "making it harder" for refugees to reach the UK.

Scotland's First Minister Nicola Sturgeon has written to Mr Johnson urging him to do what the EU has done and waive all visa requirements for any Ukrainian nationals. Poland alone has taken in nearly 1.3 million people so far.

Earlier Ukraine's ambassador to the UK, Vadym Pystaiko, said refugees must not face bureaucratic hurdles, adding that most refugees did not pose a threat.

Pop-up visa application centre opening
From Phil Mackie in Arras, France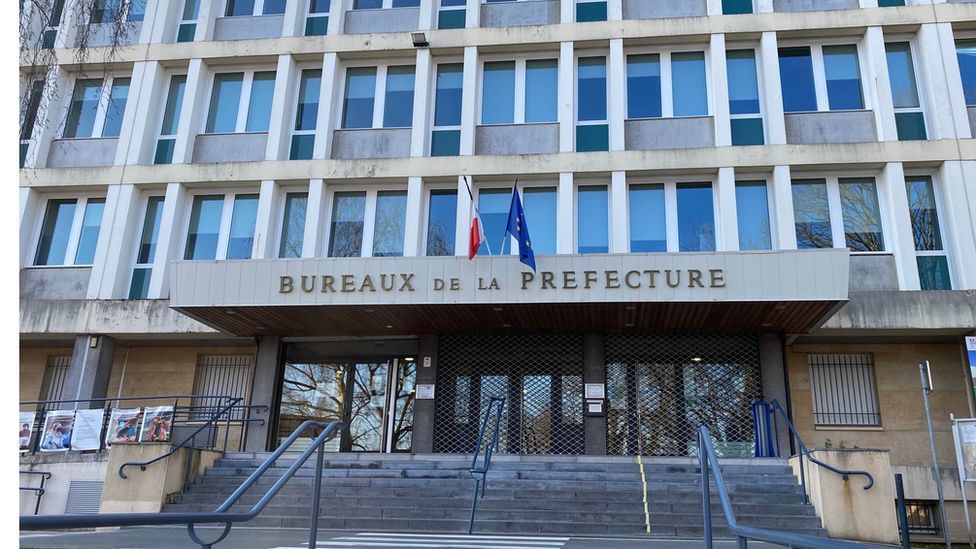 The Préfecture du Pas-de-Calais has announced where the "pop-up" visa processing centre for Ukrainian refugees will be.

There had been reports it would be in Lille, but it's in Arras in France, which is one hour from Calais, two from Brussels and three from Paris.

Although the UK government had promised that it would be open for several days, it still isn't, but the French authorities say it will be by Friday.

Many of the hundreds of Ukrainians who are in northern France have spent the past week travelling to the French and Belgian capitals to submit biometric information and documentation.

Many have already been processed and it's thought most will be by next Tuesday, when the process becomes simpler and will move online.

Meanwhile, the UK has announced sanctions against seven more Russian oligarchs including Chelsea FC owner Roman Abramovich.

More than two million people have fled Ukraine since Russia invaded, and the Home Office has come under pressure to speed up visa processing.

Armed Forces Minister James Heappey told BBC Breakfast the Ministry of Defence had offered to assist the Home Office with the visa process, although the countries where application centres are set up would have to approve British troops being sent to help.


The decision to allow Ukrainians with an identity document to apply online for a visa to join family members in the UK is significant.

It means that from next week many refugees escaping the war and heading for Britain will not have to go to a visa application centre or VAC.

Allowing them to complete biometric tests in the UK after they arrive will reduce the pressure on stretched facilities in Poland, Hungary and elsewhere in Europe.

Biometrics required as part of a UK visa application include fingerprints and a photograph of the applicant's face.

However, the new rules will still exclude anyone who fled without their passport or identity document. They will have to go to a VAC in person. The rules also exclude Ukrainian residents who are not citizens of Ukraine.

Speaking on BBC One's Question Time, Mr Prystaiko pointed out that most of those trying to get to the UK were women with children who were not posing a terrorist threat and said he hoped "every bureaucratic red tape should be cancelled".

Elsewhere, Education Secretary Nadhim Zahawi said plans were under way to prepare for up to 100,000 Ukrainian children who might need places in UK schools.

'Overwhelming relief and sense of justice'

Luke Morgan has spent the last week trying to get hold of visas for his wife's family - travelling to Calais, Brussels and then Paris in an effort to fill out the necessary paperwork and provide biometric data.

Visas were finally granted on Wednesday for his wife's parents, sister and two nephews and the group set off for Calais right away after getting the visas.

The refugee crisis has escalated rapidly in recent days as Russia ramped up bombardments of civilian areas in cities.

On Wednesday, an air strike hit a maternity and children's ward at a hospital in the southern city of Mariupol.

The UK government's response to the refugee crisis has also been branded a "disgrace" by Tory MP Alec Shelbrooke, while fellow Conservative politician Sir Roger Gale called on Ms Patel to resign over the situation.
Ukrainians with passports will be able to apply for UK visas online from Tuesday - Priti Patel
Yvette Cooper on the Home Office response to Ukrainian refugees: "Our country is better than this"
Watch: A British man has called the UK visa process "torturous" after his wife's family fled Ukraine