Households in the UK will be offered £350 a month to open their homes to people fleeing the war in Ukraine.
Housing Secretary Michael Gove told the BBC tens of thousands of people could come to the UK under the scheme and he may offer a room to a refugee.

But the Refugee Council is concerned about the level of support for those traumatised by war.

Labour said there were unanswered questions, accusing the government of "dragging its feet" over the crisis.

Under the Homes for Ukraine scheme, people will be able to nominate a named individual or a family to stay with them rent-free, or in another property, for at least six months. A website to express an interest in being a sponsor will launch on Monday.

Mr Gove also told the BBC's Sunday Morning programme the government was looking at using the properties of Russian oligarchs sanctioned by the UK for "humanitarian purposes" but there was "quite a high legal bar" and this measure would lapse as sanctions ended.

Retailers Sainsbury's, Marks & Spencer and Morrisons are among the UK companies offering to employ Ukrainian refugees.

Asos said it wanted to attract Ukraine's strong technology engineering skill set, while soap shop Lush said it would open up internal vacancies to refugees.

Addressing a rally outside Downing Street on Sunday, Ukraine's ambassador to the UK, Vadym Prystaiko, called for more support, weapons and humanitarian assistance.

Local authorities will also receive £10,500 in extra funding per refugee for support services - with more for children of school age, the Department for Levelling Up, Housing and Communities said.

More than 2.5 million people have so far fled Ukraine because of Russia's invasion, in what the UN has called the fastest-growing refugee crisis since World War Two.

The government has faced criticism - including from its own MPs - over the speed and scale of its response.

Defending the government's response, Mr Gove told the BBC the number of Ukrainians fleeing the war who had been granted visas had now risen to 3,000.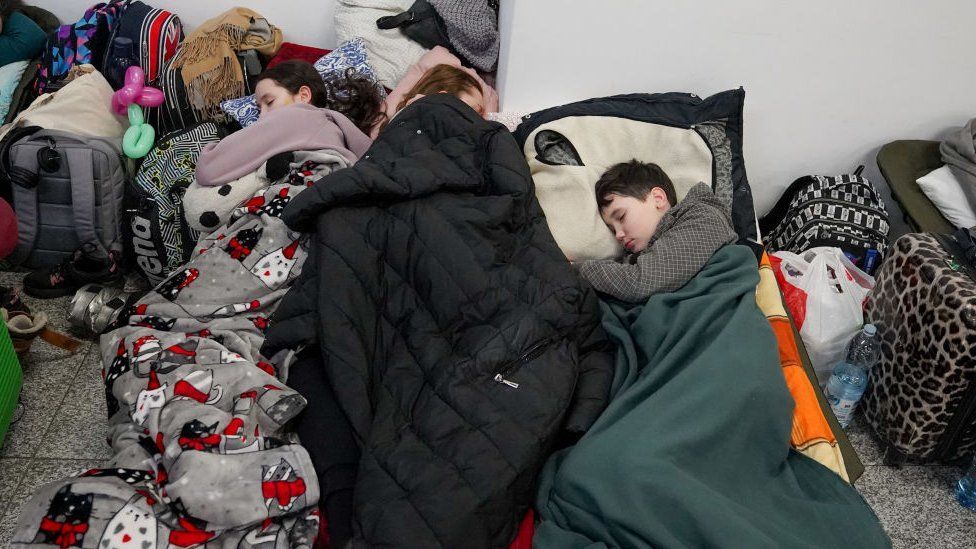 There is no sign of any end to the war in Ukraine, now in its 18th day

At the moment, only those fleeing the conflict who have family connections in the UK are able to make an application via the Ukraine Family Scheme. Other visas are available but application centres in Ukraine are closed.

Under the new scheme sponsors in the UK will not be required to know the refugees in advance and there will be no limit on numbers. Ukrainians on the scheme will be given leave to remain for three years, with the right to work and access public services.

Mr Gove told the BBC that he anticipated "tens of thousands" of Ukrainians might be taken in by UK families with the first arrivals "within a week".

Applications will be made online, with both sponsors being vetted and refugees having to go through security checks. The sponsor will get a "thank you" payment of £350 a month.

Asked if he would take a Ukrainian refugee into his home, Mr Gove said "yes" and that he was "exploring what I can do".

"Without going into my personal circumstances, there are a couple of things I need to sort out - but yes," he added.

In a later phase of the scheme, organisations such as charities and churches will also be able to sponsor refugees, though there is no start date for this yet.


Two weeks since it was announced, we now have some details of the scheme allowing people to host refugees in their homes.

The idea is a simple one, but the practicalities of matching those fleeing Russia's invasion with willing households in the UK won't be easy.

Aiming to place people with hosts within a fortnight is ambitious and the system is untested.

Ministers are keen to avoid using hotels or other temporary accommodation used by Afghans last year, and are adamant that security checks should stay in place on those fleeing Ukraine.

But for some Conservative MPs, let alone Labour and other opposition parties, the government's response has fallen short.

And it's no accident that Michael Gove - and not the Home Secretary Priti Patel - is fronting the latest efforts to smooth out and speed up the process of settling people in the UK.

What ministers have described as a cross-government approach has looked at times like inter-departmental wrangling over who's best placed to get things done.

The Refugee Council - a charity supporting refugees and asylum seekers in the UK - said it was concerned people from Ukraine were facing further "bureaucratic hurdles", and the government scheme fell short of what was needed.

Claiming formal refugee status, or permission to stay for humanitarian reasons through the asylum system, does not require a visa and allows an applicant and their dependants to stay in the UK for five years, with the right to work, study and apply for benefits.

Why I want to share my home with a Ukrainian refugee

For the third time in a year, John Rutherford and his wife Sue are considering opening up their south London house to a refugee.

"We have a big house, my kids have left home," says John. "It's not a great hardship for us to make some space for a refugee."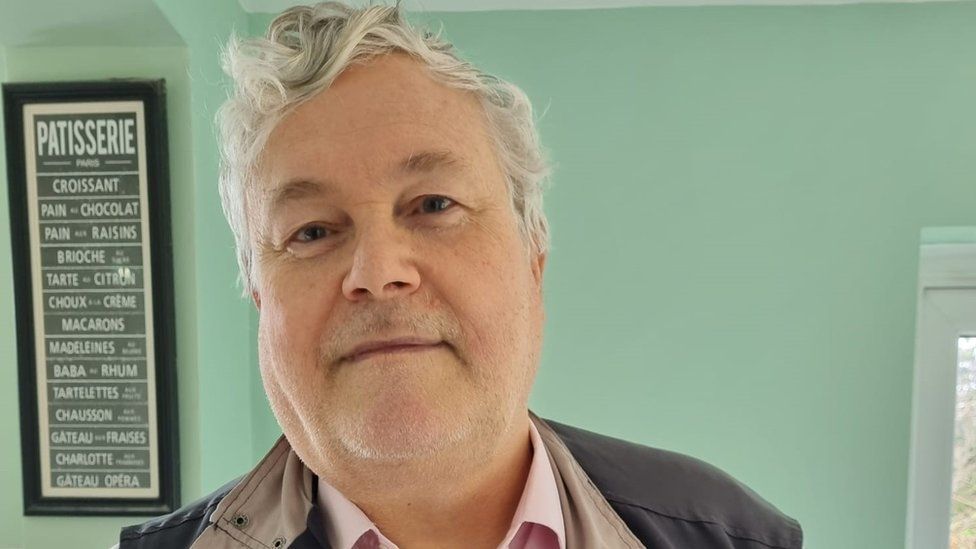 John Rutherford and his wife have previously hosted refugees from Ethiopia and Iran

In 2021, they hosted one person from Ethiopia and one from Iran, each for a couple of weeks while they awaited longer-term accommodation during the asylum application process.

And now, he is ready to open his five-bedroom house again.

"It was the sheer numbers involved that made me want to help... there could be four or five million people looking for places to stay, so the UK has to do its bit and the British people have to do their bit."

Labour leader Sir Keir Starmer told Sky News the government's visa schemes have been "too slow, too narrow, too mean", adding that the government had not consulted local councils about the support that needs to be put in place.

"Frankly the last few weeks have been an embarrassment to the United Kingdom in terms of refugees," he said.

Liberal Democrat leader Sir Ed Davey has said Home Secretary Priti Patel should be sacked for the government's response to Ukrainian refugees.

"The incompetence, indifference and sheer inhumanity we have seen from the home secretary does not befit our United Kingdom, with its proud history of providing sanctuary to those in need," he told the party's spring conference in York.

A government spokesperson responded to Sir Ed's comments by saying "the facts do not support these accusations", and repeating a claim that the UK had "resettled more refugees through safe and legal routes than any other European country" since 2015.

As BBC Reality Check reported this week, while this specific claim is true, the overall picture is very different - as some other European countries have taken in far more refugees than the UK since 2015.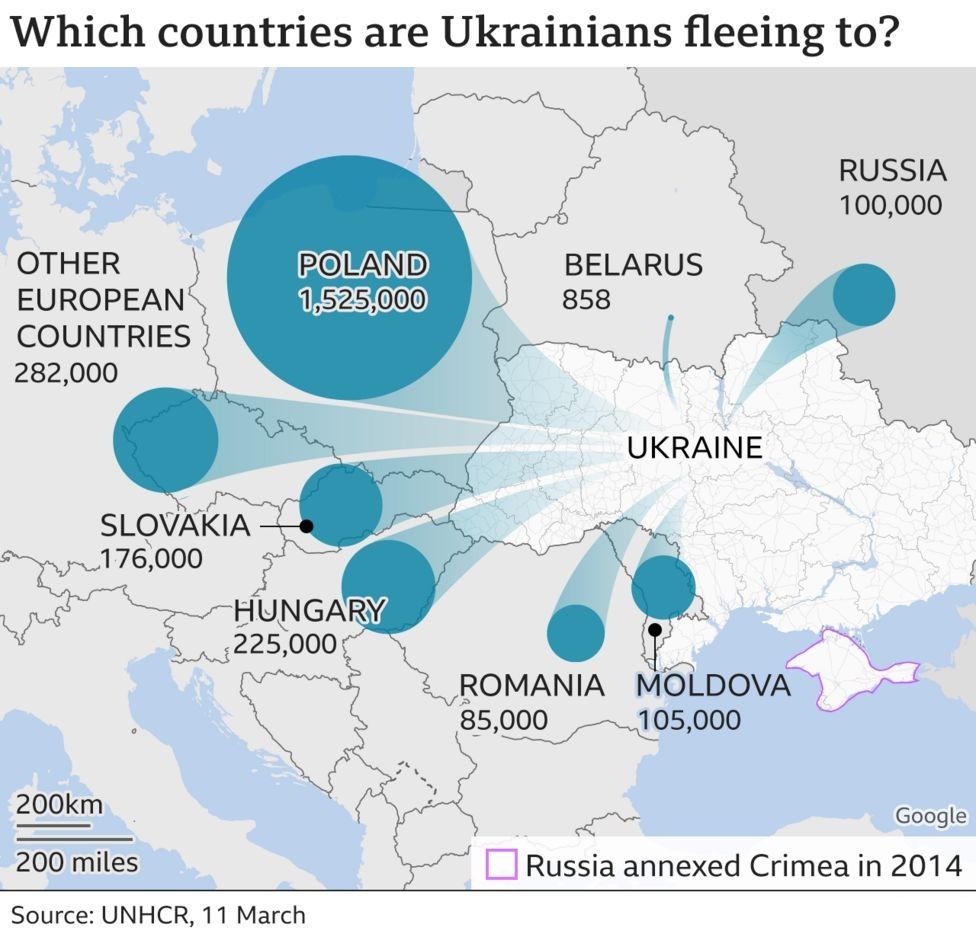 The first ministers of Scotland and Wales have written to the UK government to propose that their nations go further with the new scheme.

The European Union is allowing Ukrainians three-year residency without a visa, but the UK says controls on entry are essential for security.

The Republic of Ireland's prime minister Micheal Martin told the BBC's Sunday Morning show that his country had taken in 5,500 Ukrainian refugees but had not carried out any security checks on entry.

Meanwhile, celebrities including actors Benedict Cumberbatch and Stephen Graham have shown their support for Ukraine at the Bafta Awards 2022, under way in central London.
Watch: UK government minister says he is looking into using sanctioned oligarchs' houses for refugees