The UK government has been "appallingly slow" in helping people take in refugees from Ukraine, a woman who has offered her home has said.
Fran Bowhay, from Llanelli, Carmarthenshire, said the government was "always behind the curve".

Through the UK government's newly launched "Homes for Ukraine" scheme, anyone in the UK can apply to host refugees.

The government said it was expanding application capacity to 13,000 a week.

It added: "A new sponsorship route, which will allow Ukrainians with no family ties to the UK to be sponsored to come here is also being brought forward and all the measures we've put in place follow extensive engagement with Ukrainian partners."

Households in the UK will be offered a tax-free payment of £350 a month to open their homes to refugees, regardless of how many individuals they are offering to accommodate.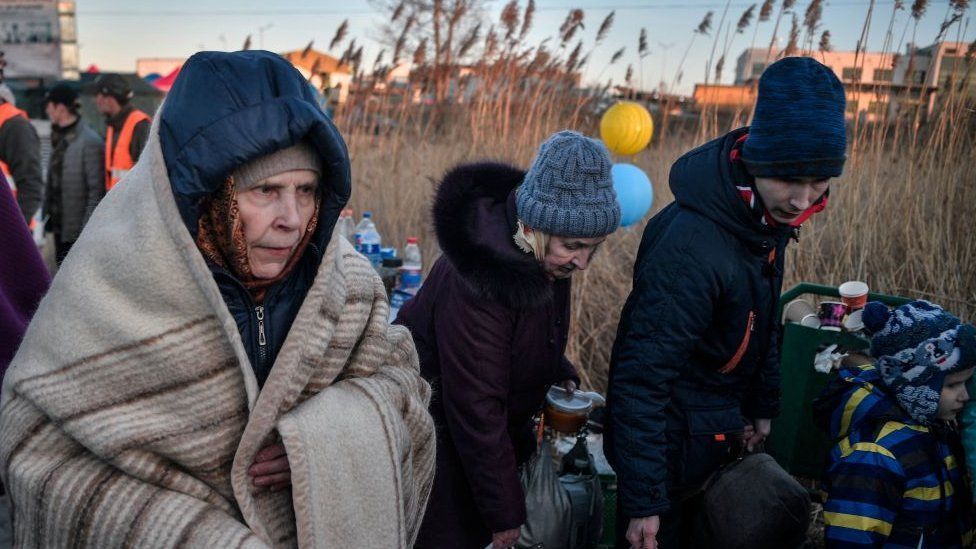 Millions of people have fled Ukraine since Russia's invasion at the end of February

Ms Bowhay said she had been working to take one person fleeing from the Russian invasion for two weeks, but she had been frustrated by the speed of the scheme.

"It's always the case that the government are behind the curve," she said.

"There are people that have been putting themselves forward without any idea of any recompense or any money at all, the same as myself.

"It's almost like putting the carrot after the stick. They've been appallingly slow.

"There's a whole raft of infrastructure and resources that will be needed to actually get this off the ground."

Vicki Spencer Francis, from Raglan, Monmouthshire, has also applied to host a refugee.

She told the BBC Radio Wales Phone In: "It is shameful really... it is a shame that the general public have to now have to get off their bums and do what we can, but that's what we're really good at so we'll see how it goes."

Andrea Cleaver, chief executive of the Welsh Refugee Council, said the scheme offered by the UK was not a "humanitarian response".

She told said: "When you look at what our EU nations are doing, they are taking in tens of thousands, if not hundreds of thousands.

"Whereas, in the UK at the moment, we have only taken in 3,000 people, through a visa route, not through a refugee route, and that is really quite disheartening, it's really quite shocking, frankly.

"In other EU nations, we have seen countries open their doors, and take in vast more numbers of refugees, so it will be really interesting to see what type of numbers come in through this Homes for Ukraine route."

Meanwhile, Steve Morgan, the founder of Flintshire-based company Redrow, has pledged to meet the cost of bringing 1,000 refugees from Ukraine to the UK and called on the UK government to "stop delaying".

He said: "I think like a lot of people I felt frustrated, in this country, in the UK, we are not doing enough for refugees.

"The strain that Poland has got to look after the refugees, we can't let Poland and other neighbouring countries along the border [to take the strain], we have to do something - it's really important.

"I feel almost ashamed that Britain is not doing its bit for the refugees and that's what probably inspired me."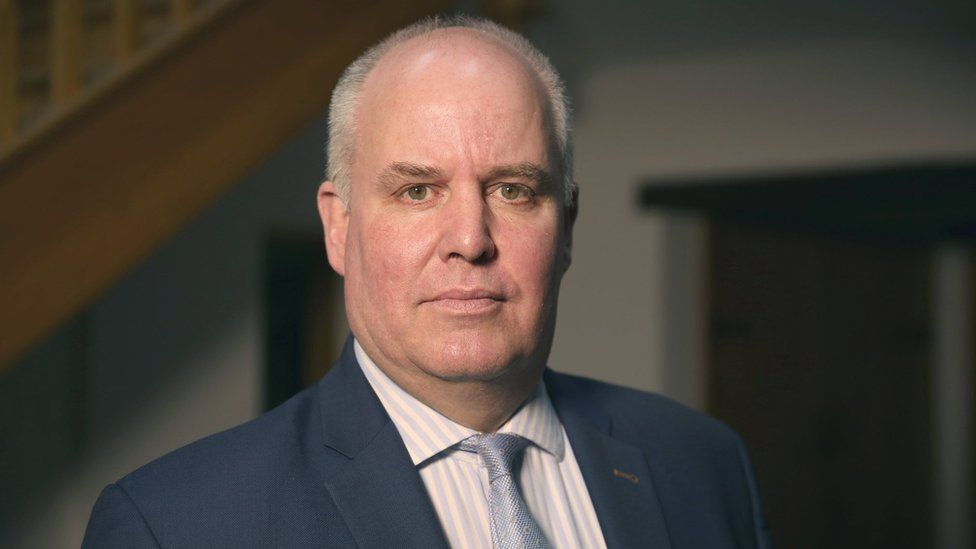 Andrew RT Davies says he wants Wales to "play its part" in offering a safe refuge to those fleeing the war

Wales' First Minister Mark Drakeford has said he wants the country to be a "nation of sanctuary" and look after at least 1,000 refugees from Ukraine.

Michael Gove, Secretary of State for Levelling Up, Housing and Communities, told the Commons he was grateful for Wales and Scotland's offer to act as "super sponsors".

"We are doing everything we can in order to facilitate that," he said.

Earlier on Monday Andrew RT Davies, the leader of the Welsh Conservatives in the Senedd, objected to the Welsh government's claims it would be a "super sponsor" for refugees and suggested it should set a much higher target for housing refugees.

He also said he wanted to ensure refugees entering Wales received "wrap-around" care, including health, education and employment prospects.

He said: "What I want to see is as fast and as flexible as a compassionate scheme as possible put in place, whilst also bearing in mind the support that we must offer people that have come to the United Kingdom who have been traumatised.

"The biggest betrayal would be to bring people to this country and leave them isolated or feeling neglected."