British people hoping to host Ukrainian refugees in their own homes need urgent clarity on how to do so, charities say.
More than 150,000 people have registered interest in the government's Homes for Ukraine scheme, which is due to launch fully on Friday.

But the visa process cannot be started until potential hosts have the names of specific refugees they want to help.

In the meantime charities say they have been "deluged" with calls from people wanting advice on finding a match.

Meanwhile, the government is warning potential hosts not to link up with refugees through informal channels, such as social media.

"Our advice would be to stick to community groups and councils as they've got the expertise," one member of the government's Department for Housing and Communities told the BBC.

The department said details about the matching up process would be published later.

Details of the online application process for Ukrainian nationals have been published, which say it is open to those who were living in Ukraine before 1 January 2022, plus their immediate family - including spouses and long-term partners, and children aged under 18.

The government says Ukrainians should not try to travel to the UK until they have received an official permission letter, which will allow them to board a plane or other transport to cross the border.

In Scotland the issue of matching hosts and refugees can be bypassed after the Scottish government was approved as a "super sponsor", which can be selected instead of an individual sponsor during the visa application.

First Minister Nicola Sturgeon said it meant refugees did not need to have a host UK family before coming to Scotland and could be housed in temporary accommodation before a longer-term arrangement is made.

Vadym Prystaiko, Ukraine's ambassador to the UK, said he was grateful to the 150,000 Britons who expressed interest in "opening up their hearts and sometimes homes" to Ukrainians, and "humbled" by their generosity.

He estimates between 100,000 and 200,000 Ukrainians will want to seek refuge in the UK.

Local councils are expected to be leaned on heavily to help support the refugees, and the government hopes charities, businesses and faith and community groups will help the effort to match people up.

About 120 Ukrainians have already registered with Robina Qureshi's refugee hosting programme, Room for Refugees - which also helps people fleeing many other countries.

But she says her charity's rigorous security checks and vetting processes are being slowed down by an inundation of calls and emails they're getting from members of the public seeking clarification about how to match up with a refugee.

"Right now every day is time wasted, and that's what I find quite upsetting," Ms Qureshi told the BBC.

She said she had been disturbed by some specific requests to "only host Ukrainians" rather than refugees of other nationalities who are also vulnerable.

Ms Qureshi said she appreciated the "goodwill" of those who had registered their interest with Homes for Ukraine, but added: "We haven't got the infrastructure to deal with inane comments and questions."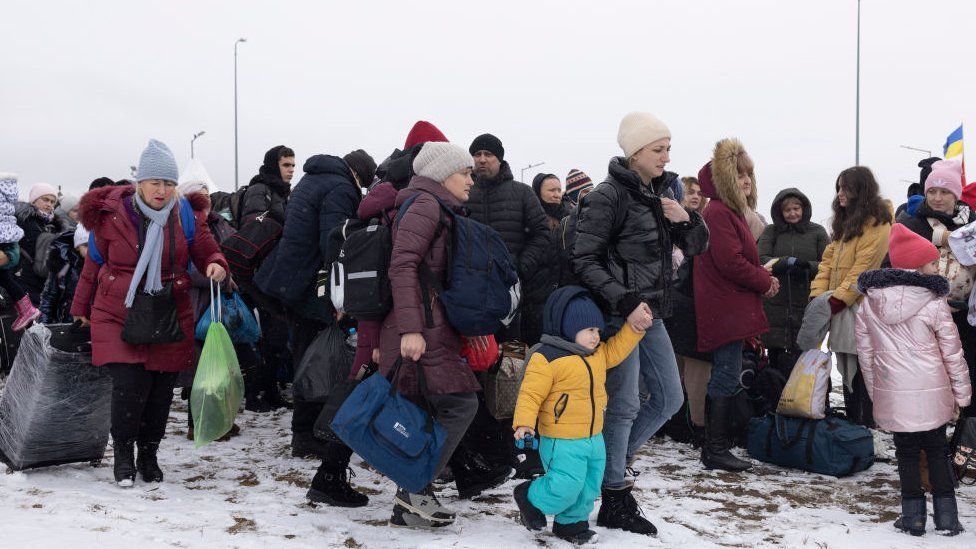 These people are among the millions of refugees heading from Ukraine to Poland

Other organisations that work with refugees have voiced confusion and reluctance to be involved in helping with the government scheme.

West London Welcome said it was not yet referring people to Homes for Ukraine because it was "not confident" in the government's vetting process.

And a spokeswoman for IMIX, working on behalf of Reset UK, said it was "unclear currently how this matching process will work".

Enver Solomon, chief executive of the Refugee Council, said the Ukraine sponsorship scheme was complex and "will inevitably be inaccessible to the most vulnerable refugees, such as unaccompanied children".

Calling for the government to waive visa requirements, he said: "A humanitarian crisis requires a speedy and compassionate response, not one that puts bureaucratic hurdles ahead of the immediate needs of people whose lives have been ripped apart."

He also criticised the "cruel and harmful" proposals in the Nationality and Borders Bill which would criminalise Ukrainians and other refugees who arrive in the UK without a visa.

Labour has welcomed the sponsorship scheme but urged the government to be more involved in the matching-up process.

"The biggest barriers are excessive bureaucracy and the DIY nature of this scheme," said Lisa Nandy, shadow levelling up and housing secretary.

"The government needs to cut unnecessary paperwork and play an active role in matching sponsors to refugees."