Protests and demonstrations in support of Ukraine have been held around the UK as Russia continues its invasion.
Thousands have joined various rallies, including outside the Russian embassy and Downing Street in London, and in Manchester and Edinburgh.

Eggs were thrown at the embassy and messages written in chalk were scrawled over the outer walls.

And the Duke and Duchess of Cambridge have said they "stand" with the people of Ukraine as they "bravely fight".

In a tweet, Prince William and Catherine said they had met President Volodymyr Zelensky and his wife in 2020 and said: "Today we stand with the president and all of Ukraine's people as they bravely fight for that future."

Prince Harry and Meghan also released a statement saying they stood with the people of Ukraine "against this breach of international and humanitarian law" and encouraged global leaders to do the same.

The Duke and Duchess of Cambridge met Volodymyr Zelensky and his wife Olena Zelenska in 2020

Earlier Boris Johnson hailed plans to send extra military support and humanitarian aid to Ukraine as it remains under attack from Russia.

He later tweeted that he had spoked to Dutch prime minister Mark Rutte to discuss defensive aid for Ukraine and the "need for urgent action to exclude Russia" from the Swift of international banking payments.

One of the demonstrations saw large crowds of people gathering outside the Russian embassy in London throughout the day. There were chants of "Russia stop the war", "Putin stop the war" and "leave Ukraine alone".

Among them was Elena Shevchenko, who is half-Russian, half-Ukrainian, and said her father is currently in Kyiv, with his family.

She said he had been sleeping in a shelter to escape the bombing.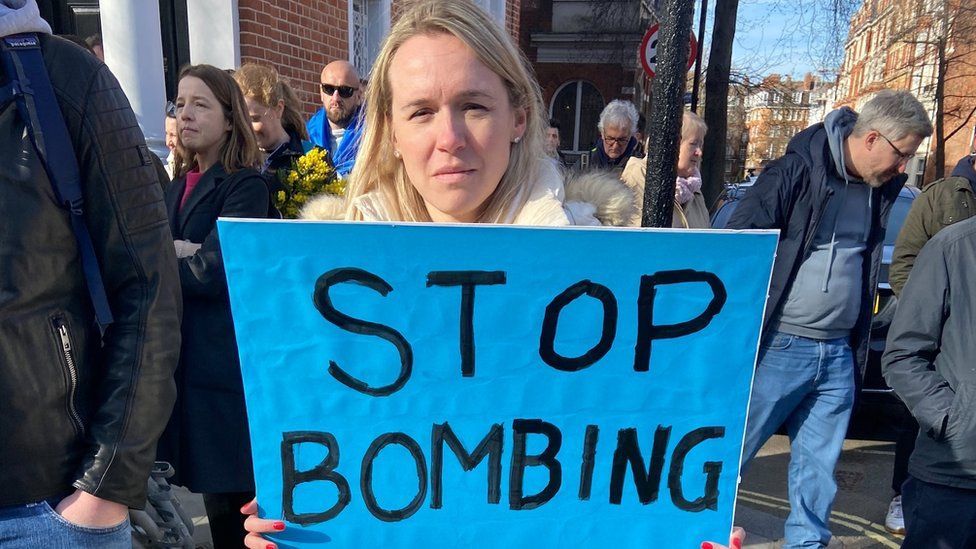 Elena Shevchenko, who is half-Russian and half-Ukrainian, said she has been unable to sleep since Russia invaded Ukraine

"I feel desperate and there's not a lot I can do," she said. "But being here at least is something and I can show my position and show my support."

Asked her first reaction to the invasion earlier this week, she said: "We didn't believe it would happen until the end. I cried a lot. I don't sleep at all. I feel so helpless."

One Russian woman, who gave her name as Alla, said she had been in tears all day after the invasion. "I couldn't believe it was happening, the feeling of shame, guilt, horror. I felt helpless I didn't know what to do," she said.

She added that it felt like "fighting with yourself" and said her generation did not support the invasion.

Mick Antoniw, a minister in the Welsh government who had been in Kyiv just before the invasion, was also at the protest and called on the government to introduce "sanctions which isolate Russia, economically, socially, politically and culturally" - and said they must be "so severe that the people around Putin want to remove Putin".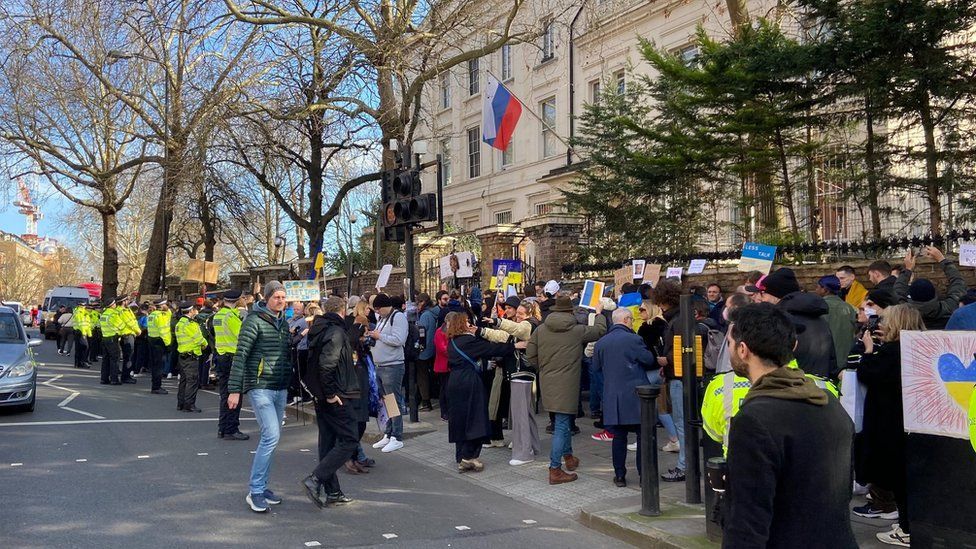 More than 100 people had already gathered outside the Russian embassy early on Saturday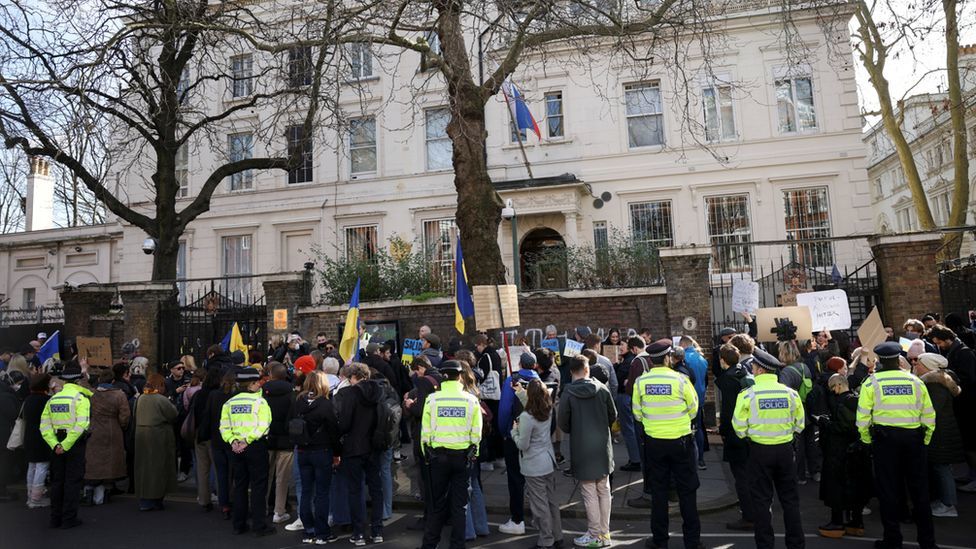 Chants of "Putin stop the war" could be heard at the rally outside the Russian embassy

At a protest in Caernarfon in Wales Nataliia Roberts, originally from the Ukrainian city of Poltava, said she felt "horrible" and "hopeless".

"My friends, my family, are all struggling," she said. "They are asking for help, their houses are under attack. They are innocent, they don't want this war."

At St Mary's Ukrainian School, in Holland Park, London, pupils held up placards as they protested against the Russian invasion.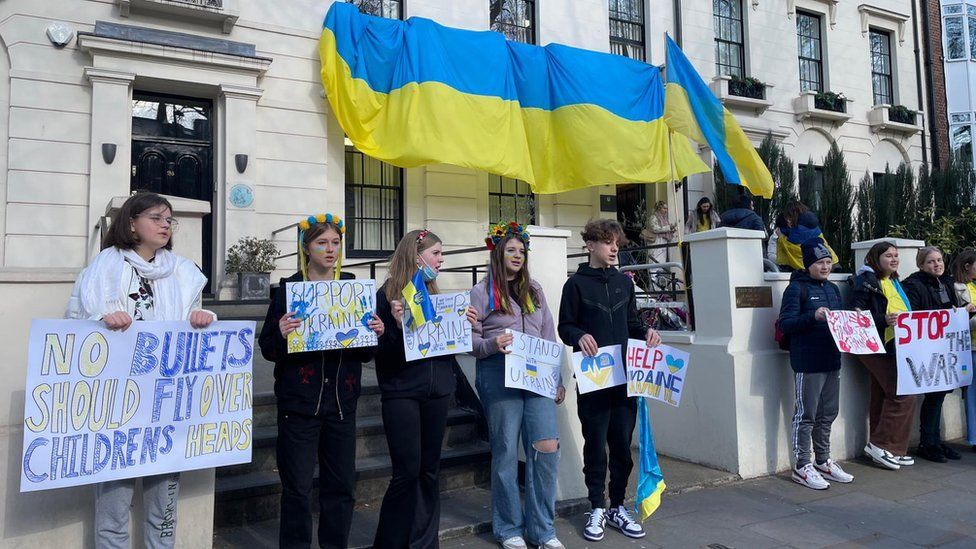 Students at St Mary's Ukrainian school hold a protest against the invasion

Supporters of Ukraine also gathered elsewhere in the UK on Saturday, including in Manchester's Piccadilly Gardens where around 1,000 people gathered.

In Scotland, people gathered near the Scottish Parliament building in Edinburgh to urge politicians to do more to support Ukraine.

Demonstrators passed a megaphone around, sharing personal stories about relatives hiding in basements in Kyiv to avoid shelling and gunfire.

And people showed their support for Ukraine by laying flowers and writing messages on the pavement outside the Consulate General of Russia in Edinburgh.

There were also demonstrations in smaller towns and cities, including in Middlesbrough and Gloucester.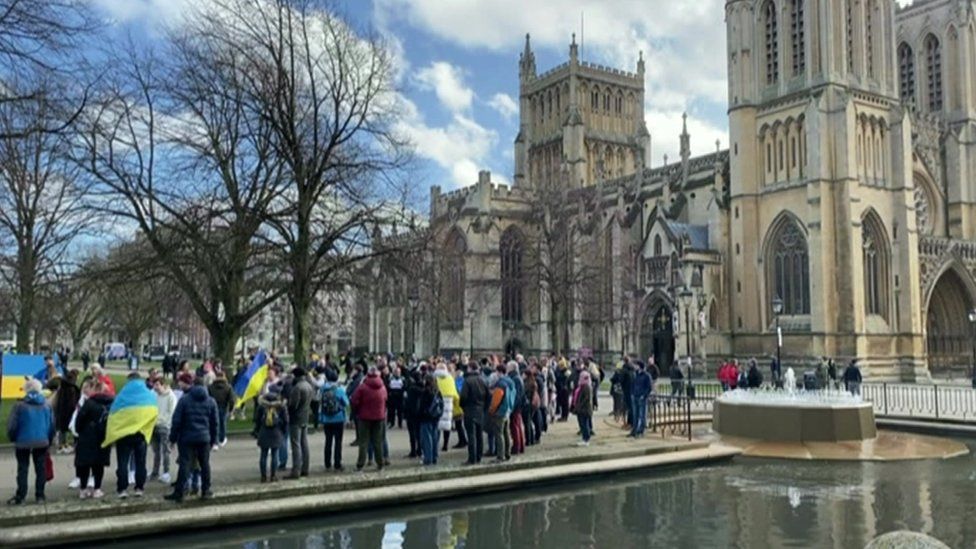 In Gloucester protesters gathered by the cathedral to make their voices heard in support of Ukraine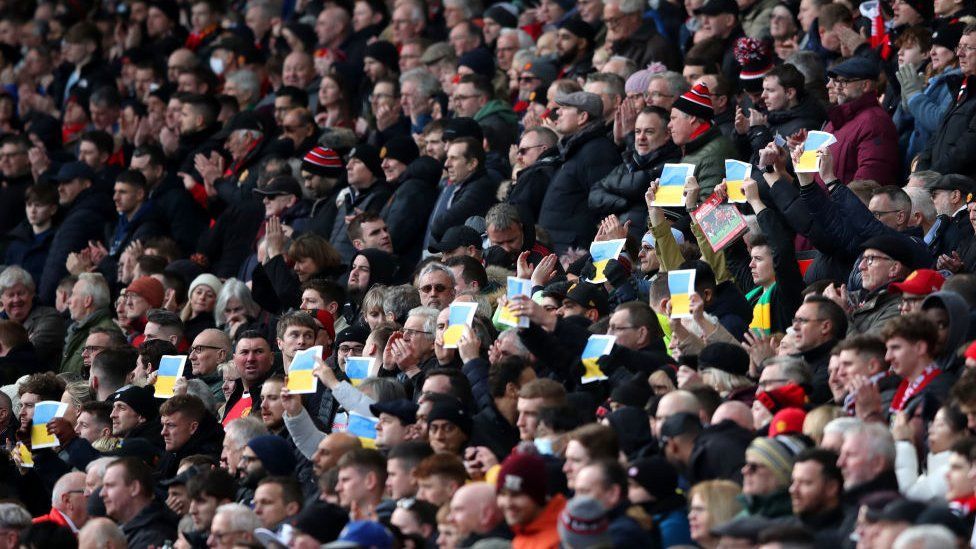 Fans held up Ukrainian flags at Manchester United's Old Trafford stadium during their match against Watford

Ahead of their Premier League match against Watford, Manchester United players posed for a picture alongside a poster saying "peace" in several languages, while fans displayed Ukrainian flags in Old Trafford.

The club has already cut its ties with Russian airline Aeroflot - which has been banned from landing at UK airports or flying through its airspace, as have all Russian private jets.

Meanwhile in Liverpool there was an emotional embrace between Ukrainian internationals Vitalii Mykolenko, of Everton, and Manchester City's Oleksandr Zinchenko, with the latter in tears before kick-off.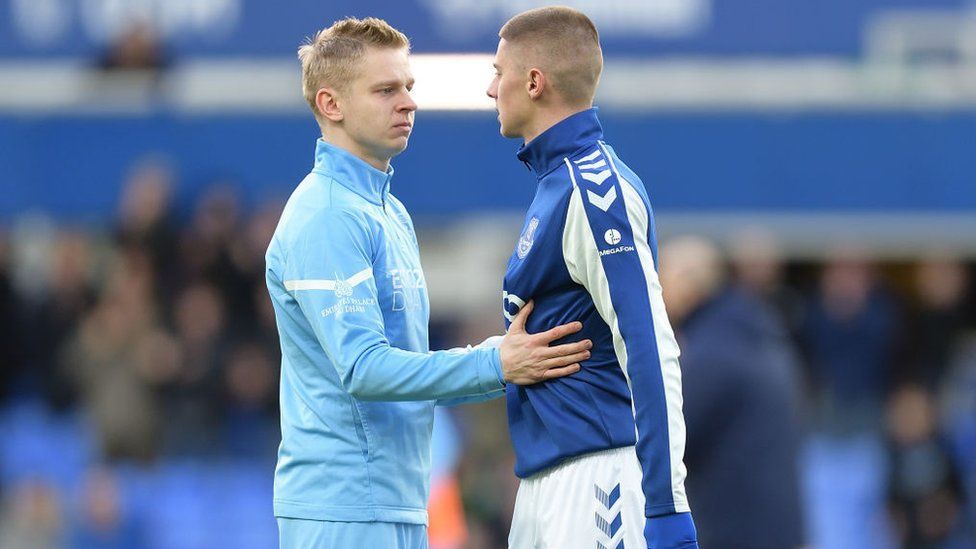 Manchester City's Oleksandr Zinchenko and Everton's Vitalii Mykolenko shared a hug before their match

The Everton players were draped in Ukrainian flags while Manchester City players wore white shirts with the flag on the front and "No War" on the back.

A number of buildings across the country, including the London Eye, 10 Downing Street and Lincoln Cathedral, have been brightly lit in yellow and blue this week in a display of solidarity with Ukraine.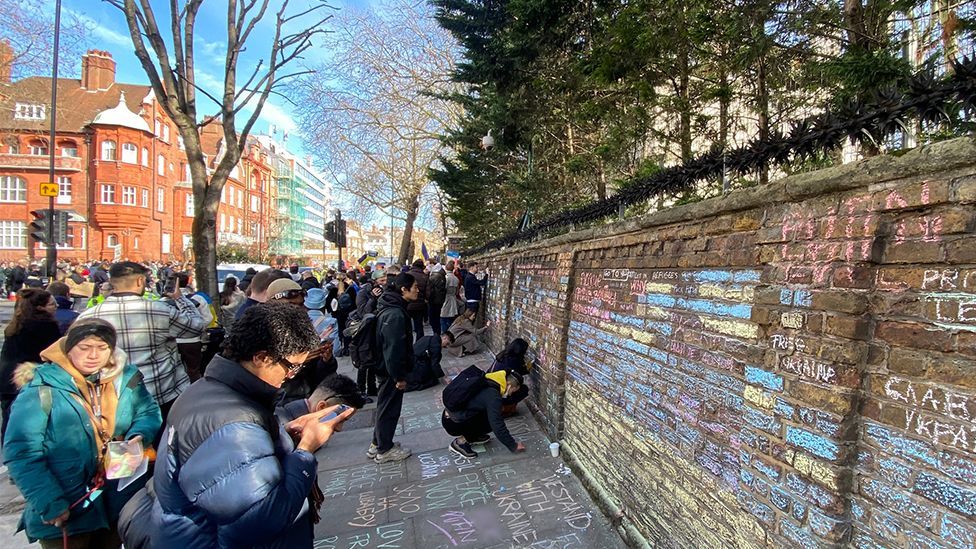 Protesters have written messages in chalk outside the Russian embassy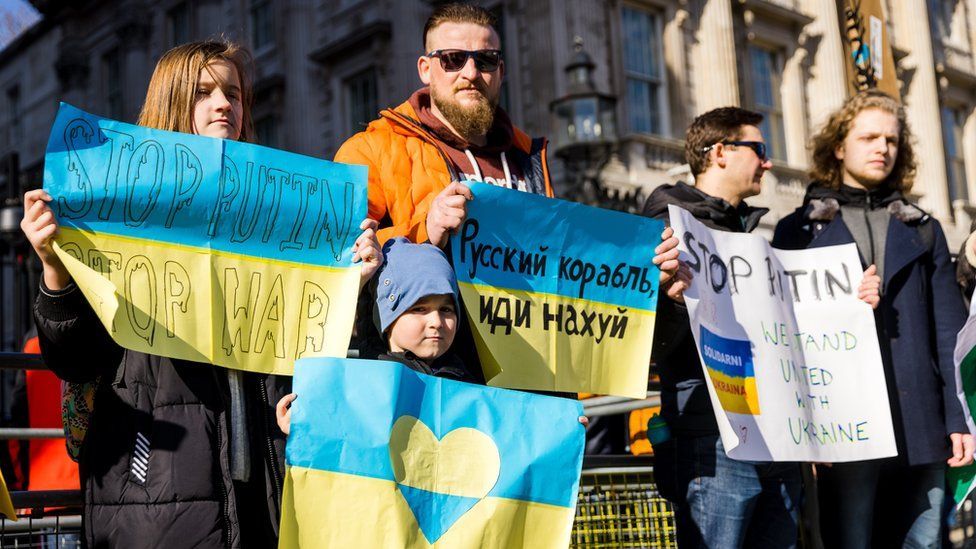 There was also a rally outside Downing Street

Britain is among more than 25 countries to pledge to continue to supply arms, as capital Kyiv remains under attack.

Russian assaults on the capital have been met with fierce resistance on the third day of the invasion, and there is also fighting in or near several other cities.

British Challenger 2 tanks and armoured vehicles from the Royal Welsh battlegroup have been arriving in Estonia as part of Nato moves to strengthen its eastern flank, the MoD said.

Ukraine faces "days, weeks, months more" of heavy fighting, armed forces minister James Heappey has warned.

"It is going to be brutal," he told the BBC. "We are going to see some horrendous things on our TV screens."

Mr Heappey told the BBC that the UK is continuing to press for Russia to be excluded from the Swift system, but more diplomacy was needed to get international agreement.

He also said the MoD was working on plans to support a resistance movement and a government in exile if Ukraine were to be finally overrun.

In other developments:

* Home Secretary Priti Patel announced she had cancelled the visas of the Belarusian men's basketball team who were due to play in Newcastle on Sunday, saying the UK would not welcome national sports teams from countries "complicit in Putin's unprovoked and illegal invasion of Ukraine"

* Labour leader Sir Keir Starmer called for the expulsion of Russia's ambassador to the UK and said Britain should be prepared to take Ukrainian refugees fleeing the invasion

* The Scottish government has already said it would play its part if a resettlement programme to bring Ukraine nationals to the UK is launched

* Performances by the Russian State Ballet company have been cancelled in theatres in Wolverhampton and Northampton.