Ukrainians in Scotland have joined demonstrations against the Russian attacks on their homeland as they urge the UK to use further sanctions.
Russian troops entered Ukraine on Thursday, reaching the capital city Kyiv on Friday morning.

Demonstrations in Edinburgh and Glasgow are part of a Europe-wide protests against the Russian invasion.

Those leading the protests in Scotland said the escalation of Russian violence was "deeply worrying".

Anti-war demonstrations in support of Ukraine have also taken place in Russia, where police made hundreds of arrests in cities including St Petersburg and Moscow.

In Scotland, there has been cross-party condemnation of the military action, with First Minister Nicola Sturgeon describing the Russian air strikes and border breaches as "appalling and horrific".

Glasgow City Council has made moves to suspend its twinning arrangement with the southern Russian city of Rostov-on-Don.

And the flag of Ukraine is flying at Glasgow City Chambers at St Andrew's House in Edinburgh. A number of councils said they would light up buildings in blue and yellow in a mark of solidarity.

In Edinburgh - which is twinned with Kyiv - crowds gathered outside the Russian Consulate in Melville Street for a second day.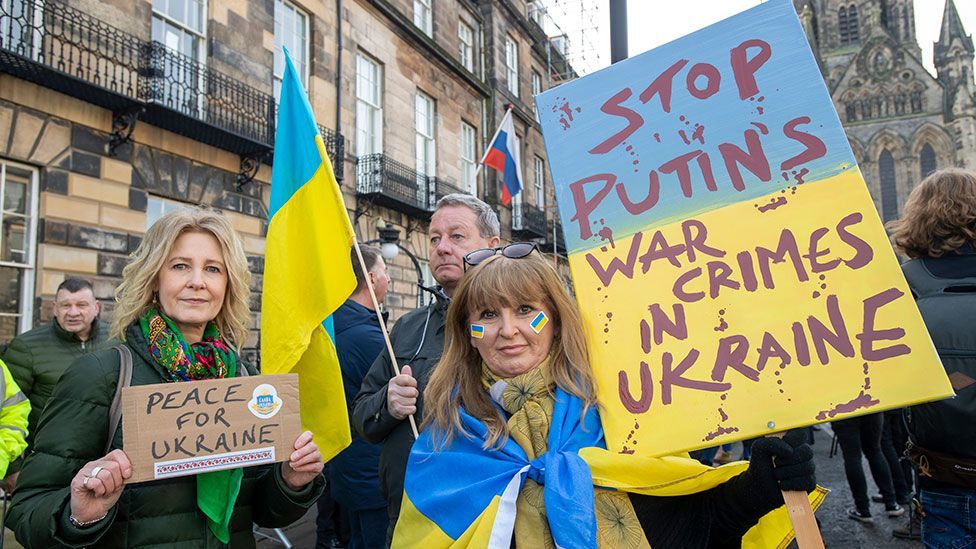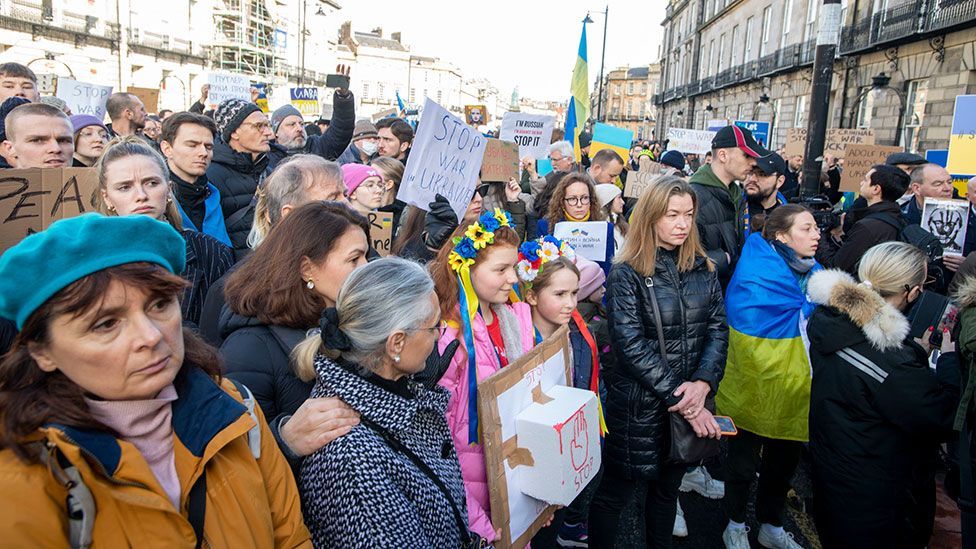 Hundreds chanted "slava Ukraini" (glory to Ukraine), with many bringing Ukrainian flags and anti-Putin signs.

A bagpiper played Ukraine's national anthem and some Ukrainians addressed the crowd through a megaphone, calling for more Western help to resist the invasion.

Afterwards protestors lit candles at nearby St Mary's Cathedral.

Earlier Peter Kormylo, from the Edinburgh Ukrainian Club, told BBC Radio's Good Morning Scotland the demonstrations would have little impact on the Russian leaders, and the UK and US sanctions were "too little, too late".

"I'm very, very sad this morning," he said. "I'm absolutely convinced that these sanctions should even yet be made more severe."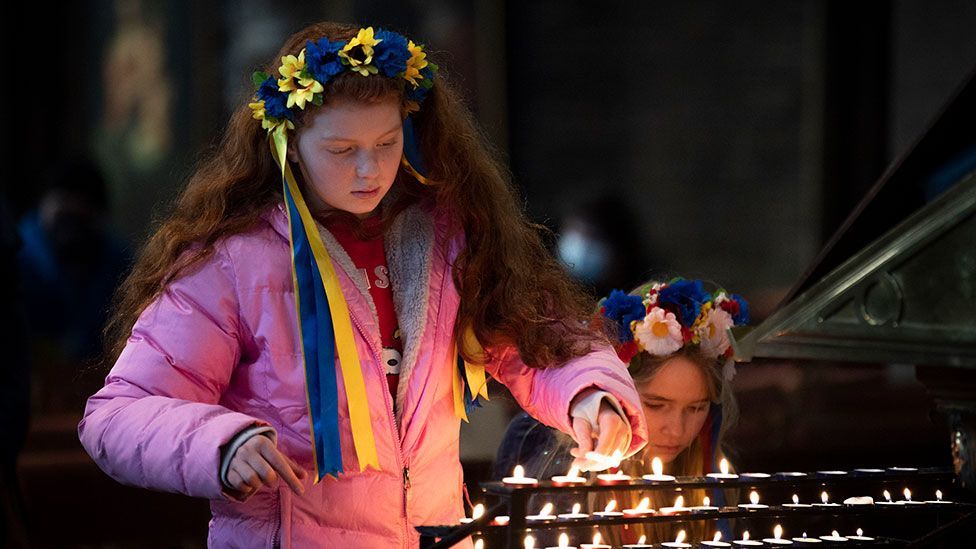 Candles were lit by protestors in Edinburgh

Mr Kormylo, who regularly visits family and friends in Ukraine, said the attack was not unexpected because Ukrainians had become "extremely distrustful" of Vladimir Putin.

"What I think is beginning to frighten people, certainly the people I'm speaking to, is the cyber attacks," he said. "In all of this bombing and shelling people are still using their phones to stay in touch with each other, with loved ones.

"As soon as those facilities are cut off that's when people begin to, not so much panic, but be afraid."

'Massive support'

In Glasgow's George Square members of the Association of Ukrainians in Great Britain (AUGB) held an afternoon vigil.

Dr Yevgen Gorash, AUGB Glasgow vice-chairman, was spending a second day there, having met members of the Ukrainian diaspora in the square on Thursday.

"There was nothing else we could do," Dr Gorash told the BBC. "The only thing we could focus on was to show that we are there and we have got the massive support of the local people and massive attention.

"We would like everyone to join us and meet us, talk to us. We need your attention and we need your support."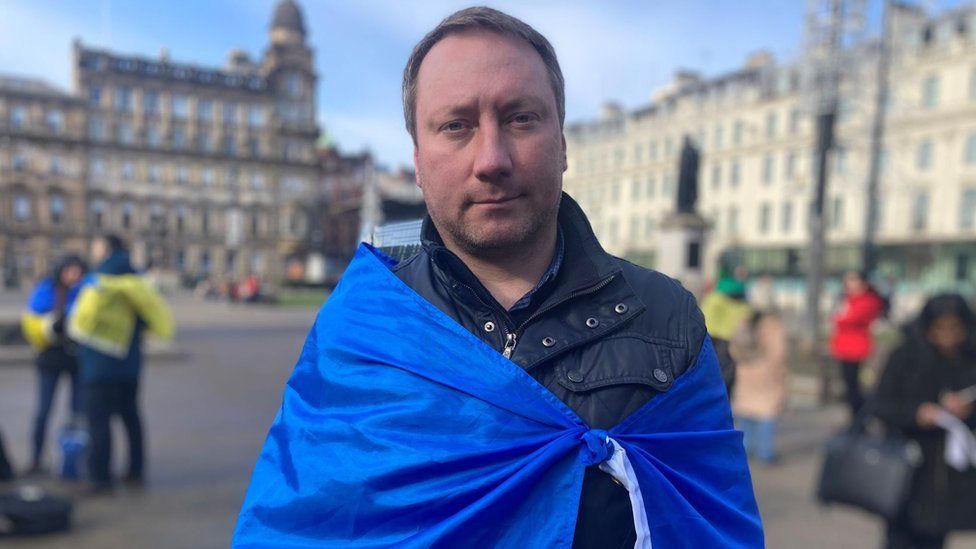 Yevgen Gorash said the situation in his homeland was deeply worrying

The Strathclyde University research fellow, who has lived in Glasgow for 10 years, said Ukraine's second biggest city Kharkiv, where his family live, was under siege.

"Yesterday morning when the Russian army and tanks proceeded very quickly to the outskirts of the city, but the [Ukrainian] army was able to stop them," he said.

"[My parents] can still hear the shelling and explosions but they are quite far away on the outskirts of the city. Inside of the city everyone seemed to be safe - many people spent the night in the bomb shelters and also in the underground."

But he added: "It is deeply worrying."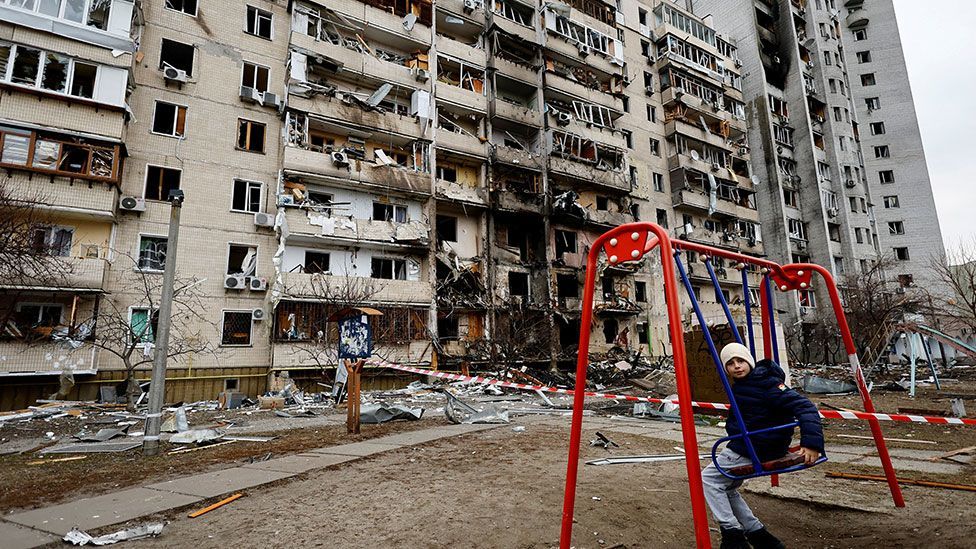 A residential building in Kyiv was damaged after Russia launched a massive military operation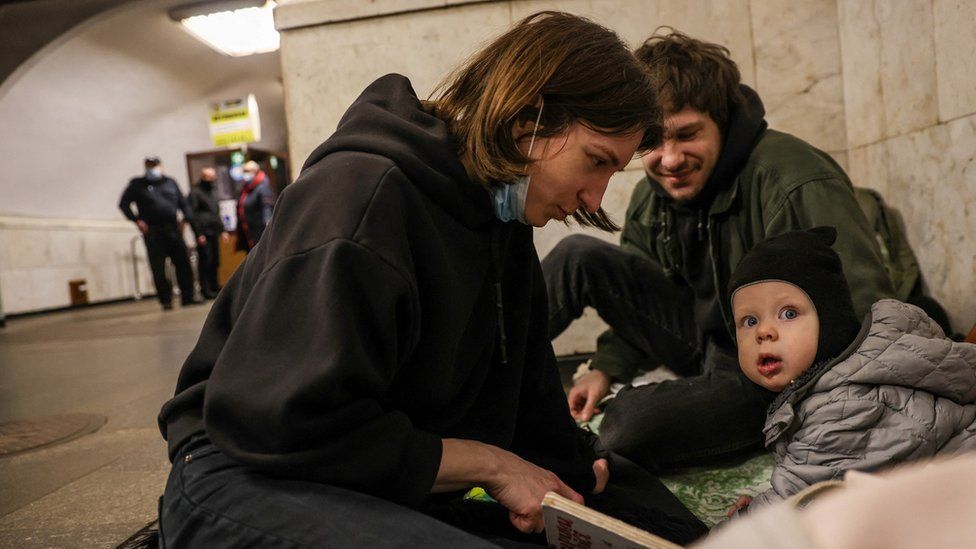 Some Kyiv residents sheltered in underground metro stations overnight

Dr Gorash said he did not believe the sanctions being put in place against Russia were enough.

"It is already the most catastrophic scenario that no one would imagine in the 21st century in the geographical centre of Europe, with a 50 million-people nation under threat of annihilation," Dr Gorash said.

"Just economic sanctions are not enough. Putin has prepared for them.

"What is needed is full engagement of United Nations with peacekeepers, European Union with economic support, and open borders, and Nato. Without Nato we wouldn't survive."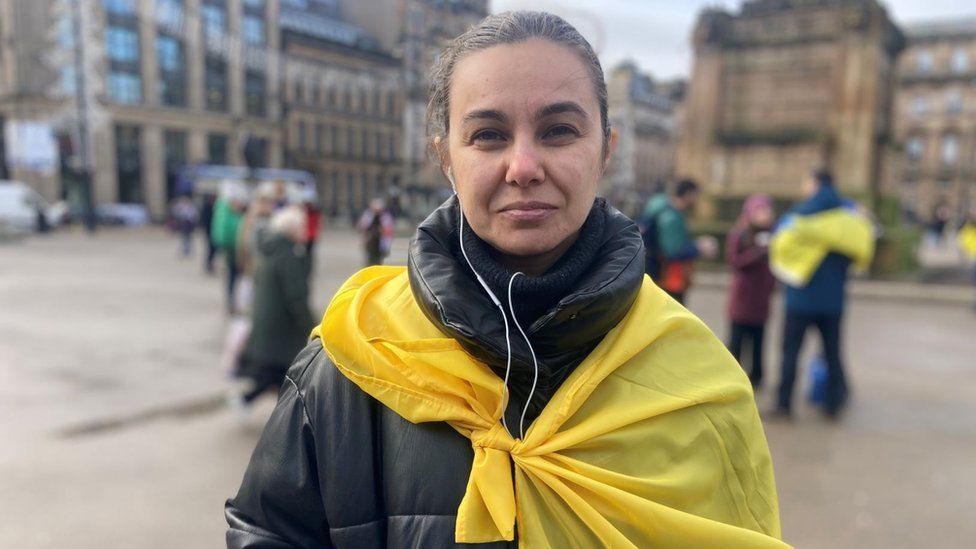 Russian national Anzhela Erdem went to George Square to show solidarity with Ukrainians

Russian national Anzhela Erdem, who has lived in Scotland for 12 years, went to George Square to show her support for the Ukrainians.

"I've been devastated and shocked and ashamed, to tell the truth," she said.

"I came here to show my support, to show that I am against this cruel war and let people know that not all Russians support this war."

She said many Russians believed Putin was taking "small military actions" against terrorists to free Ukraine.