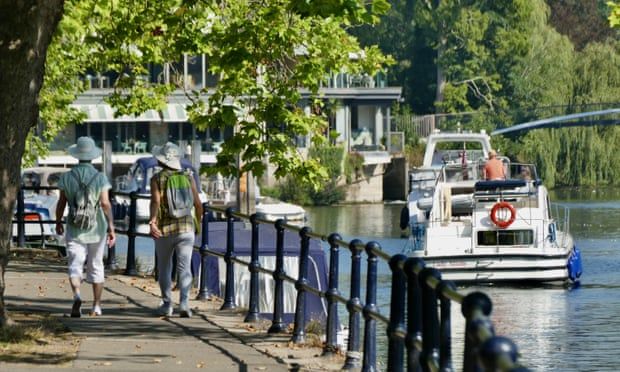 UK weather: parts of England could hit 30C before arrival of thunderstorms
Central and eastern areas forecast to be hottest as conditions nudge towards heatwave threshold
Temperatures exceeded 30C (86F) in some southern parts of the UK on Tuesday, before thunderstorms were expected to descend on the south-west.

The mercury hit 30.7C in Gogerddan, Wales, the highest temperature recorded on Tuesday – and the highest temperature since July – as a southerly airflow brought very warm conditions across England and Wales.

The Met Office said it was only the seventh time in the month of September that temperatures had reached in excess of 30C in the UK during the last 50 years. Three of those have occurred in the last decade – 2020, 2016 and 2013.

Temperatures in Northolt, west London, reached 30.1C, while in Cambridge a high of 28.3C was reported. While the weather was fine and dry for most across the country, it was cloudier with some patchy rain in the far north and west of Scotland.

But over the coming days, low pressure and associated fronts moving in from the south-west are projected to bring cooler and fresher conditions by Friday, with heavy showers and thunderstorms in some areas.

The Met Office issued a yellow warning of thunderstorms for south-west England on Wednesday, with the forecast that 30-50mm of rain could fall in less than three hours. Lightning may also be a hazard during the day.

Elsewhere in the UK, and especially in the north and east, Wednesday will remain a fine, dry day with heatwave thresholds close to being reached in some eastern parts of England. This includes predictions of highs of 28C in London, Birmingham and Liverpool.

However, a Met Office meteorologist said the hot spell could "just about make it" in terms of recording an official heatwave. The UK threshold is only reached when a location records a period of at least three consecutive days of daily maximum temperature levels meeting or exceeding thresholds that vary across the country.

Showers and thunderstorms are expected to move north-eastwards across the UK, bringing more widely unsettled weather throughout Thursday and Friday.

A further yellow weather warning for thunderstorms has been issued for Thursday in Northern Ireland, Wales and parts of northern and central England. The Met Office said that where the storms do occur, up to 30mm of rain is possible in less than an hour, which has the potential to generate some surface water flooding. There is also the possibility of localised impacts from lightning and hail.

Beyond the warning areas, unsettled and showery conditions will be the main theme of the weather for Thursday and Friday.

The current conditions follow the official end of the meteorological summer on 31 August. September has already exceeded August's highest temperature of 27.2C in the UK, an event that last happened in 2016.

Temperatures forecast for this week are still some way off the record high for September, set in 1906 at 35.6C. However, the frequency of temperatures exceeding 30C has been increasing over the last 50 years.