MHRA authorises use of vaccine on those aged 12 to 17, saying it is safe and effective for them
Britain's health regulator has approved the Moderna Covid vaccine for children aged 12 to 17, weeks after the Pfizer jab was given the green light for the same group.

The announcement by the Medicines and Healthcare products Regulatory Agency (MHRA) comes after it was announced that 16- and 17-year-olds in England were to be offered a first dose of a Covid-19 vaccine by Monday 23 August, ahead of school reopenings.

The MHRA said it was up to the Joint Committee on Vaccination and Immunisation (JCVI) to advise the government on whether children in the 12-17 age group should be given the Moderna jab.

Granting approval for use in England, Scotland and Wales, the MHRA said the jab – also known as the Spikevax vaccine – was "safe and effective in this age group". Moderna is already authorised for use in children aged 12 to 17 in Northern Ireland.

At present, children aged 12 to 15 are offered the Pfizer Covid jab only if they are considered clinically vulnerable.

The decision this week to offer 16- and 17-year-olds in England a chance to book their first jab before 23 August was so they would have two weeks to build immunity before returning to school in September, according to the health secretary, Sajid Javid.

Invitations are also being sent out in Wales, while older teenagers in Northern Ireland can use walk-in centres. Those in Scotland can register their interest online.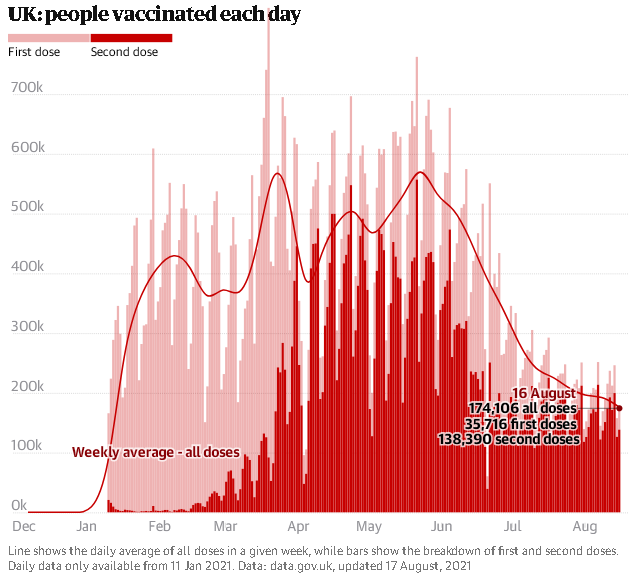 Devi Sridhar, the chair of global public health at the University of Edinburgh, welcomed the MHRA's decision and tweeted that she hoped the JCVI would look again at data on vaccinating teenagers and recommend Moderna's use as soon as possible.

Dr June Raine, the MHRA chief executive, said: "I am pleased to confirm that the Covid-19 vaccine made by Moderna has now been authorised in 12- to 17-year-olds. The vaccine is safe and effective in this age group. We have in place a comprehensive safety surveillance strategy for monitoring the safety of all UK-approved Covid-19 vaccines and this surveillance will include the 12- to 17-year age group."

A Department of Health and Social Care spokesperson said: "We welcome the news that Moderna's vaccine has been approved as safe and effective for people aged 12 and over. As has been the case with all other approvals, we will now be guided by the independent Joint Committee on Vaccination and Immunisation and have asked for its formal recommendation on whether to administer this vaccine to people aged 12 to 17."

The National Education Union, which represents teachers and education professionals, has said vaccinations of 16- and 17-year-olds would help reduce disruption to education in the next academic year, but said additional safety measures needed to continue in schools.

The union's joint general secretary Kevin Courtney said: "With the autumn and winter terms coming up, the issue of crowded schools with no social distancing and inadequate ventilation remains a problem."