The Scottish secretary, Alister Jack, has described Scottish government plans for another independence referendum as a "wheeze".
Mr Jack said the UK government did not know of a way indyref2 could happen without Westminster agreement through what is known as a section 30 order.

He said he was waiting to see what First Minister Nicola Sturgeon proposes next week.

Ms Sturgeon will set out a "route map" to another referendum on Tuesday.

This is expected to include details of how she will seek to hold a referendum in October of next year even if the UK government does not grant formal consent.

She has said she is determined to deliver her election promise to hold another vote on independence, and has accused UK ministers of trying to deny democracy.

But the first minister has not yet formally asked for a section 30 order, and would still need to pass legislation to hold a referendum in the Scottish Parliament.
Speaking to BBC Scotland at the Royal Highland Show in Edinburgh, Mr Jack said the UK government would consider any request for a section 30.

But he reiterated that the government believed that "now is not the time" for wrangling about the constitution, with the country dealing with the cost of living crisis and war in Ukraine.

He said any referendum bill in the Scottish Parliament would be looked at by UK law officers, who have previously challenged Scottish government legislation in court.

Mr Jack said it was "well known" that all matters relating to the constitution are reserved to the Westminster.

He said that he would discuss any proposal for a section 30 with the prime minister, but stressed: "We have been very clear that we are not in the position of having another referendum".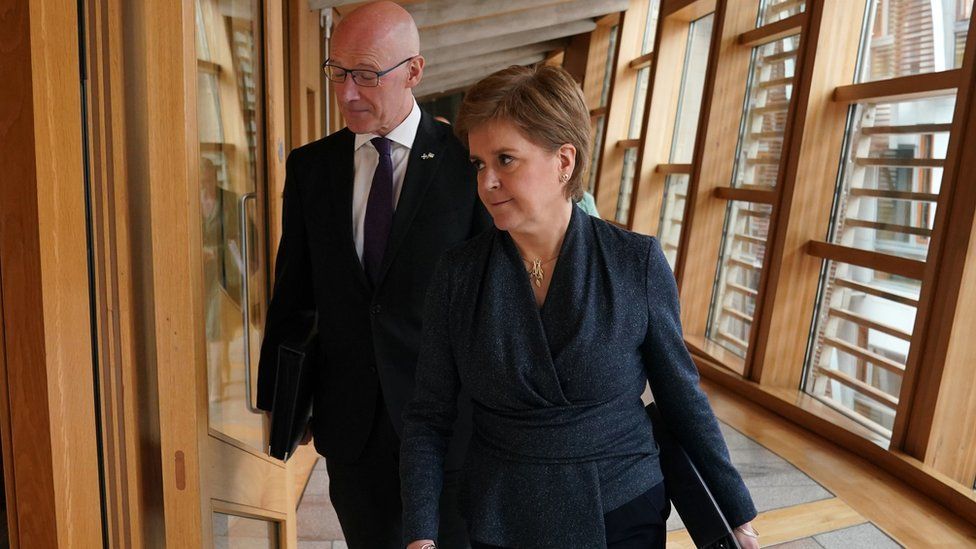 Ms Sturgeon has promised to set out how she will "forge a way forward" on indyref2 even without UK government consent

He also said he does not consider the pro-independence majority formed by the SNP and Greens at Holyrood as a mandate for another referendum because "less than a third of the electorate" voted for Ms Sturgeon's party.

Mr Jack added: "My advice to her is to get on with the priorities of the Scottish people.

"Improve education standards, deal with the NHS backlog after Covid, build some ferries for the Highlands and islands, sort out the record drug deaths in Scotland.

"That is what people want her to do, that is what she was elected to do".

What will Ms Sturgeon say next Tuesday?

The first minister will make her statement just two days before Holyrood goes into recess for the summer holidays.

She has described it as a "significant update" on how a "lawful" vote could be held without the UK government agreeing to a section 30, which was put in place ahead of the referendum in 2014.

And she has said her plan would show how the Scottish government intends to "forge a way forward, if necessary without a section 30 order".

However, Ms Sturgeon stressed that this must be done "in a lawful manner" - which has led to speculation that she could be preparing for a "consultative" referendum on independence.

This could see proposals for people to be asked a different question to the straight yes/no on whether Scotland should become an independent country that they were asked in the 2014 referendum.

For example, voters could instead be asked of they believe the Scottish government should begin negotiations with the UK government on Scotland leaving the UK.

Some commentators believe this is less likely to be successfully blocked by the UK government through the courts.

There have been suggestions that the pro-UK parties could boycott any referendum that was held without the consent of the UK government - which could potentially refuse to recognise the result.

According to polling expert Prof Sir John Curtice, the last six polls have - on average - put support for independence at 48%, with 52% against, once "don't know" votes are excluded.
Alister Jack: "The UK government's priorities are quite clear - it is the people's priorities."