Rising energy prices could push UK inflation as high as 18% next year, the highest rate in nearly 50 years, economic analysts have predicted.
Inflation - the rate at which prices rise - hit 10.1% in July, five times the Bank of England's (BoE) target.

Investment bank Citi said inflation was "entering the stratosphere" and could rise to 18%, while the Resolution Foundation said it could reach 18.3%.

The BoE predicted inflation will rise to more than 13% in the coming months.

Citi's forecast - which would be the UK's highest rate of inflation since 1976 - comes ahead of Friday's energy price cap announcement on the maximum amount suppliers can charge households for gas and electricity from October.

The investment bank's forecast is at the higher end of the scale compared to those made by other economists, such as EY-Parthenon which has forecast inflation to be at 15.4%.

However, economists at the Resolution Foundation think tank told the BBC that based on the current price cap predictions and the latest data on the rate prices are rising at, inflation could go as high as 18.3%.

Citi's chief UK economist, Benjamin Nabarro, said affordability concerns were "growing more deafening by the day".

"The question now is what policy may do to offset the impact on both inflation and the real economy," he said.

Consultancy Cornwall Insight now expects a typical household energy bill to £3,554 a year from October. This is slightly below its previous forecast.

However, it now expects energy regulator Ofgem to announce a price cap in January of £4,650, which is higher than its previous estimate of £4,266.

Its calculations reflected a 15% increase in wholesale prices in the last week, Cornwall said.

But the "highly volatile nature of the market" means these figures are expected to go up and down over the next couple of months, it added.

From October, all UK households will see their energy bill reduced by £400 through monthly instalments over six months, with a reduction of £66 in October and November, and of £67 a month from December to March 2023.

Eight million low-income households have already begun to get support for the rising cost of living, with the first instalment of payments totalling £650 hitting bank accounts in July.

But Citi said, without further government support, the price cap could hit £3,717 in October and £4,567 in January, reaching £5,816 in April.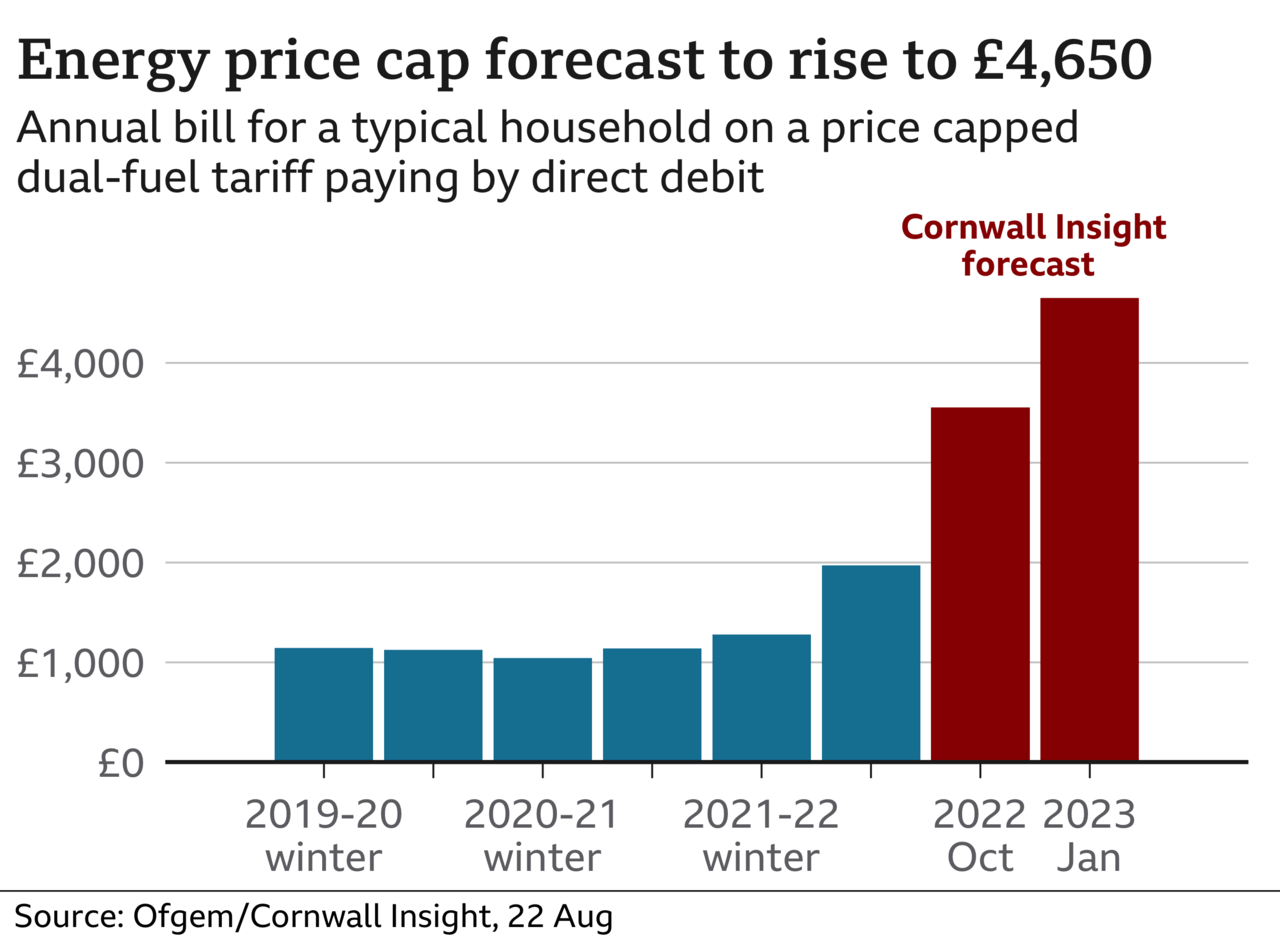 Octopus Energy chief executive Greg Jackson told BBC Radio 4's Today programme that if the price of beer had risen as much as gas prices, buying a pint would cost £25.

"People don't know what a therm is, but, underneath it, the price per therm has gone from 60p to around £5 at the moment and that's what's passing through to customers if we don't do something," he said.

Sarah Coles, a senior personal finance analyst at Hargreaves Lansdown, said there were 10 food groups that have seen their prices rise more than 18.6% in the past year, including bread, milk, pasta and butter.

"Inflation at 18.6% would push millions of people into dire straits," she said.

"And because these horrible price hikes are being driven by the essentials people need to stay alive - like food and heat - it's going to hit those on lower incomes hardest, who've got nothing left to give."

On Monday European gas prices rose sharply due to supply fears, after Russian energy firm Gazprom announced it would shut down the Nord Stream 1 pipeline - the main gas export route to Germany - to complete three days of unplanned maintenance.

British gas for immediate delivery was also up 37% to 503p per therm.

Oil and gas analysts at Investec said, in a briefing note, that it anticipated UK gas prices to remain elevated if Russia continues to restrict supplies to Europe.

"This is remarkable in summer, when gas demand for heating is at its lowest," its analysts said.

"The outlook for UK/European gas prices are to remain high - even in 2025 it is three-times the 10-year average."


Predicting the peak of inflation levels has been a mug's game in the last nine months.

The Bank of England originally predicted last year it would peak at 5%, then 10, then 13. HSBC recently revised its forecasts to 14% and on Monday global investment bank Citi set a new high watermark of 18%.

Almost all of this inflation of inflation estimates (deliberate) has been caused by rocketing gas prices, which find their way into almost everything we buy.

What is clear is that the forces that have propelled prices higher look like they are going to get worse before they get better.

The government has previously said there would be no new policies before a new prime minister is in place.

The new Conservative Party leader will be announced on 5 September and will face immediate pressure to tackle the nation's energy bills.

The current favourite, Liz Truss, has promised tax cuts - and recently hinted at direct financial help for hard-pressed households.

Her rival, Rishi Sunak, has said he would introduce more targeted support for households, and has promised to reduce VAT on domestic energy bills from 5% to zero.

The energy price cap is the maximum amount suppliers can charge customers in England, Scotland and Wales for each unit of energy. The figure is based on how much gas and electricity a typical customer uses, so each household's bill will vary.