An official drought has been declared as low-water levels and tinder-dry conditions continue across the UK.
Eight parts of England, including Devon, Kent, East Anglia and Lincolnshire are affected.

The move is expected to trigger stricter controls on water use and five water companies have already announced restrictions, including hosepipe bans.

Millions are expected to be impacted but the Environment Agency said essential water supplies were safe.

John Curtin, director of operations, said the drought would go on for "a long time" and warned of possible restrictions on crop growing and further hosepipe bans.

It comes as the prolonged dry weather - combined with the current heatwave and July's record-breaking temperatures - have depleted rivers, reservoirs and aquifers.

Large swathes of England are bone-dry, with scenes of parched earth and grass turned yellow.

The conditions have prompted the Environment Agency to move eight of its 14 areas into drought status, including:

* Devon and Cornwall

* Solent and South Downs

* Kent and South London

* Hertfordshire and North London

* East Anglia

* Thames

* Lincolnshire and Northamptonshire

* East Midlands

Yorkshire and the West Midlands are also expected to move into a drought later in August.

The decision to declare a drought was taken after a meeting of the National Drought Group - made up of government and agency officials, water firms and groups including the National Farmers' Union.

Announcing a drought means government and water companies will launch plans to deal with it, with measures including hosepipe bans and taking more water than usual from rivers.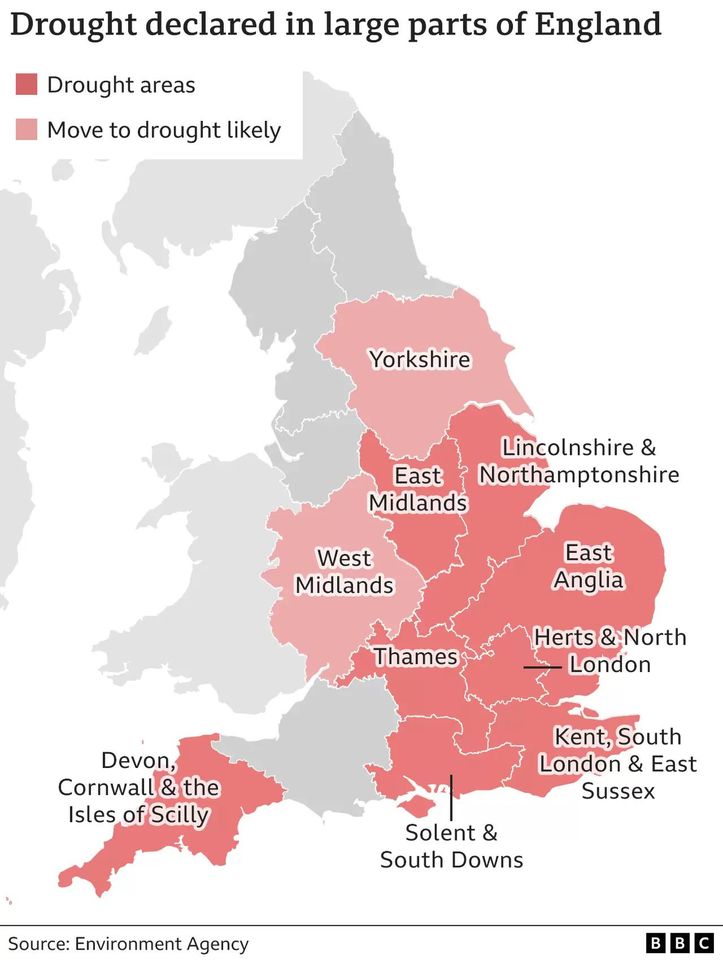 Members of the public and businesses in drought-affected areas are also being urged to use water wisely following the driest start to the year since 1976.

Elsewhere, Wales Drought Liaison group is also looking at the effect of the dry weather.

Four water companies - Welsh Water, Southern Water, Thames Water, and South East Water - have all announced hosepipe bans, while Yorkshire Water said on Friday that a ban would start on 26 August.

The firm, which has more than five million customers, says parts of the region have seen the lowest rainfall since records began more than 130 years ago.

It also said rivers and reservoirs in the region were running at 20% lower than expected for the time of year.

South East Water, whose ban came into force on Friday, is now asking people to observe restrictions on using hosepipes to water plants, wash the car and fill paddling pools - with rule-breakers facing fines of up to £1,000.

Dominic Gardener, a farmer in West Sussex, told the BBC the dry weather was posing huge challenges for farmers.

"Everything is starting to struggle a bit - our grass is not growing at all - and livestock, we're having to feed them extra food," he said, adding crop yields had also been reduced by the dryness.

Farmers in parts of Fife are being temporarily banned from using water from the River Eden on their fields.

The Scottish Environment Protection Agency says the measure will come into effect from midnight on Saturday to tackle critical water shortages.

A four-day amber warning for extreme heat from the Met Office is in place for many parts of England and Wales until Sunday.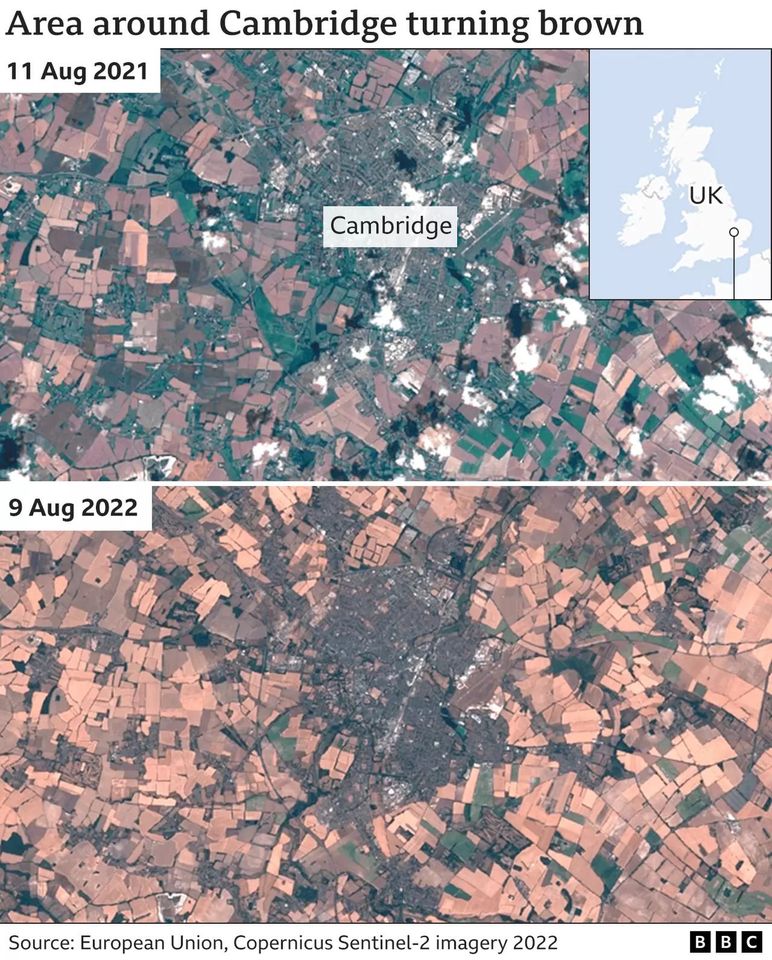 Temperatures are forecast to be lower early next week, however, and the Met Office has issued yellow thunderstorm warnings for Monday covering most of England, Wales and Scotland.

And its fire severity index - which assesses how severe a blaze could become - is currently "very high" for most of England and Wales.

The situation facing firefighters across the UK has been described as "unprecedented", with increasing numbers of wildfires.

Fires have broken out across the nation, including in Leytonstone, east London, Studland Bay, Dorset, Creswell, in Derbyshire, The Dower House in Bristol, and Overton, near Basingstoke in Hampshire.

Police have evacuated about 50 homes in Creswell after a major incident was declared due to a field fire.

Fire crews are also tackling a large blaze whichbroke out at a Leicestershire recycling centre.

Meanwhile, homeless people struggling with the extreme heat in Bristol said it was "making us sick," and even sitting in the shade was "tiring and sweaty and uncomfortable".

Bristol Street Outreach Team, operated by charity St Mungo's, has been carrying out additional shifts and giving out water, advice and sun protection to those in need.

UK temperatures have been rising day-on-day through the week. According to the Met Office, on Friday the highest temperatures were recorded in:

* Wiggonholt, West Sussex, at 34.5C

* Northolt, west London, and Hermonceux West End, East Sussex, at 34.2C

* Heathrow, west London, at 33.9C

* Ross-on-Wye, Herefordshire, at 33.8C

* Chivenor, Devon, at 33.7C.

Over the weekend temperatures could peak at 36C.

Met Office chief meteorologist Andy Page said there would be "increasingly warm nights" with temperatures not expected to drop below the low 20s in some places in the south.

Sir Keir Starmer has accused the government of failing to fully prepare the UK for drought, and also out at the response of water companies.

Water firms have been criticised over leaks, with about three billion litres of water lost each day in the UK - between 20% and 24% of the total water supply.

The Labour leader said the drought was "predictable" but "as usual we had no plan from the government".

Environment Secretary George Eustice said there was "no reason for people to be alarmed".

He told BBC News that the UK's water supply "remains resilient" and that "we're in a stronger position than ever" to withstand droughts, with progress made on leaks and infrastructure to move water between reservoirs.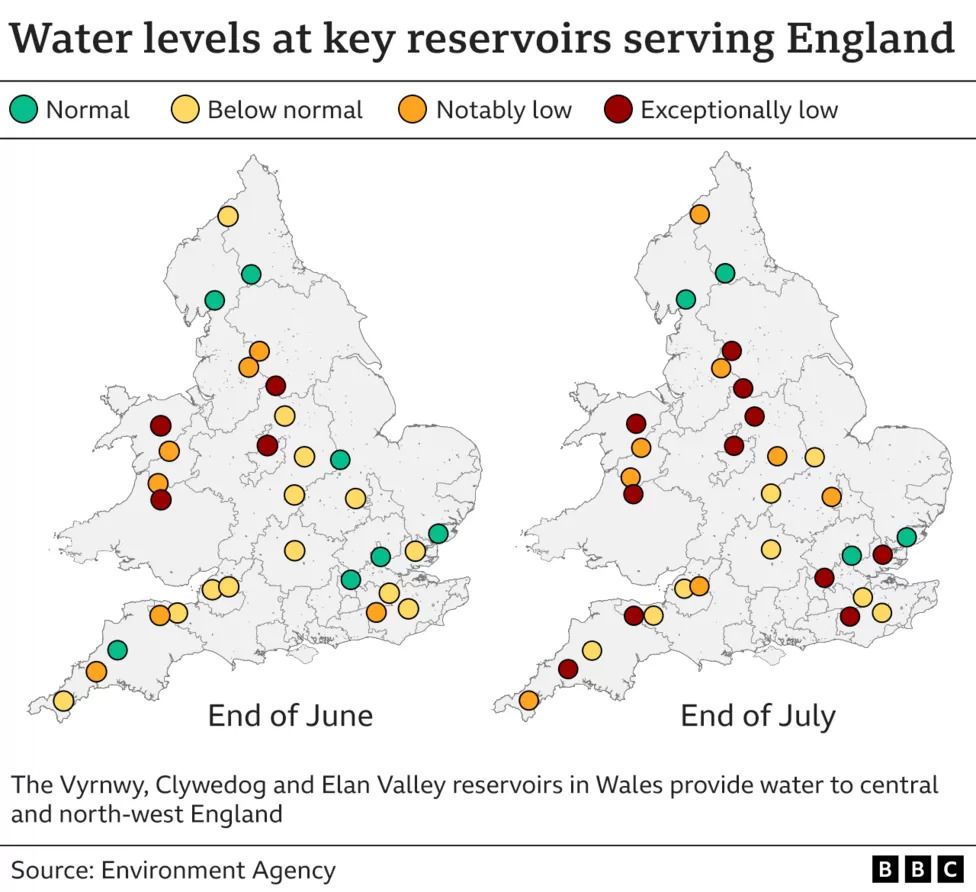 Heatwaves are becoming more likely and more extreme because of human-induced climate change.

Research institute UK Centre for Ecology and Hydrology (UKCEH) said it would require "exceptional" rainfall over the next one to three months to bring river, reservoir and groundwater levels back up to normal.

It said analysis showed exceptionally low levels would probably continue until October in southern England and Wales.

But scientists have warned bouts of heavy rain after a prolonged period of hot weather can cause flash flooding.

Robert Thompson, a professor of Meteorology at the University of Reading, told BBC News "the ground has effectively become like urban concrete" and will not absorb water quickly enough to cope with longer showers.

The situation in the UK is being mirrored across Europe. Much of the continent is baking in record heat, exposing riverbeds and triggering restrictions on water use in many areas.

A drought has also hit Germany's Rhine River, where the water is already too low to allow some larger vessels through.

What is a hosepipe ban?

Restrictions on usage during hosepipe bans can vary between water providers but generally people are not allowed to use hosepipes or anything that connects to a hosepipe or an outside tap.During a ban, people cannot use a hosepipe to:

* Water a garden or plants

* Fill a paddling or swimming pool

* Clean a car

* Fill a pond

* Clean walls or windows

But you can use other water sources, like using your mains water supply but with buckets or watering cans instead of hosepipes, or using stored rainwater from a water butt and there are some exceptions when a hosepipe can be used.

Anyone breaking the rules could face a fine of up to £1,000.
Watch latest UK weather forecast: Amber heat warning in force