Foreign Secretary Liz Truss has been criticised after she said the "jury was still out" on French President Emmanuel Macron.
Her remark came as she was asked if Mr Macron was a "friend or foe" of the UK at a Tory leadership hustings.

She added that if elected PM she would judge him on "deeds not words".

But Labour's David Lammy accused Ms Truss of "a woeful lack of judgement", saying she had insulted one of "Britain's closest allies".

Ms Truss, widely seen as the clear frontrunner to the next Conservative leader and prime minister, made the remark at the penultimate leadership hustings in Norwich, to loud applause.

Her comment came at the end of the hustings during a series of "quickfire questions" posed by the host, TalkTV's Julia Hartley-Brewer.

When asked the same question Mr Sunak said Mr Macron was a "friend".

Former Conservative minister Gavin Barwell also questioned Ms Truss's comment saying: "You would have thought the foreign secretary was aware we are in a military alliance with France."

Another ex-Tory minister, David Gauke, said: "There's playing to the gallery and then there's letting the prejudices of the gallery go to your head, especially when now is one of the worst times to try to fragment the West."

The UK and France have clashed over several issues in recent years, including migrant boat crossings in the Channel, a military pact between Britain, the US and Australia. and Brexit measures involving Northern Ireland. Mr Macron has sometimes publicly criticised the Conservative government's approach.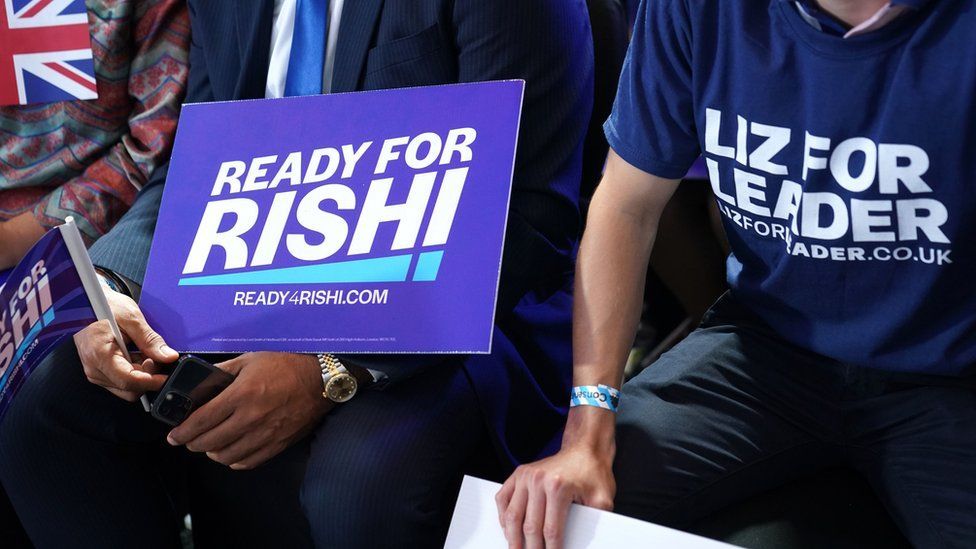 During the two-hour long event, Ms Truss and her rival Rishi Sunak were also asked who would make a better prime minister - Boris Johnson or their leadership rival.

Mr Sunak chose Ms Truss, arguing it was important for the country to move forward. But Ms Truss picked Mr Johnson - a decision that earned her applause from the crowd of Conservative Party members.

The pair were also asked about the recent shooting of nine year old Olivia Pratt-Korbel in Liverpool and how they would tackle crime.

Mr Sunak said the shooting was appalling and pledged to make sure there were more police officers on the street and that they "have tools they need to keep us safe".

He expressed concern that "wokeish ideology" was holding back police from using stop-and-search powers.

Ms Truss agreed on the need for more police and said at the moment forces were spending too much time "policing Twitter" instead of "crimes that people care about".

Both reiterated their previously-stated concerns about the level of restrictions during the Covid pandemic, with Ms Truss arguing it had been wrong to close schools.

"We were too draconian," she added.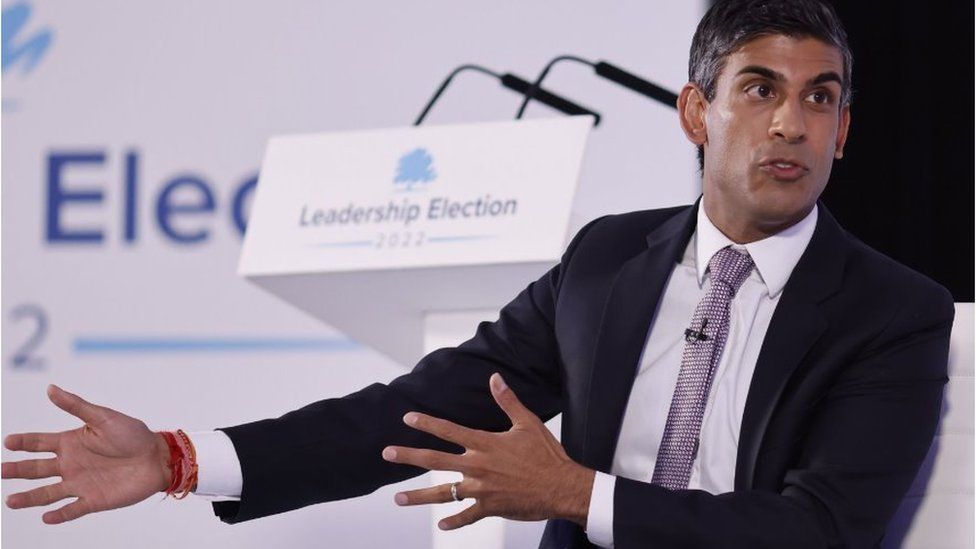 Analysis by BBC East political correspondent Andrew Sinclair

Among the predicted talk about tax cuts, price caps and the NHS, another issue that kept coming up in the East Anglian hustings: Government funding.

For years local politicians and business leaders have felt that the eastern region loses out and gets ignored. We've received the lowest amount of levelling up funding in the country. Spending on health, transport and education is below average.

Mr Sunak was cheered when he said that levelling up was not just for the North and big cities.

Ms Truss was applauded when she said how hard it was to get a decent mobile signal locally and lamented the time taking to dual the A47.

Both candidates have promised to reform the funding formulas. That's gone down well with local Conservatives.

And in a region with a big farming community, pledges from Ms Truss that farms should produce food not solar panels and Mr Sunak's promise to improve food security landed well.

More light-heartedly, the pair were also asked who they would rather be stuck in a lift with - Labour leader Keir Starmer or Nicola Sturgeon.

Ms Truss opted for Scotland's first minister with the hope she could persuade Ms Sturgeon "to stop being a separatist by the time we got to the ground floor".

She added that the idea of being stuck in a lift with Labour leader Sir Keir was "extremely boring".

Mr Sunak said he would take the stairs.