The proportion of top A-level grades in England, Wales and Northern Ireland has fallen since 2021, but remains higher than in 2019.
About 36.4% of A-levels were marked at A* and A this year, while last year, 44.8% of exams were graded A or above.

It is the first time since 2019 that A-level grades have been based on public exams, after two years of cancellations because of the Covid pandemic.

Students also received T-level, BTec and other results on Thursday.

The university admissions service, Ucas, said 65.3% of students in the UK who applied to university were offered their first choice.

This year's A-level marking system has been adjusted, so that grades reflect "a midway point" between 2019 - when 25.4% were A* and A grades - and 2021, when teacher-assessed grades led to a boom in top marks.

England's exam watchdog Ofqual has said the approach was intended to bring grades closer to pre-pandemic levels, while reflecting "that we are in a pandemic recovery period and students' education has been disrupted".

Similar plans were put in place for Northern Ireland and Wales.

In Scotland, where pupils received their exam results on 9 August, the pass rate at Higher level fell to 78.9% - down from 87.3% in 2021.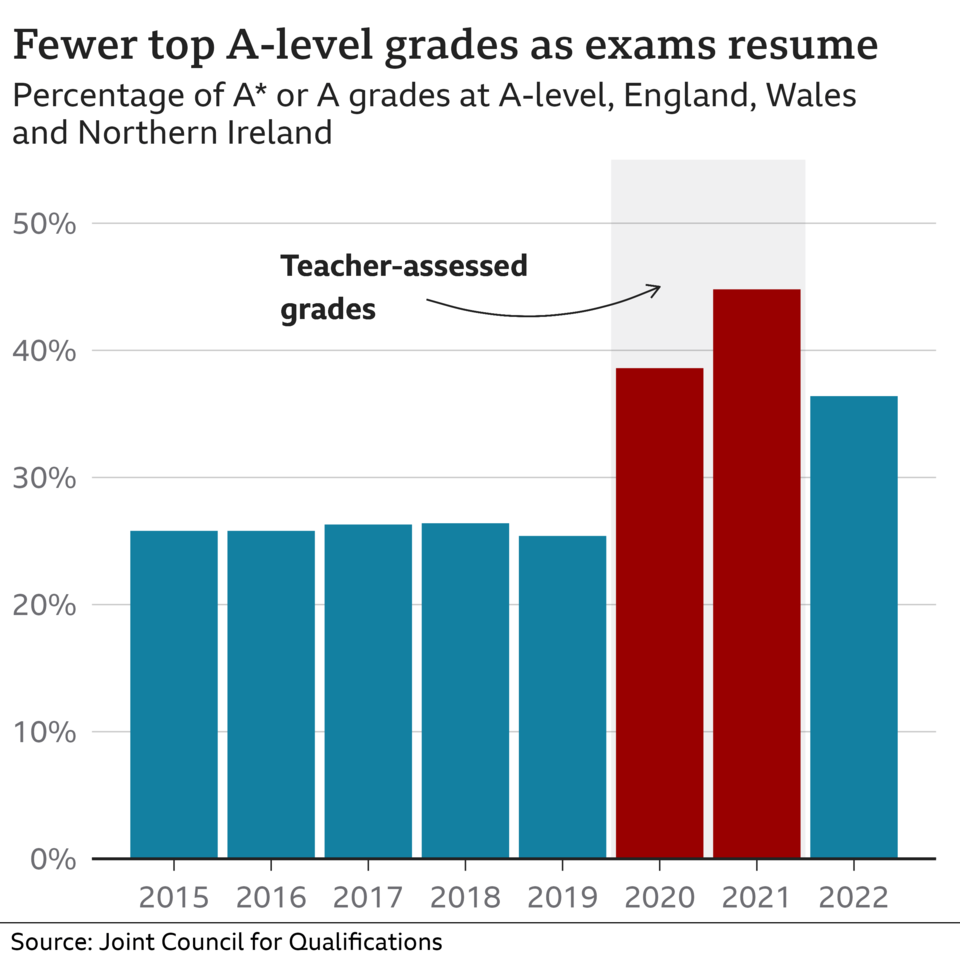 Ucas said on Thursday morning that 425,830 students had been accepted into university or college - the second highest number on record - but 20,360 students had not.

They are being advised to search for vacancies through clearing, which is where Ucas highlights courses with available spaces.

Ucas also said more students from the most disadvantaged backgrounds were awarded a place at university than in 2019, and that 71% of university applicants who took T-levels were accepted.

The A-level results for England, Wales and Northern Ireland also show:

*  The overall pass rate was 98.4%, which falls between the rate in 2019 and in 2021

*  Girls received more top grades than boys. In total, 37.4% of girls' entries were given A* and A grades, compared with 35.2% of boys' entries.

*  Geography bumped English Literature from the top 10 most popular subjects

There were regional disparities in England, according to Ofqual. In London, 39% of A-level grades were A* and A, compared with 30.8% of grades in the north-east of England.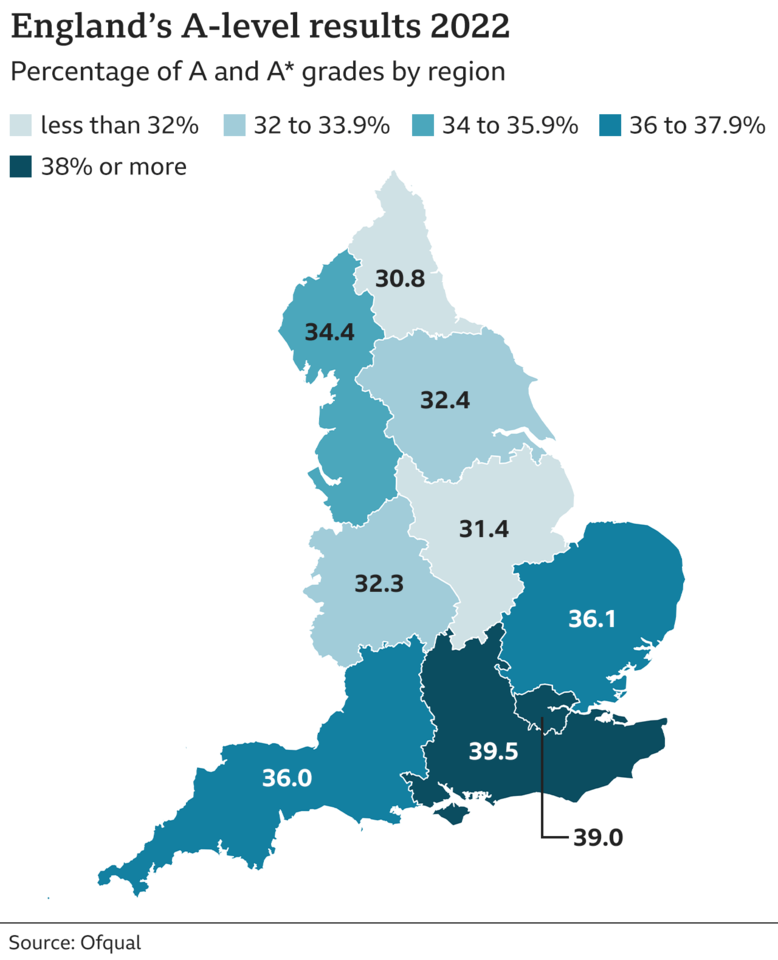 Results for AS-levels also came out on Thursday. In Wales and Northern Ireland, these will count towards a student's final A-level result next summer.

And it is the first year of results for new vocational T-level qualifications in England, this year taken by a cohort of 1,029 students.

The pass rate for T-levels, designed to be equivalent to three A-levels, was 92.2%

To achieve the technical qualification, time is split between classroom learning and industry placements - with students awarded a pass, merit, distinction or distinction* after two years of work and study.


'Emotional'

By George Crafer, BBC News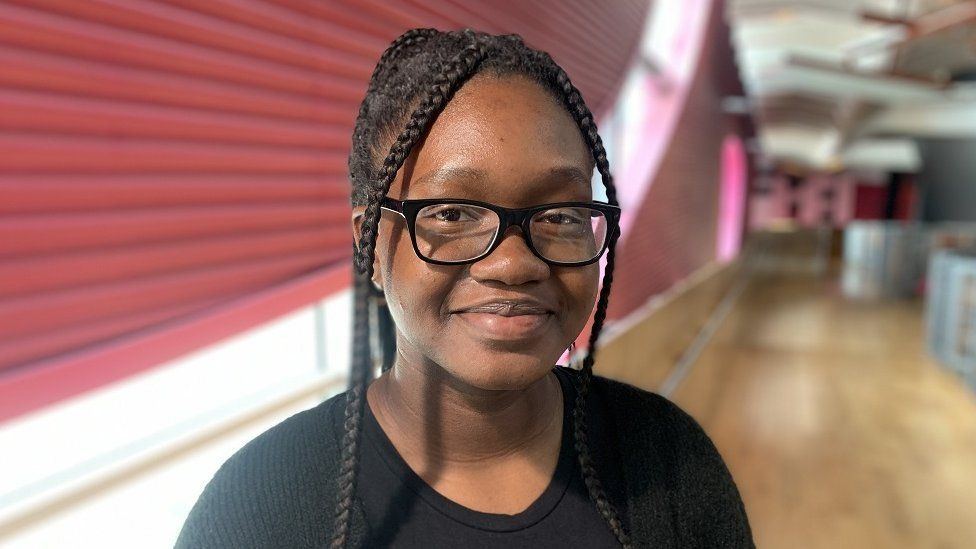 Praise, who is 18 and studied at Central Saint Michael's Sixth Form in West Bromwich, felt relieved after getting her results.

She achieved B grades in her A-levels in history and English literature, and a D* in her Level 3 BTec in health and social care.

She is among about 200,000 students who received Level 3 BTec results on Thursday.

"It was emotional. I had a cry," she told the BBC.

Praise is preparing for an interview at Birmingham City University, where she hopes to start training as an RAF student nurse in February.

Receiving her results has made it all sink in that Praise will be leaving home.

"After I've done three years of uni, I'll spend a minimum of 12 years with the RAF," she said.

"I haven't spent much time away from home, so it's a bit scary. But it'll be something entirely different - I'm really looking forward to that."

After missing out on GCSE exams because of Covid, Praise was glad there was a return to exams this year.

"I wanted to write my own exams, get my own grades and see that it was my hard work that got me to that moment," she said.

James Cleverly, England's education secretary, congratulated students and thanked teachers.

"These students have experienced unprecedented disruption over the last couple of years, and such excellent results are a testament to their resilience and hard work," he said.

Grade boundaries

Special measures were introduced for this year's A-levels to counteract the disruption to education caused by Covid, such as advanced information about topics.

And the grade boundaries - the number of marks needed for each grade - were more lenient this year than they were before the start of the pandemic.

A-level grades are lower than last year because of the system being adjusted to counteract the sharp rise in top grades over the past two years, rather than being purely a reflection of individual student work. But grades are still higher than in 2019.

It is likely to be a competitive year for some students looking to start university. There are more 18-year-olds in the population this year and a slightly higher percentage of them are applying for places, according to Ucas.

The toughest competition is for places at the most academically selective universities. This year, those institutions have been more cautious with the number of offers they have made, after a couple of bulge years - when top grades proliferated - in 2020 and 2021.

Competition for places is also high for certain courses - including some heavily subsidised degrees, such as medicine, which are reintroducing caps on student numbers this year.
Missed your grades? The BBC's Hazel Shearing explains - in a minute - what you can do