People living in Scotland have spoken of holiday stress and frustration caused by the Scottish government's vaccine certificate system.
Other UK nations use apps which provide a QR code as proof of vaccination, in line with a system used across Europe.

However, people in Scotland have to request a paper certificate sent by post, which countries may not accept.

Travel agents say Scottish travellers have been "blindsided" and in some cases may have to endure quarantines.

The EU Digital Covid Certificate is available in all 27 member nations - plus Switzerland, Iceland, Norway and Liechtenstein.

Because the UK is no longer in the EU, the certificate is not available to most Britons, leading to a number of problems.

The Scottish government has said it hopes to introduce a digital scheme next month.

French-born Virginie Brouard, who owns the Edinburgh wine bar and restaurant Le De-Vin, travelled to Brittany in France with her children to visit her parents - whom she had not seen in two and a half years.

France has recently rolled out a new health pass which means people need proof of vaccination to enter places such as museums and cinemas.

'Café turned us away'

Virginie said she did not experience issues getting into the country, but said she was turned away from a café because she did not have a QR code.

She said there is concern in the area that if checks are not done correctly, businesses could close.

She told BBC Radio Scotland's Drivetime with John Beattie: "It's been a stressful holiday to be honest. They don't like the piece of paper, they are all asking for a QR code and it's all on the phone - I'm lucky that Brittany is a bit more laid back.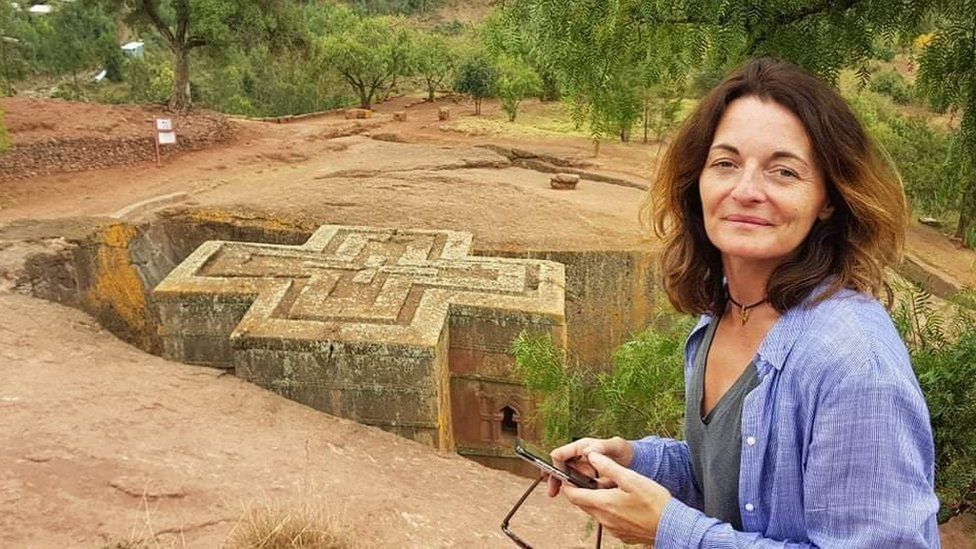 "They don't really like the AstraZeneca vaccine either but I have only been rejected once - we just went for a coffee, I went to order and when the woman came to check our vaccine passport I said I only had the paper.

"She said she didn't want us to stay. That was not nice, I have to say I'm not too happy with the entire situation."

Virginie said her £400 bill for PCR tests had caused further stress as she could not be assured her family's results would arrive on time for their return journey on Sunday.

However, she believes asking people to prove their vaccination status is not just impractical, but a moral issue.

"We have to respect everybody's situation,"she said. "I'm not a scientist or politician but I don't like it - it's not right, especially when there is no vaccination for children.

"As a business owner there's no way I'm going to pay somebody to sit at the door and ask my customers for a vaccine passport."

'My boat is stranded 500 miles away'

Last August, businessman Derek Douglas took his yacht to Bergen on the west coast of Norway, where it has been stranded ever since.

The 67-year-old former chairman of Maggie's Centres has been attempting to re-enter Norway over the summer, but cannot get permission from the authorities because of his paper vaccine certificate.

The country only accepts Norwegian, Danish, Swedish or EU digital Covid certificates as proof of vaccination or previous illness.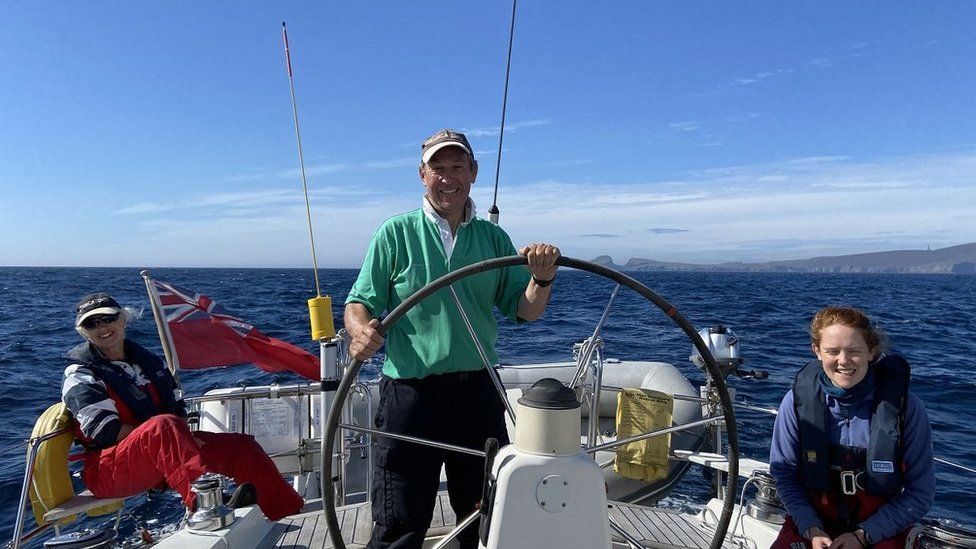 Derek said: "I've spoken to the guy in charge of the border police at Bergen airport and offered my NHS login details but they said they can't do that - they can only scan QR codes.

"I don't mind not being able to access amenities but I've left my boat there since August. It's more frustrating as it looks like the Scottish government weren't looking ahead, someone should have woken up to the idea.

"I can't have a holiday in Norway - I wanted to go exploring and can't do that as most people stop sailing at the end of September due to the wind and low temperatures. It was supposed to be a bit of an adventure. I'm an older guy and you've got to pack these things in while you can."

Last month the Scottish government confirmed that a digital scheme would replace the paper vaccination certificates.

It awarded a £600,000 contract to a Danish firm to develop the digital system, which is expected to launch in September.

The Scottish government said: "We are developing an app to make it easier to show Covid status for international travel.

"This will include vaccination records and we aim to release this next month."

'Challenging time'

However Linda Hill, of the West Kilbride travel agent LAH Travel and part of the Scottish Passenger Agents Association, told the BBC she was "dumbfounded" by the Scottish government's decision to continue posting certificates by first-class mail.

She said: "The cost of that when the rest of the UK has a digital pass, I don't understand why we're not all just using the same thing.

"The protocols for every destination are so different - it's a very challenging time to have to tell people what happens in Spain is different from France etc.

"Most countries don't ask for a PCR test to come back in, they recommend it but will accept an antigen test which is a lot cheaper.

"In France you're going to have a digital pass which we don't have. Once again it feels like the Scottish traveller is being blindsided.

"Please check what your regulations are because we are hearing if you don't have the digital certificate you have to quarantine on arrival."