Rail, road and ferry operators urge people to avoid journeys as services disrupted by high winds
Storm Eunice has left much of Britain's transport services unable to operate, with railways blocked by fallen trees, with the sea whipped too rough for ferries and extreme gusts of wind making airports perilous for landing.

A day that started with police, operators and transport authorities urging motorists and rail passengers to stay at home ended with much of that advice vindicated, as engineers struggled in vain to keep railways open and airlines having to belatedly cancel hundreds of flights.

Rail
Many train services had been cancelled before Eunice hit the UK, in anticipation of widespread disruption. Transport for Wales stopped all trains across the country for the first time, while Network Rail had slapped 50mph speed limits on most of the functioning railway to limit the risk from falling debris.

That restriction meant long delays on key intercity routes into London from the Midlands and the north, and fewer trains running. But as the day went on, an increasing number of lines were shut, mainly owing to falling trees blocking tracks or pulling down overhead wires.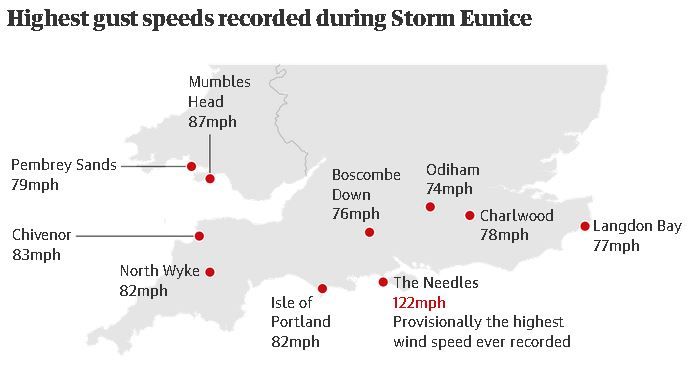 While Network Rail deployed teams of engineers ready to clear and repair damage, the incidents were stacking up too fast – about 30 trees on the South Western network alone by early afternoon. Southeastern soon also announced all its lines were closed.

Services into several London stations, including Waterloo, and later Euston, King's Cross and St Pancras International, were suspended for parts of the day. Great Western services into Paddington were all but ended, with lines in Devon and Cornwall, at the other end, shut in advance.

Public transport authorities in Manchester and London, to where the Met Office extended its red weather warning on Friday, urged people to avoid non-essential journeys. London Overground services were disrupted by high winds in the morning, and tracks in east London were later blocked by fallen trees.

Rail firms had urged passengers to rebook for Saturday, but by the end of the day Network Rail said there was no guarantee that the disruption would be over by the weekend, and passengers should check before travel on Saturday to see if services had been restored.

Despite snow in Scotland, ScotRail, which was badly affected by Storm Dudley earlier this week, ran many services.

Road
Motoring organisations said roads were not as affected as feared – largely because of lower volumes of traffic, with many apparently heeding the advice they and the police dispensed: to stay home because of the danger of high winds.

Major crossings were closed – including all of the Severn crossings into Wales, for the first time, along with the Humber and Dartford Bridge crossings. A number of roads were blocked by fallen trees, including parts of the A303 and several lanes of the M4. The M5 was partially blocked by an overturned lorry.

Other roads including the A66 cross-Pennine route and the M8 between Edinburgh and Glasgow were partially closed, due to snow, but reopened later in the day.

Air
While airlines had been optimistic that most services would operate, the storm eventually caused hundreds of flights to be cancelled by British Airways and others.

Nearly 400 flights in and out of the UK were cancelled by 3pm Friday, according to data from the aviation analytics firm Cirium, largely at Heathrow and London City airport, the latter being closed altogether.

A number of arrivals were diverted or had extreme difficulty in landing at Heathrow and Gatwick airports in high winds.

Several planes were unable to touch down at Heathrow at first attempt, including a Qatar Airways A380 that took three approaches to land.

Worse befell passengers on an on easyJet flight from Bordeaux to London Gatwick, who had to endure two aborted landings before their pilot decided to return to Bordeaux, landing more than three hours after takeoff.

Sea
Extremely rough seas led to ferry services being suspended around Britain. P&O Ferries suspended all cross-Channel sailings between Dover and Calais until further notice, advising passengers not to travel to Dover port on Friday.

Ferry services across the Irish Sea from Belfast to Scotland and Dublin to Wales were cancelled. Isle of Wight ferry services were also suspended.

Main bridges into Cornwall and across the Thames were closed because of high winds. Both the Severn crossings into Wales, the Severn bridge and the Prince of Wales bridge on the M4, were closed. Other roads including the A66 cross-Pennine route and the M8 between Edinburgh and Glasgow were partially closed.