Energy companies are working to restore power to thousands of homes, as forecasters issue new yellow weather warnings for parts of the UK.
Gusts of up to 70mph are predicted in England, Wales and Northern Ireland on Sunday, while heavy rain is due in Cumbria, Lancashire and West Yorkshire.

It comes after one of the worst storms to hit the UK in decades killed three people on Friday.

Storm Eunice tore through the UK, toppling trees and destroying roofs.

The Met Office's Greg Dewhurst said there would be "a slight easing in the wind" on Saturday night, but added "it's not long before they pick up again tomorrow to lead to another windy day across the UK".

"This will have an impact on the clearing up process over the course of the day."

A yellow warning for wind has been issued for England and Wales on Sunday from midday until 15:00 GMT on Monday, while Northern Ireland and north-west England are covered by the same warning until midnight Sunday.

In addition, there is a yellow warning in place for rain, from midnight Saturday until 18:00 GMT on Sunday, for Cumbria, Lancashire and West Yorkshire.
In an update on Saturday, the Energy Networks Association said about 155,000 customers remained without power in the south and east of England and Wales, while some 1.22 million had been reconnected.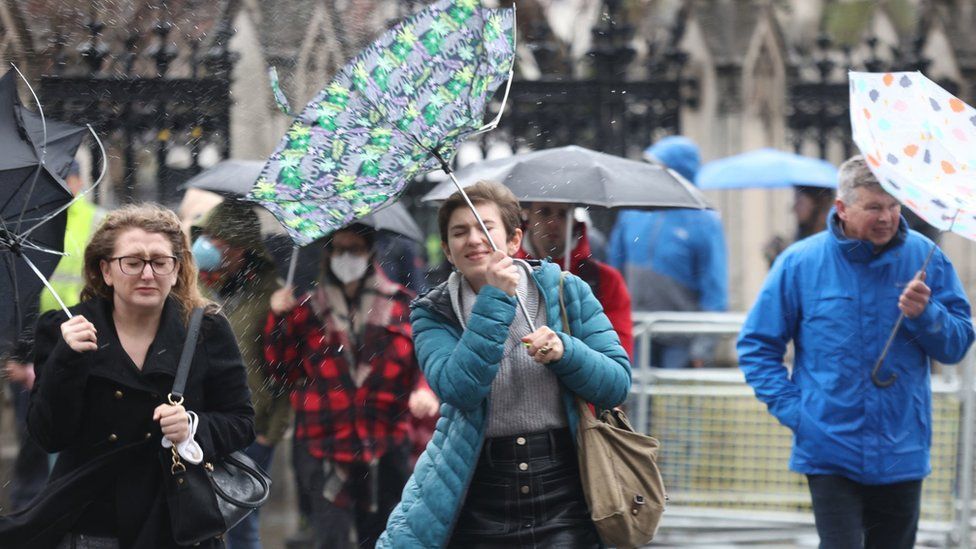 People braved wet and windy weather in Westminster in central London on Saturday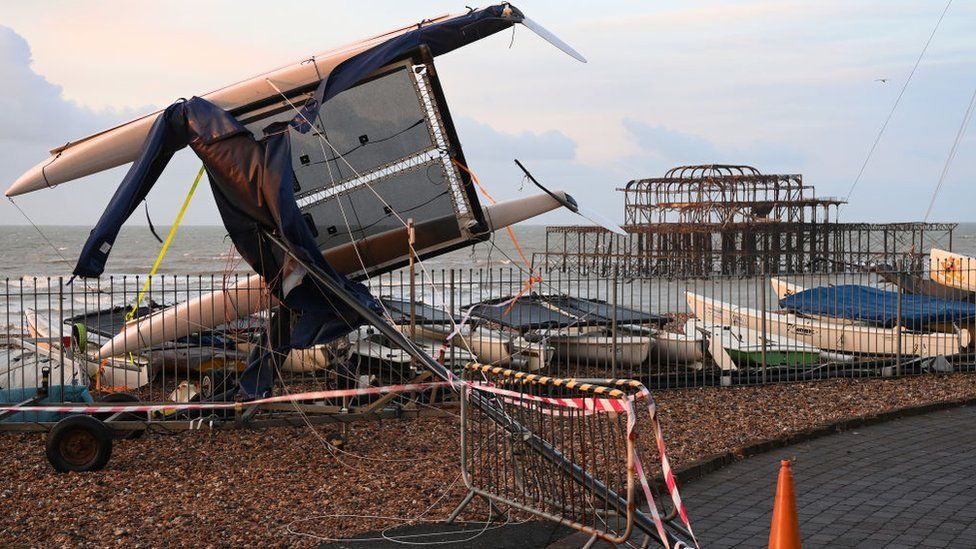 A catamaran lies upended in Brighton after Storm Eunice

There was ongoing "major disruption" to rail services "across most of Great Britain" on Saturday, as operators cleared debris from the tracks and brought trains back to the intended destination.

Some routes operated a limited service, but most continued to advise customers not to travel unless essential.

Gatwick, Heathrow and Manchester airports said operations were mostly back to normal, after more than 500 flights to and from the UK were cancelled on Friday - on a weekend likely to be busy with half term traffic.

Friday's Storm Eunice was preceded by a rare red weather warnings for coastal areas of south-west England and south Wales, along with south-east England, indicating a danger to life

Five flood warnings were still in place in England on Saturday afternoon.

Insurance payouts for damage caused by the storm could total between £200m and £350m, according to early estimates from the consultancy firm PwC.

Mohammad Khan, General Insurance Leader at PwC UK, said insurance losses would mainly relate to "damage to homes, commercial properties and vehicles from falling trees and flying debris".

Last year, the Association of British Insurers estimated the cost to the insurance industry from Storms Dennis and Ciara at a combined £360m.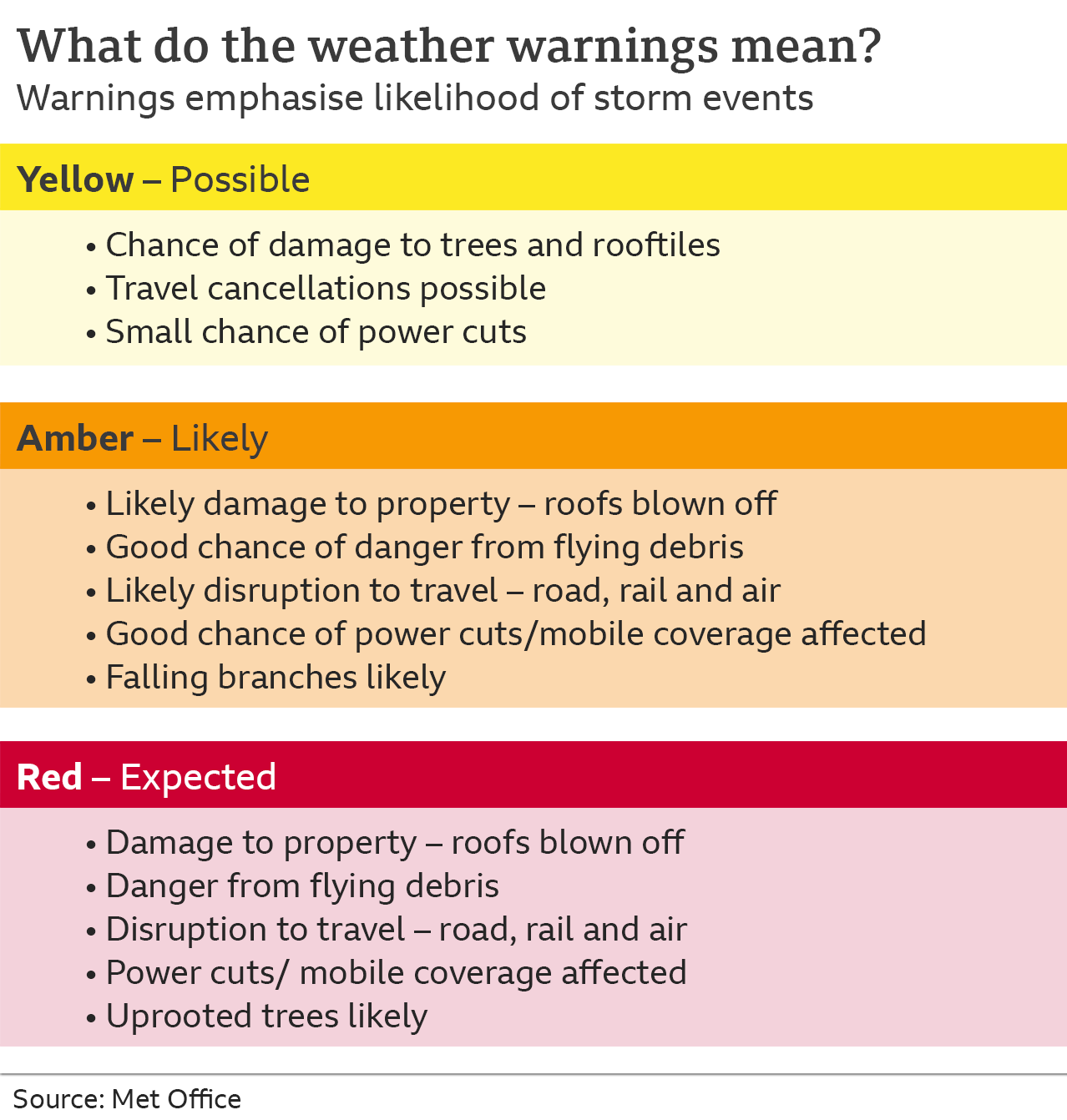 Police forces and local authorities across the country reported being inundated with phone calls related to the storm.

London Fire Brigade declared a major incident - receiving 1,958 calls on Friday, three times more than the previous day.

The South Central England ambulance service declared a critical incident due to demand on its emergency services.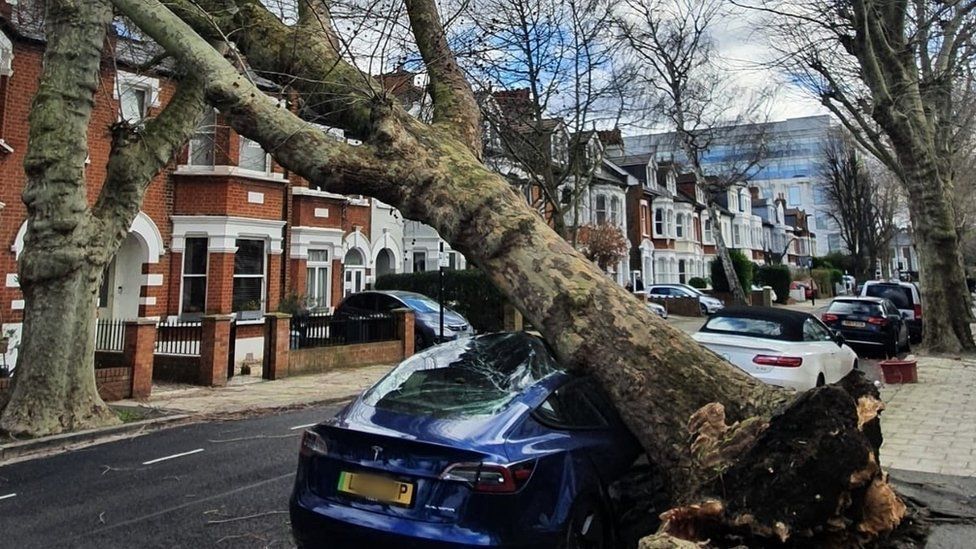 A fallen tree crushed the roof of a Tesla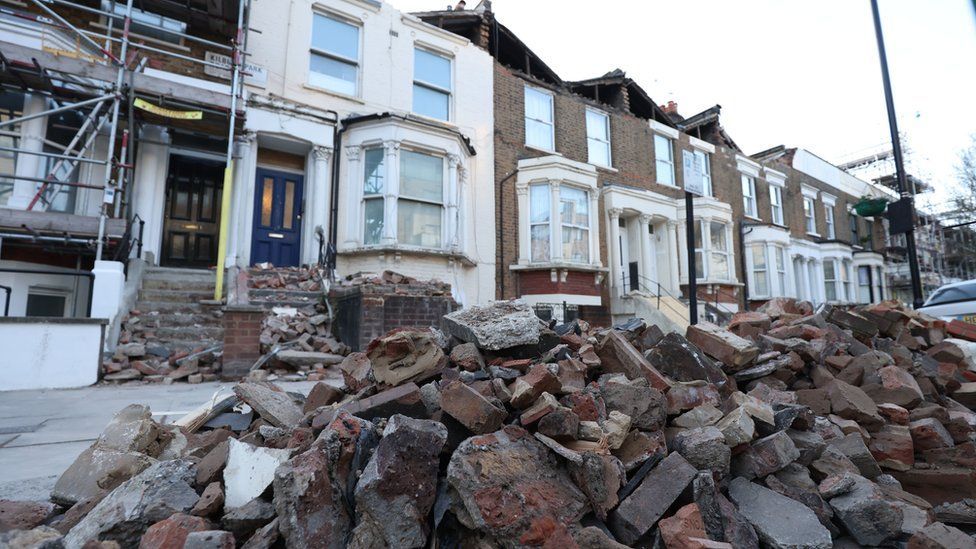 The rooftops of three houses in Kilburn Park Road, in north-west London, were torn off by strong winds on Friday, leaving the road filled with debris

A female passenger in her 30s died in Highgate, north London after a tree fell on a car on Friday afternoon, police said. The driver, a man in his 30s, was taken to hospital.

A man died in Merseyside after debris hit the windscreen of a car he was a passenger in. The driver was not injured.

In Alton, Hampshire, two men were in a pickup truck when it was crushed by a falling tree. The passenger died at the scene while the driver was taken to hospital with serious injuries.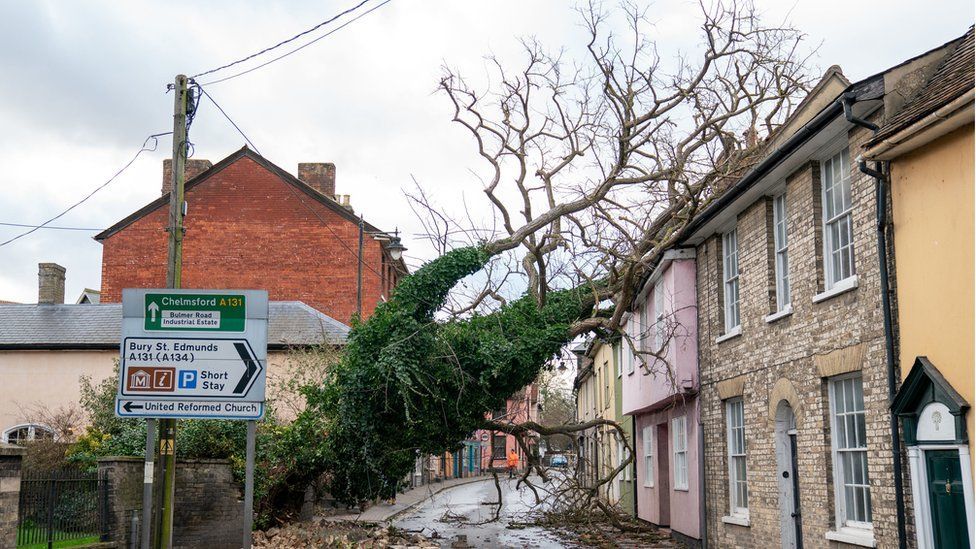 A fallen tree rests against a house, blocking a road in Sudbury, Suffolk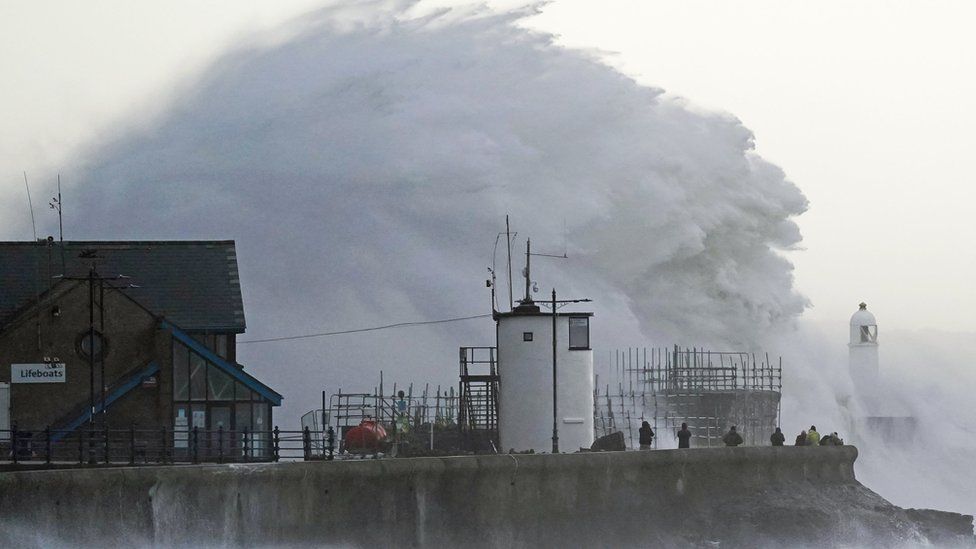 Waves crash against the sea wall and Porthcawl Lighthouse in Porthcawl, Bridgend, Wales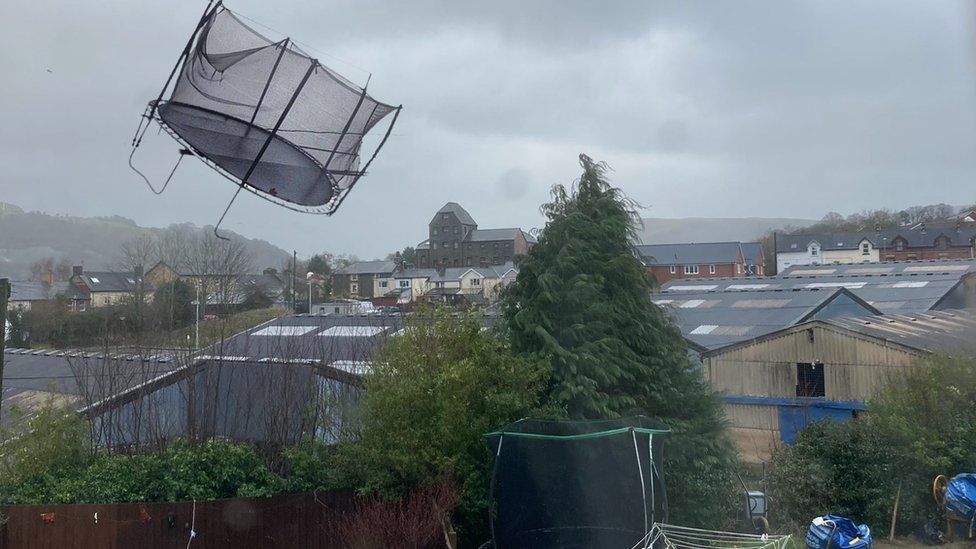 A trampoline flying mid air during Storm Eunice in Builth Wells, Wales

Among those injured were a woman with her baby, who was hit by a tree in Bedford - hurting her but leaving the baby unharmed.

A driver in Wiltshire was in a serious condition and two passengers were taken to hospital after a car collided with a fallen tree, while others were injured in south London and Henley-on-Thames by falling trees and debris.

Landmark buildings suffered damage in the winds, with fabric panels ripped off the roof of the O2 Arena in London while the top of the spire at St Thomas's Church in Wells, Somerset, toppled to the ground.

The O2 remains closed across the weekend "whilst urgent repairs take place" - with rapper Dave's concerts, due to take place on Monday and Tuesday night, also postponed.

"We are doing everything we can to reschedule the shows to play as soon as humanly possible," said Dave, in a statement issued by the venue.

"I'll be back with a plan as soon as I have it."

Eunice is the second storm in a week to hit the UK, after parts of Scotland, northern England and Northern Ireland were battered by Storm Dudley.

Eunice also brought dangerous conditions to areas across north-west Europe.

In Ireland, a man in his 60s was killed by a falling tree in County Wexford. Three people also died in the Netherlands after being hit by falling trees, and a 79-year-old man was killed in Belgium.

Two people have died in Poland after trees fell onto their cars, a fire service spokesman said.
Watch: Meet the man behind the Big Jet TV phenomenon