Sajid Javid may be forced to revive unpopular policy in another U-turn if NHS comes under severe pressure in winter
Plans to introduce vaccine passports across England next month have been shelved in a dramatic U-turn by the government, but Conservative opponents fear they could still be made mandatory later this year amid a warning the NHS faces "the worst winter in living memory".

Just weeks after Boris Johnson announced the controversial documents would be necessary for fully vaccinated people to go to nightclubs and other crowded venues, Sajid Javid, the health secretary, said the policy had been suspended and would not go ahead from 1 October.

Government sources said dire warnings at the start of summer about Covid cases, hospitalisations and death levels as a result of the almost total lifting of restrictions had not been borne out, and that the success of the jabs rollout meant vaccine passports were not needed imminently.

Johnson will confirm the move on Tuesday, when he is expected to make a Commons statement and hold a press conference to prepare people for a difficult winter, with measures such as mask-wearing and social distancing possibly being reintroduced at a national or local level.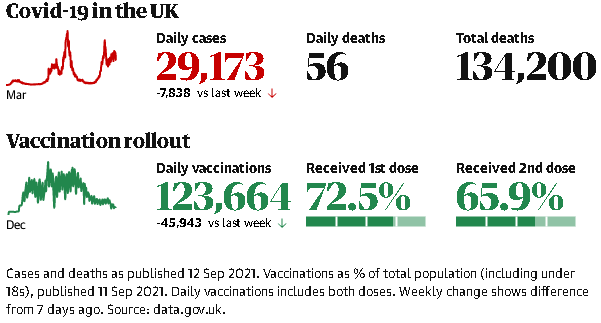 A senior Whitehall insider told the Guardian: "The prime minister doesn't want any new measures but we can't rule it out. If we don't want another lockdown, we may have to use other options – the question is how explicit we want to be about what those will be."

With schools in England having just returned and the dual threat of Covid and flu filling hospitals, a start date for the programme of booster vaccines for people aged over 70 and frontline health and social care workers is also expected to be announced imminently.

The UK's medicines regulator last week granted emergency approval for the Pfizer/BioNTech and Oxford/AstraZeneca jabs to be used as third shots to tackle potentially waning immunity. However, the vaccine rollout advisory body is yet to say whether it has approved boosters, and if so on what scale.

Separately, ministers are also planning to scrap the requirement for travellers from some countries to take a PCR test on arrival to the UK, given the costs and knock-on effect it is having on the aviation and tourism industry, and instead allow them present a lateral flow result. The next review point of all rules governing international travel is 1 October, so a decision will be made closer to that point.

Speculation is still building in Westminster that a cabinet reshuffle is imminent, with the chief whip, Mark Spencer, and Jack Doyle, No 10's head of communications, spotted in Downing Street late on Sunday afternoon.

Despite Scotland pressing ahead with introducing vaccine passports from next month, Javid said on Sunday he "never liked the idea" but that it had been "right to properly look at it".

In an extraordinary volte-face, the health secretary had told Sky News he would not "rule it out" before declaring an hour later on the BBC: "What I can say is that we've looked at it properly, and while we should keep it in reserve as a potential option, I'm pleased to say we will not be going ahead with plans for vaccine passports."

He added: "I think it's fair to say most people instinctively don't like the idea. I've never liked the idea of saying to people, you must show your papers for … what is an everyday activity. But we were right to properly look at it, to look at the evidence."

Some Tory MPs had assumed it was an empty threat, designed to drive up levels of vaccination uptake among young people. More than 40 of Johnson's own backbenchers had publicly vowed to vote against making such documents a condition of entry to some venues – enough to wipe out the Conservatives' substantial Commons majority.

Labour branded the backtrack the latest example of how the government's approach to vaccine passports had been "shambolic from the start". Angela Rayner, the party's deputy leader, said ministers had never been clear about what they were meant to achieve, how they would work and how businesses should prepare to implement them. "This is the culmination of a summer of chaos from ministers and they urgently need to get a grip before winter," she said.

Industry figures also welcomed the news. Sacha Lord, the founder of Parklife festival and night-time economy adviser for Greater Manchester, called vaccine passports "untenable and illogical", while the Music Venues Trust said there were serious issues of "deliverability, practicality, equality and potential discrimination".

However, Conservative MPs remained wary that the government was simply pausing its introduction of vaccine passports. Mark Harper, the chair of the Covid Recovery Group of Tory MPs, said: "They shouldn't be kept in reserve – they are pointless, damaging and discriminatory." Another backbencher said: "The very concept of vaccine passports needs to be ruled out for good, as they are fundamentally unconservative, discriminatory and would lead to a two-tier society that I am confident no one actually wants to see."

Stephen Reicher, who advises the government on behavioural science, told the Guardian he hoped ministers had shelved the vaccine passports plan based on the scientific arguments against it, but admitted: "I don't believe that, sadly it's probably politics."

He said it may have quickened vaccine take-up among those already inclined to get jabbed, but would have had the adverse effect of alienating those who were hesitant. Reicher added: "If you don't use vaccine passports, you've got to have something better. It really concerns me that the government haven't done anything to make venues safe. There seems to be a lack of a winter plan."

Jonathan Ashworth, the shadow health secretary, urged Johnson to provide details on Tuesday. He said: "We know that winter is going to be difficult. The NHS is fearing the worst winter in living memory. We know we're going to have more flu, more respiratory problems, norovirus. So we need to prepare our NHS for winter."