Another 60 confirmed cases of Covid-19 have been detected in Scotland, including 39 in the NHS Grampian area.
A cluster of linked cases was discovered in Aberdeen last week, leading to lockdown restrictions being reintroduced in the city.

Scotland's national clinical director Jason Leitch said 110 cases had been linked to the Aberdeen outbreak, with more expected to be confirmed.

Almost 650 "close contacts" from the infections are being investigated.

The positive cases include two players at Aberdeen FC.

The players were among a group of eight footballers who visited a bar in the city a week ago. The whole group are now self-isolating.

Mr Leitch told BBC Scotland that the increase of 60 cases was "not unexpected" but "still worries us".

He said it was difficult to be sure how many of the 39 new cases in NHS Grampian were linked to the Aberdeen cluster.

"We know that at 15:30 yesterday we had 110 cases connected to this outbreak," he said.

"We allow test and protect to do its work, rather than be constantly sending us hourly updates and that's the way it should be. I would expect a number of those positives to be connected."



Mr Leitch said the Scottish government was working to prevent community transmission outside the Aberdeen outbreak.

"We want to find each of these cases, break the chain, self-isolate the people so that we can get those numbers down again and Grampian can go back to normal - or semi-normal - like the rest of the country," he told the BBC.

But the clinical director added that the effects of the local lockdown in Aberdeen may not be seen for "days, even weeks".

Aberdeen has seen a total of 112 new coronavirus cases in the seven days up to 7 August - a rate of 49 infections per 100,000 people.

This compares to a rate of 80.6 in Blackburn with Darwen in Lancashire, which is currently top of Public Health England's local authority watchlist.

NHS Grampian said it was investigating 643 "close contacts" from cases in the area.

Susan Webb, director of public health for NHS Grampian, said: "There has been a substantial rise in the number of close contacts which is not entirely unexpected.

"We speak to detected cases more than once, as we know they will recall different details as they reflect on what they have been doing and where, and who they have met."

Ms Webb said people who developed any of the recognised symptoms of Covid-19 should isolate at home and arrange a test.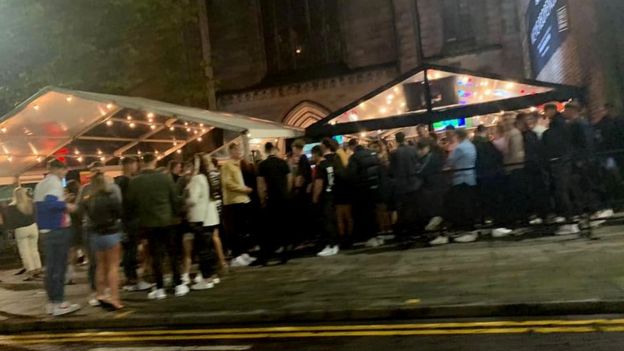 On Friday, First Minister Nicola Sturgeon said it was "unacceptable" the Aberdeen footballers had gone to the Soul Bar last Saturday.

Images were shared on social media showing queues of people gathered outside the bar, which is one of about 30 venues now linked to the cluster.

The players concerned have now released a statement apologising for their actions, saying they never "could have foreseen the escalation of Covid-19 cases in the Grampian area".

They also deny deliberately attempting to "flaunt or disobey government guidelines".

"As a player group, we once again apologise unreservedly to the fans, the manager, the board and all the staff at the club," the statement adds.

The lockdown restrictions which have been reintroduced for the city's 228,000 residents include:

* not to travel more than five miles for leisure or holidays
* not to travel to the city for leisure or to visit friends and family, even if you live in Aberdeenshire
* if you are currently visiting the city, you can stay - but take necessary precautions when returning home
* no indoor visits with other households
* bars, cafes, restaurants and pubs must close, although takeaways can remain open.

The restrictions will be reviewed next Wednesday and may be extended further if required.