Young people in Scotland aged between 12 and 15 are being urged to get their second coronavirus vaccine before returning to school.
Drop-in sessions for the age group are starting from Monday for those who had their first jab at least 12 weeks ago.

Health Secretary Humza Yousaf said an increase in capacity meant they were being offered earlier than planned.

One teaching union is calling for air cleaning equipment in classrooms and on-site testing to prevent disruption.

The NASUWT also said more funding should be available to hire temporary staff to cover for teachers who may have to self-isolate.

The health secretary said the drop-in appointments offered the chance to increase protection for pupils, and scheduled appointments can also be brought forward.

While there is some evidence that fewer people are becoming seriously ill with the Omicron variant, Mr Yousaf urged young people to get vaccinated because of the risk of spreading the illness to vulnerable groups.

He told BBC Scotland: "It's not just about protecting those young people - though that is, of course, important.

"We know that people can then spread the virus on to older people - maybe a grandparent or an older relative - so by getting a young person vaccinated you not only protect them but you also help to protect others, particularly those who may be vulnerable to severe disease from Covid."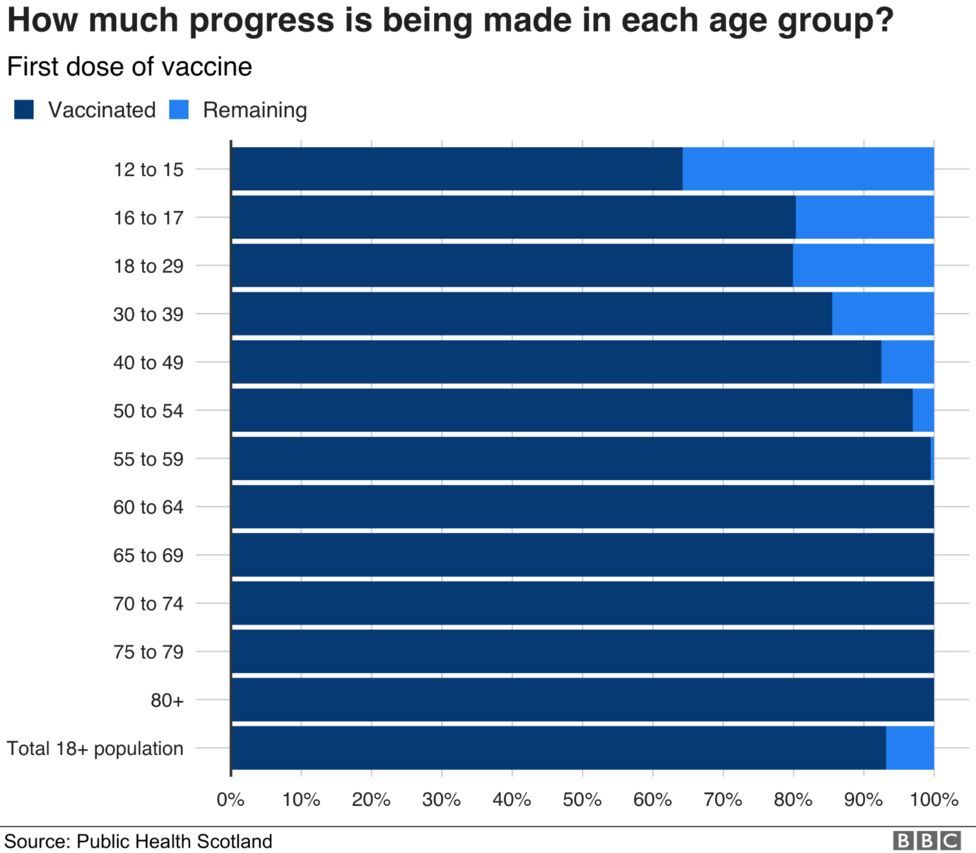 The most recent data indicates about two thirds of 12 to 15-year-olds have had a first dose of a vaccine

Scotland saw unprecedented numbers of new Covid cases confirmed in the run up to Hogmanay as the more transmissible Omicron strain became dominant.

Almost 12,000 cases were reported on New Year's Eve, though it likely to be an underestimate due to delays in processing test results. On Thursday a record 16,857 positive tests were announced.

The Scottish government said there would be no updates about case numbers on 1 and 2 January, but headline figures would be available on Monday.

Officials said 77% of adults had received their booster vaccinations by 30 December, as part of a drive to get 80% of the eligible population vaccinated by the new year.

However, Mr Yousaf said many vaccination clinics had also reported cancellations and a slowdown over the holiday period.

"I hope as we get through the festive period and back into a more normal routine that those numbers will begin to pick up again," he said.

Air cleaning equipment

The NASUWT union warned the rapid rise in Covid cases could cause "significant disruption in schools", some of which return later next week.

It urged ministers to have air cleaning units installed in schools and colleges, and for more on-site testing as well as funding for extra staff to cover absences.

General secretary Patrick Roach said: "Teachers have been on the frontline throughout the pandemic to support pupils and students and provide them with the best education possible.

"However, the rising number of cases of the Omicron variant could cause significant disruption in the next academic term with many teachers being forced to self-isolate.

"The Scottish government must take immediate action to ensure that schools can continue to operate safely and provide high-quality education."

A spokeswoman for the Scottish government said teachers had been "outstanding" during the pandemic, and guidance was informed by expert advice including the Covid Recovery Group which includes teachers' representatives.

"Our guidance for return to school includes a number of enhanced protections, including approaches to CO2 monitoring and ensuring good levels of ventilation are maintained, backed by £10mn of additional funding to local authorities to complete initial CO2 assessments of all learning, teaching and play spaces in their schools," the spokeswoman added.

Details of where vaccinations are available can be found on the NHS Inform website and local health board websites.

Those who already have a scheduled appointment can bring these forward by calling the helpline on 0800 030 8013.