Police officers in Scotland are considering what industrial action they could take after rejecting a flat £565 annual pay increase as "derisory".
The Scottish Police Federation (SPF) turned down the pay deal saying there was "palpable anger" among officers.

The SPF said police would not sit back while faced with a "wall of silence" from the government and any action they took would be "impactful".

A Scottish government spokesperson said negotiations over pay were "ongoing".

The dispute between the "official side" - the Scottish Police Authority, Police Scotland and Scottish government ministers - and staff is being handled by the Police Negotiating Board.

The SPF, which represents all officers from junior constables to chief inspectors, had asked for 3.4%.

It said the current offer amounted to about 2% for most members and 1% for its higher-earning members.

After "unequivocally" rejecting the pay offer two weeks ago, the SPF said there had been no further dialogue with the negotiators.

Police silence 'a fantasy'

Speaking to BBC Scotland, SPF general secretary Calum Steele said: "There is palpable anger across our workforce. The options they we are looking at are wide and they are varied.

"They will be impactful and be in no doubt that the willingness of the police service to simply stand back and accept this derisory offer at a time that other bodies and other workers will be taking much more action than we are capable of doing - the notion that we are going to accept that and stay silent is simply a fantasy."

Police officers have legal limits on their ability to take industrial action, but Mr Steele said SPF members were willing to take a "sustained reaction" lasting "many, many months" unless there was a "significant improvement".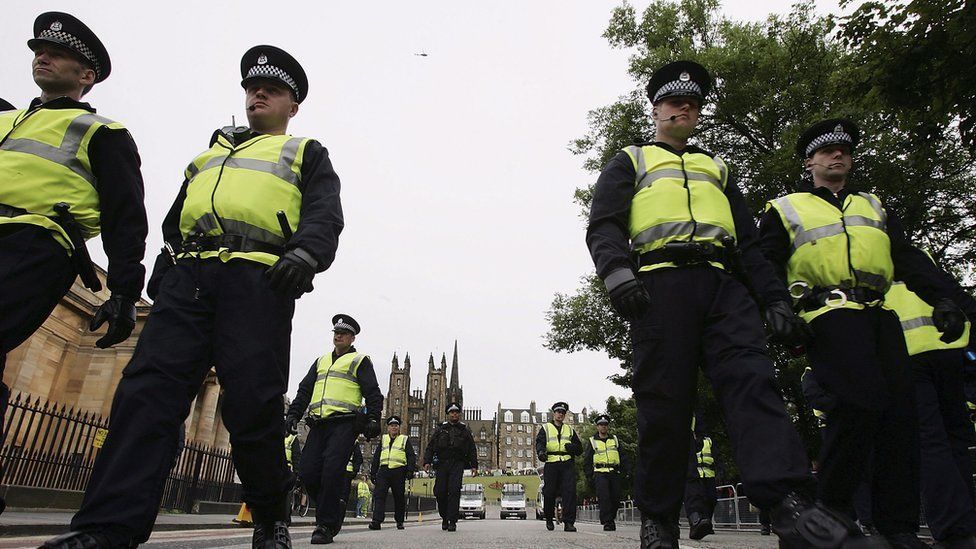 Police officers can be ordered to work at any time and for any duration

Mr Steele added: "There are many options that are available to us. We're looking strongly at all of them.

"The goodwill that this police service runs on is undoubtedly disappearing faster than snow off the proverbial dyke."

Police officers can be ordered to work at "any time, at any place, with any notice and for any duration", he said, describing the restrictions on officers as a "singularly unique in the public sector".

"So whilst police officers can be ordered to undertake overtime, they can't be ordered to undertake overtime if no one can get hold of them," Mr Steele added.

Government 'awaiting outcome'

The pay dispute comes as the Scottish government is involved in similar negotiations with other public sector workers, including rail workers in the newly-nationalised ScotRail and local authority workers, who are being balloted for strike action in August.

A Scottish government spokesperson said: "Negotiations for police officer pay for 2022/23 are currently ongoing through the Police Negotiating Board and we await the outcome of those discussions."

The Scottish Conservatives said police officers should "never have been pushed this far, to the point of threatening disruptive action, considering they cannot officially go on strike".

The party's justice spokesman Jamie Greene said: "Every effort must be made to avoid this sort of action taking place and [Scottish government] ministers cannot continue to ignore how officers feel they are not on their side."

Last year, police officers received a £700 pay rise and a separate non-consolidated payment of £250.

In Scotland, a new constable will start on a salary of £26,737.
"Palpable anger across our workforce" over pay - police federation boss
AI Disclaimer
: An advanced artificial intelligence (AI) system generated the content of this page on its own. This innovative technology conducts extensive research from a variety of reliable sources, performs rigorous fact-checking and verification, cleans up and balances biased or manipulated content, and presents a minimal factual summary that is just enough yet essential for you to function as an informed and educated citizen. Please keep in mind, however, that this system is an evolving technology, and as a result, the article may contain accidental inaccuracies or errors. We urge you to help us improve our site by reporting any inaccuracies you find using the "
Contact Us
" link at the bottom of this page. Your helpful feedback helps us improve our system and deliver more precise content. When you find an article of interest here, please look for the full and extensive coverage of this topic in traditional news sources, as they are written by professional journalists that we try to support, not replace. We appreciate your understanding and assistance.