Public sector pay demands, help for displaced Ukrainians and rising inflation have put "enormous strain" on Scotland's budget, MSPs have been told.
Deputy First Minister John Swinney said that £500m in cuts had been identified in order to ease the pressure.

He said a lack of borrowing and an inability to vary income tax rates outside the normal budgetary timetable had left him with "no other choice".

Conservative MSP Miles Briggs said cash for another referendum appeared intact.

In a statement in the Scottish Parliament, Mr Swinney set out reductions to planned spending and forecasts which included:

* £53m in the budget for employability schemes

* utilising funding of £56m generated by the ScotWind clearing process

* £33m of ring-fend agricultural funds

* a reduction of £37m in the budget for concessionary fares

Mr Swinney said these decisions were not ones the government would have wanted to make.

But he added that it was important that the scale of the challenge was clearly understood, particularly by anyone negotiating further pay deals.

He told MSPs: "These individual savings are small amounts in themselves, but together they add up to a significant reduction in expenditure, enabling that money to be invested in addressing the financial challenges we face."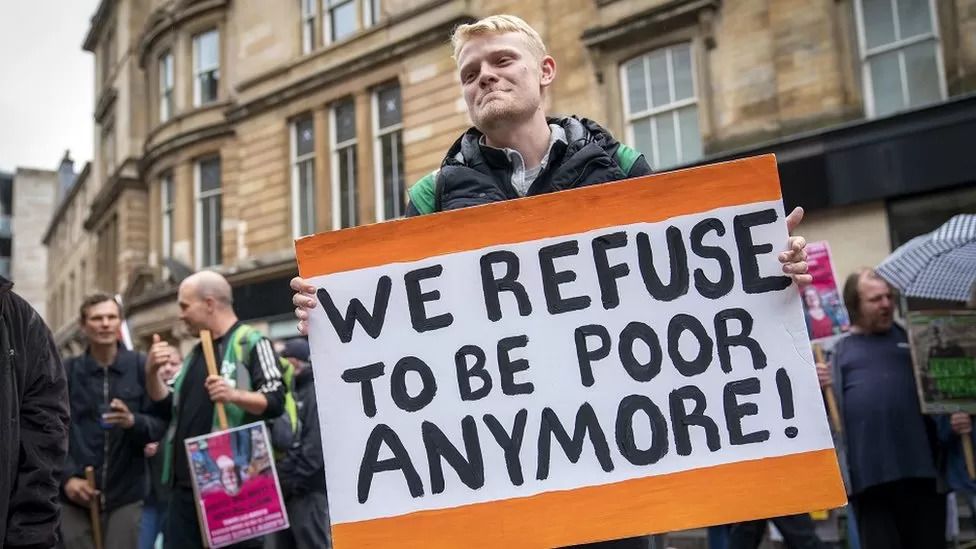 Council workers took industrial action over pay

The Scottish government has been looking at how it can ease the cost-of-living crisis.

On Tuesday, in her first big statement of the new parliamentary year, First Minister Nicola Sturgeon announced a rents freeze, a rail fare freeze and a rise in the Scottish Child Payment.

She warned that her government faced "hard choices" in how those policies were paid for, with an emergency budget review being carried out.

Ms Sturgeon said it would mean "stopping some things we planned to do, to fund what is essential to support people through this crisis".


Bus industry concerns

Paul White, director of the Confederation of Passenger Transport (CPT) Scotland - a trade association representing bus and coach companies - raised concerns about the forecasted £37m reduction in the budget for concessionary fares.

He said: "The concessionary budget is evidence-based and calculated to fairly reimburse bus operators for carrying concessionary passengers.

"Any budget cut that compromises that commitment undermines the principles of the scheme.

"If there is a possible £37m saving within this year's concessions budget I would ask why that hasn't been used to insulate bus passengers from the cost of living crisis by continuing the enhanced bus network support grant beyond October."

After Mr Swinney detailed some of those cuts on Wednesday, Tory MSP Mr Briggs said it was "astonishing" that the cash earmarked for an independence referendum had "somehow escaped John Swinney's axe".

"Talk about skewed, self-serving priorities," he said.

"People up and down Scotland, who will bear the brunt, will rightly be furious that no matter how deep the cuts bite, the SNP will always safeguard spending on their pet obsession - a divisive constitutional vote that most Scots don't even want.

"It's also shamelessly predictable that the deputy first minister - like Nicola Sturgeon 24 hours earlier - continues to peddle the line that the SNP is providing £3bn in support to help people cope with the cost-of-living crisis.

"Independent analysis has shown that less than one-sixth of this is new money, so ministers need to stop misleading hard-pressed Scots."
John Swinney announced £500m worth of reductions in planned spending and forecasting.