Eleven in a row. That is now the SNP's record of success in Scotland-wide elections. They have got very good at winning.
Just because we are used to their success does not make it any less remarkable.

That they are still the dominant force in Scottish politics after 15 years in power at Holyrood is a significant achievement.

It is not that their record in devolved government is squeaky clean. Their decision to reduce the share of the Scottish budget that goes to fund local services was a significant issue in this campaign.

There are big post-Covid backlogs in the NHS and the justice system that need sorted and a huge controversy over two overdue, overbudget ferries under construction on the Clyde.

Whatever their shortcomings, the SNP with Nicola Sturgeon as leader remains the party of preference for a large chunk of Scottish voters.

They also have the best campaigning organisation and the largest activist base in Scottish politics.

One thing that tends to bind the SNP's support is the promise of another referendum on independence, which Ms Sturgeon wants to deliver before the end of 2023.

Despite that looming deadline, independence was less prominent in this local election campaign than it was in the Holyrood contest a year ago.

It is not clear how the first minister can bring about a referendum that is beyond legal challenge, given that Boris Johnson remains firmly against agreeing terms.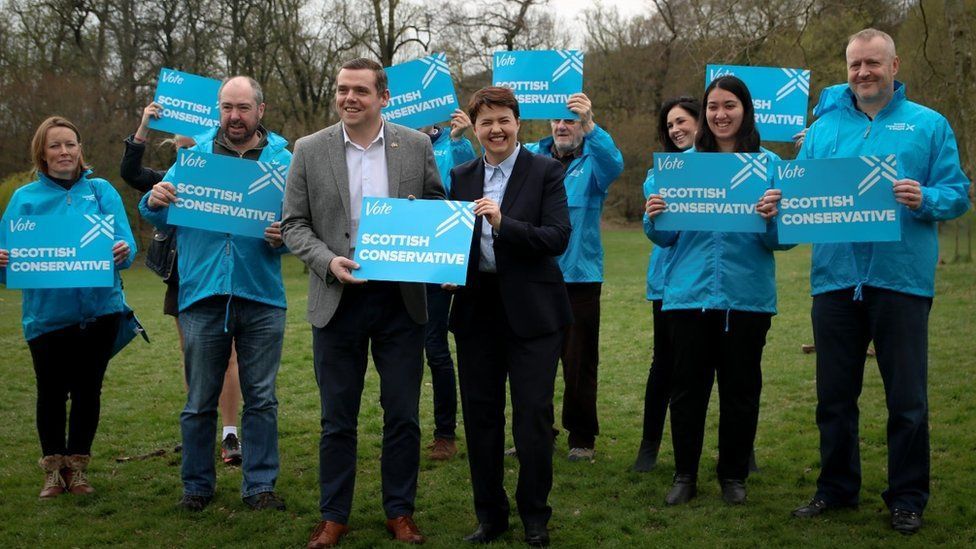 Douglas Ross was supported on the campaign trail by his predecessor, Ruth Davidson

Defence of the union has helped to drive support for the Scottish Conservatives in recent years.

They performed exceptionally well in local and UK elections in Scotland five years ago when SNP calls for indyref2 in the aftermath of the Brexit vote were first pressed in earnest.

In this contest, the Tories were still appealing for votes on the basis of putting local priorities ahead of SNP priorities, which was a coded reference to a referendum but was not enough to galvanise their support.

The Tories did strengthen their position in some areas like Moray where the Scottish party leader, Douglas Ross, is an MP. But overall they suffered heavy losses for which Mr Ross blames partygate and the prime minister.

He's stopped short of calling - as he once did - for the prime minister to resign, arguing that there's a premium on stable leadership during the Ukraine war.

However, some Scottish Tories have pointed the finger at Mr Ross for flip-flopping over whether the prime minister should continue in office as a significant factor in their losses.

There does not appear to be any immediate threat to his leadership and his predecessor Ruth Davidson has rallied behind him.

This election is still a significant setback for Douglas Ross and his party. They have lost second place and political momentum to a Scottish Labour party that's been in the doldrums for more than a decade.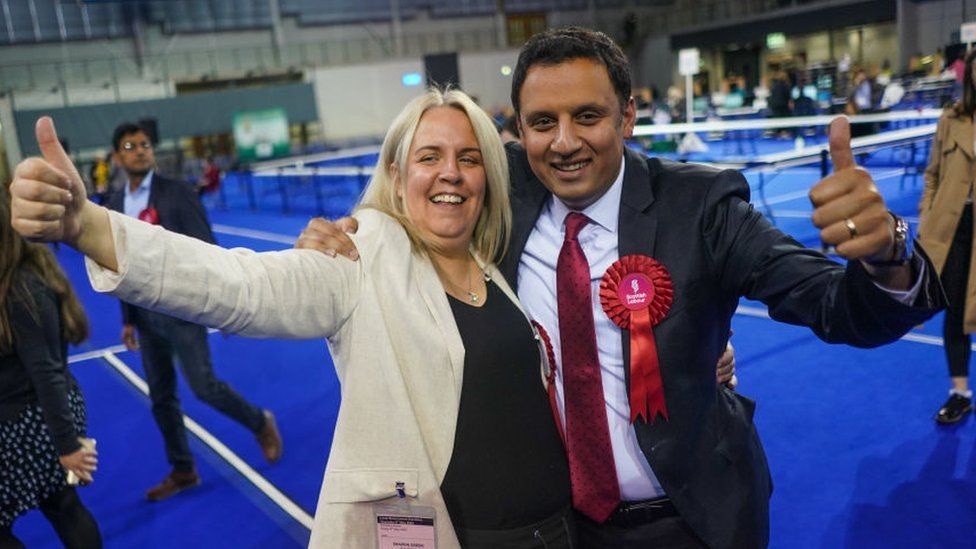 Anas Sarwar celebrated after Scottish Labour gained a bunch of new councillors

A year into his leadership of Scottish Labour, this feels like a breakthrough for Anas Sarwar who fought a campaign demanding more action from both the UK and Scottish governments to tackle the cost of living crisis.

Although the party's vote share only increased slightly, Labour has gained a bunch of new councillors and a new narrative.

It's been a good election for the Scottish Liberal Democrats under their new leader, Alex Cole-Hamilton - doubling their seats to a dozen in Edinburgh for example.

To some extent pro-union voters appear to have been more prepared to shop around at this election.


The independence supporting Scottish Greens seem to have been helped rather than hindered by their power-sharing deal with the SNP at Holyrood - achieving their best ever local results.

The Greens could now be potential parties of power in places like Glasgow where a tie-up with the SNP would produce an overall majority.

There will be plenty of haggling between different political groups in councils across Scotland now to decide who will form the administrations.

The proportional voting system has, once again, ensured that in most of Scotland's thirty two councils no one party has overall control.

There are notable exceptions. The SNP won a majority of the seats in Dundee as did Labour in West Dunbartonshire, where their formidable deputy leader, Jackie Baillie, is an MSP.

There was no breakthrough for Alex Salmond's Alba party in this election. They won no new seats and those councillors who had defected to them were not re-elected.

For all the more established parties except the Scottish Conservatives there is much to celebrate in election 2022.