The first women of colour have been elected to the Scottish Parliament in its 22-year history.
Kaukab Stewart of the SNP was elected to represent the Glasgow Kelvin constituency.

And Pam Gosal is now a Conservative MSP for the West of Scotland region.

Prior to the 2021 election campaign, there had been a total of four MSPs from black, Asian and minority ethnic (BAME) backgrounds - all of them men of Scots-Pakistani heritage.

Ms Stewart has run for election five times having been a campaigner for more than 20 years.

The 53-year-old teacher takes over the Glasgow Kelvin constituency seat from the party's Sandra White, winning with a majority of 5,458 over the Greens.

She thanked voters, saying it was "an honour" to be the first woman of colour to become an MSP.

Giving her acceptance speech, Ms Stewart, who is also the first Muslim woman to be elected in Holyrood, said: "It has taken too long but to all women and girls of colour out there - the Scottish Parliament belongs to you too.

"So whilst I may be the first I will not be the last.

"I intend to be a voice for every single person in Kelvin that I've been elected to represent. Whether you voted for me or not, please know my door will always be open."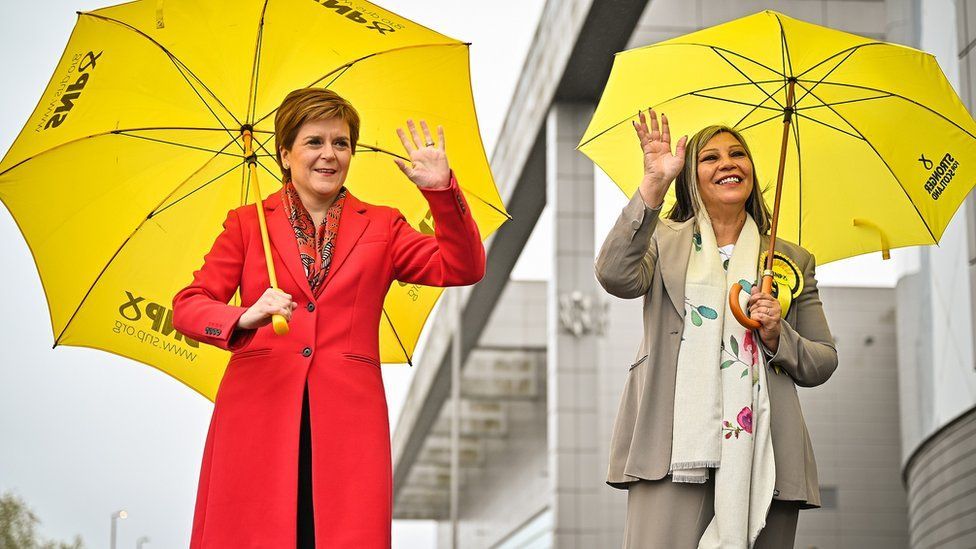 Arriving at the Glasgow count, Nicola Sturgeon said she was "thrilled beyond words".

"It has taken us far too long, more than 20 years. Party politics aside this is a really special and significant moment for Scotland," she said.

Later on Saturday, Ms Gosal was elected as a Conservative MSP via the West of Scotland list.

She said it was a "privilege" and a "great honour" to be the first female MSP elected to the Scottish Parliament from an Indian Sikh background.

"We have certainly made history," she said.

The businesswoman thanked all those who had supported her, and said she could not wait to get to work. "I hope I do you all proud," she added.

Charandeep Singh, director of Sikhs in Scotland, said it was a "monumental moment in Scottish Sikh history".

"Sikhs have been in Scotland for over 100 years and it has been a long wait to see diverse representation in the national parliament."

Ms Gosal has previously spoken to the BBC about experiencing racist abuse throughout her life - but has said it will never stop her.

"I remember what mum and dad had told us: 'Just put your head down and walk past, and don't give them eye contact'," she says.

Offensive comments on social media platforms are something she has learned to deal with.

"Go back to your country" was a recent one, she said.

"I was born in Scotland so I don't know what they were talking about," she added.

Passion for politics

Ms Stewart earlier told the BBC of her passion for politics when she stood for election in 1999 against Scotland's first First Minister Donald Dewar.

"The SNP was very different in those days," she said. "We didn't expect to win, let's face it, however it did get me fired up - and that fire has continued burning for all these decades.

Many considered the Glasgow Kelvin seat to be a two-horse race between Ms Stewart and Greens co-leader Patrick Harvie, who was bidding to be the first ever Green candidate to win a constituency seat in Scotland.

Ms Stewart said her victory had been a "long time coming".

She said: "I can't believe we're in the day that we are and it hasn't happened. I do think it is a wee bit of a failure of all political parties."

Humza Yousaf - who is one of the four men of Scots-Pakistani heritage - said that a record of "no black MSP ever, no female BAME MSP ever" was "frankly a failure of all of us, regardless of party".

In February Labour's Anas Sarwar became the first non-white leader of a major political party in the UK, and referenced "rising injustice, inequality and division" in Scotland.

Mr Sarwar failed to win the Glasgow Southside seat from Nicola Sturgeon on Friday, although there was a swing of 4.8% to Labour.

Referring to an incident when she was involved in a tense confrontation with far-right candidate Jayda Fransen, Ms Sturgeon said she was "proud" that voters had rejected racism and fascism.

The following day Derek Jackson was suspended from the Liberal Party after he arrived at the Glasgow count wearing a yellow star and making saluting gestures before questioning the SNP's Humza Yousaf about events in Pakistan.

Mr Yousaf accused Mr Jackson and others of targeting ethnic minorities with their behaviour.

Ms Stewart told the BBC she watched the scenes at home, citing racial abuse as one reason why women of colour may be put off getting involved in politics.

She said: "It's very disappointing to see however I was quite pleased to see they were dealt with quite assertively and quite quickly, and other political parties rallied round and made sure it was dealt with.

"There is no place for racism in this country and democratic procedures will prevail. People like myself, like Humza, like Anas and so many other candidates should be able to take part in this process."

Other women of colour who ran in this election include Nadia Kanyange for the Greens, Aisha Mir for the Liberal Democrats and Deena Tissera for Labour.