Nicola Sturgeon is being "too cautious" with isolation rules leaving essential services short-staffed, Scottish Tory leader Douglas Ross has said.
In Scotland, households contacts of someone testing positive for Covid-19 must isolate for 10 days.

Mr Ross wants this to change to seven days if people record two negative tests, as is now the case in England.

Ms Sturgeon said changes would be made, but only when benefits would outweigh the risks of spreading the virus.

The first minister said Scotland was in a "very fragile" position, and that moving too quickly "could be seriously counter-productive".

Isolation rules were tightened in response to concerns about the faster-spreading Omicron variant of Covid - with household contacts of people who test positive required to quarantine for 10 days, regardless of vaccination status and test results.

Ministers have warned that a large number of infections could be "crippling" for the economy, with train services already being cancelled and staff shortages across the supply chain and in health services.

In England, the UK government sought to minimise disruption by allowing people to end quarantine early if they record negative lateral flow tests on days six and seven.

The Scottish government said it was considering a similar move to ease pressure on public services - but the immediate priority was to slow the spread of the virus.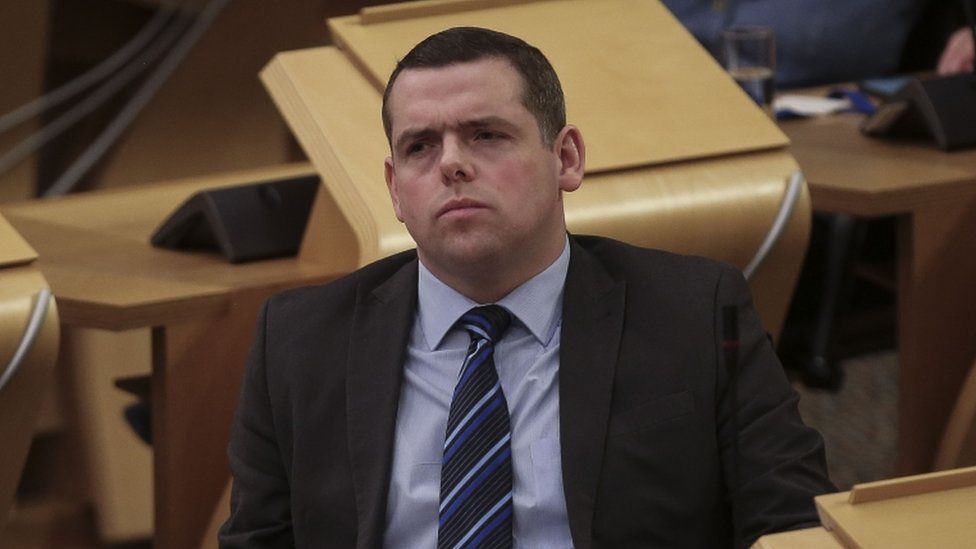 Douglas Ross said the Scottish government's approach "seems too cautious"

During First Ministers Questions at Holyrood, Mr Ross pressed Ms Sturgeon to change the rules straight away, saying this was necessary to protect "essential services" and the economy.

The first minister told him that rules would change to a "more proportionate system", but only when public health advisors tell her it is safe.

She said: "It's not self-isolation rules that are hampering the economy, it's the virus. The reason we have tightened isolation rules of household contacts is one of the things we already know about Omicron is that it has a much higher attack rate within groups of people who are living closely together.

"The danger is that if we move away from that too quickly then all we do is spread more infection, and the impact on the economy - which I absolutely recognise - gets greater."

'Too cautious'

Mr Ross said a new study suggesting that fewer people need hospital treatment for Omicron than other variants meant ministers could move faster.

He said: "The first minister wants to be cautious, but this seems too cautious. Why do people who have tested negative for Covid need to remain in isolation for ten days?

"This level of caution belonged before we had the data from this new study.

"Although we need to tackle Covid we also need our services to function fully and our economy to keep running."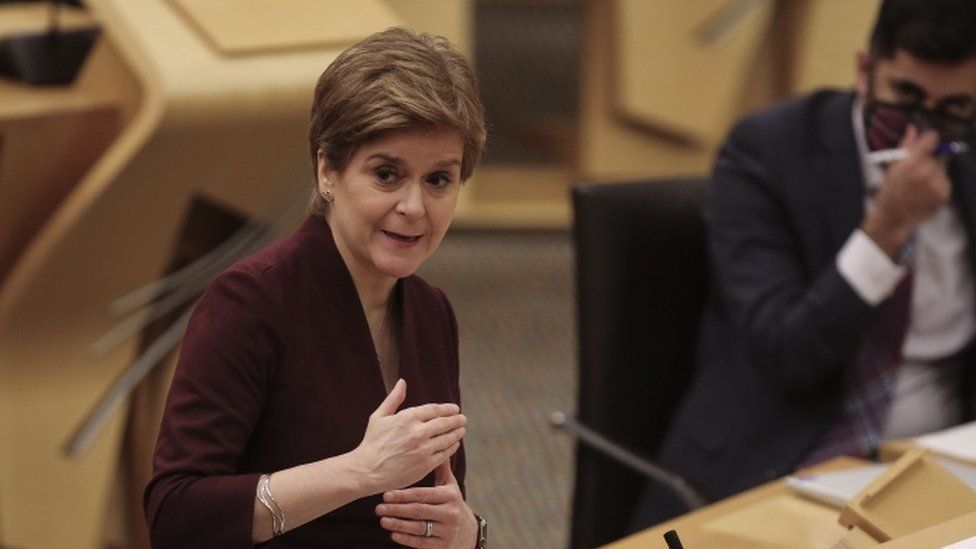 Nicola Sturgeon said erring on the side of caution could save lives

Ms Sturgeon said the study was "really positive", but added said that if the government acts rashly "what we risk is a really counter-productive effect that makes what we're all living through longer rather than shorter".

She said: "We hope in the very near future we will feel much more confident about opening things up in more ways because we know more about Omicron, but we are not quite at that stage yet despite these positive reports.

"And if we move too quickly, then by the time this parliament returns after recess I suspect people will be looking at me saying 'why did you do that and prolong the agony that we're living through?'

"If we err on the side of too much caution and things turn out better than we'd hoped, then we can lift these restrictions earlier. But if we err on the other side we actually do a lot more damage, and some of that damage is measured in human lives."

In addition to the changes to isolation rules, Scots have been urged to stay at home as much as possible and to restrict any gatherings to three households at most.

New restrictions have been brought in for hospitality venues and shops, and nightclubs will be required to close from 27 December.

The latest guidance for the sector, which covers measures such as table service and 1m physical distancing, was published on Thursday afternoon.

The changes will be reviewed in January, with Holyrood expected to be recalled from recess for updates on 29 December and 5 January.