Guidance urging people to work from home wherever possible in Scotland is to be relaxed in favour of a "hybrid" system of office and remote working.
Employers have been asked to phase workers back into spending some time in the office from Monday 31 January.

First Minister Nicola Sturgeon said the move was possible due to a "significant" fall in Covid-19 cases.

But she warned that a "mass return" to offices overnight could run the risk of pushing infection levels up again.

Meanwhile, the requirement for 2m physical distancing in some indoor settings like churches is to be relaxed, while the rules for schools are being "kept under close and regular review".

Ms Sturgeon told MSPs that Covid case numbers in Scotland had fallen by "just over a quarter" in the past week, from an average of 10,000 infections per day to just over 7,000.

The number of people being admitted to hospital with the virus has also fallen, as has the number in intensive care.

Monday marked a "significant return to normality" with nightclubs reopening, curbs on hospitality businesses being eased and crowd limits for indoor events being dropped.

And the first minister said the "significantly improved situation" meant that restrictions could be eased further.

Scottish employers had been urged to enable home working wherever practical, but from Monday this will be replaced by a "hybrid" system.

Ms Sturgeon said: "We would not expect to see a wholesale return to the office next week - indeed, given that the level of infection though falling remains high, a mass return at this stage is likely to set progress back.

"But we know there are many benefits to both employees and employers, and to the economy as a whole, in at least a partial return to the office at this stage."

Finance Secretary Kate Forbes later confirmed there would be no fixed timetable on when all workers should return to the office.

She told BBC Scotland's Drivetime programme: "Setting an arbitrary date doesn't particularly help. We know different businesses will be able to use home working to various degrees."

She added: "As of next Monday, the work from home guidance means that employers should go back to working in a hybrid sense.

"We know that there are many businesses that are unlikely to go back to working as they used to, pre-pandemic.

"But, quite obviously, it's really important for our high streets and city centres that employers have that discretion and employees can work from home and work in an office building."

'Revive our workplaces'

From Friday, the requirement for physical distancing in settings where certain people are exempt from wearing face coverings - like those leading religious services or carrying out some receptionist duties - will be cut from 2m to 1m.

And on the same day, face coverings will no longer be required for any adult taking part in organised activities with children under the age of five.

Ms Sturgeon said she hoped people would enjoy returning to concerts, shows and sporting events, and meeting up with larger groups of friends.

However she urged them to "continue to exercise appropriate care and caution", with the health services still under "immense pressure".

Business groups welcomed the move, with the Scottish Chambers of Commerce saying it would help "revive our workplaces and our town and city centres, which have been hit hard by the absence of office workers".

And CBI Scotland said hybrid working "is here to stay for many firms", adding: "It's up to them and their staff to work together to maximise the benefits of a balanced approach".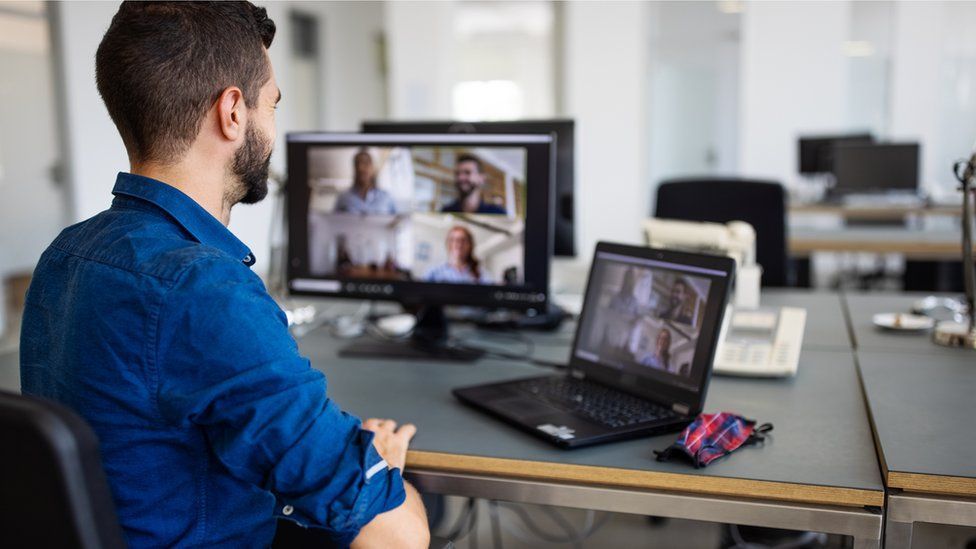 Scottish Conservative leader Douglas Ross said decisions about home and office working should be "left to employers and the workers themselves".

He said: "Going forward it is vital that we trust people across Scotland to judge what is best for them and their families."

Mr Ross also called on the government to relax rules on the use of face coverings in schools.

Ms Sturgeon said she knew young people "want to see the back" of masks in schools as soon as possible, but said they provide "important protection" when case numbers among younger age groups remain high.

She said she would not "pluck dates out of mid-air" and would take decisions responsibly.

Scottish Labour leader Anas Sarwar said a new approach to managing the virus was needed in future, saying that "we cannot expect people to live their lives in perpetual crisis".

He said there should be "clear triggers" for future restrictions, a framework for financial support for firms and workers, and a robust system for testing and contact tracing.

The government is to set out a blueprint for dealing with future outbreaks in the coming weeks, with Ms Sturgeon saying the goal was to "manage the virus less restrictively".

However, she stressed that "living with this does not simply mean giving the virus a free ride", and that the response would need to be "smart" and "flexible".
Scotland to begin 'phased return' to the office from Monday