Orkney's northernmost island, North Ronaldsay, is home to a rare and ancient breed of hardy sheep that have adapted to thrive on a seaweed diet.
At first glance, the northernmost speck on the map of Orkney could easily be overlooked. Yet, the rocky shore of low-lying North Ronaldsay is anything but ordinary. Venture to this tiny Scottish isle and you'll find the tallest land-based lighthouse in the UK, the ruins of an Iron Age broch (a type of drystone roundhouse) and – most bizarrely – a flock of wild-eyed short-legged sheep with a diet that's as unusual as their remote habitat.

North Ronaldsay sheep are one of the oldest and rarest breeds in the world. They are descended from traditional Orkney sheep, a species of Northern European short-tail sheep, that were seen across the Orkney Islands for centuries. However, in most places, the small, slow-growing sheep eventually made way for breeds better suited to large-scale, commercial farming such as Cheviots and Leicesters.

But not on North Ronaldsay. Here, the local farmers' deep attachment to the animals and unconventional approach to tending them ensured the island's traditional sheep were retained – and they remain intertwined with the island's identity today.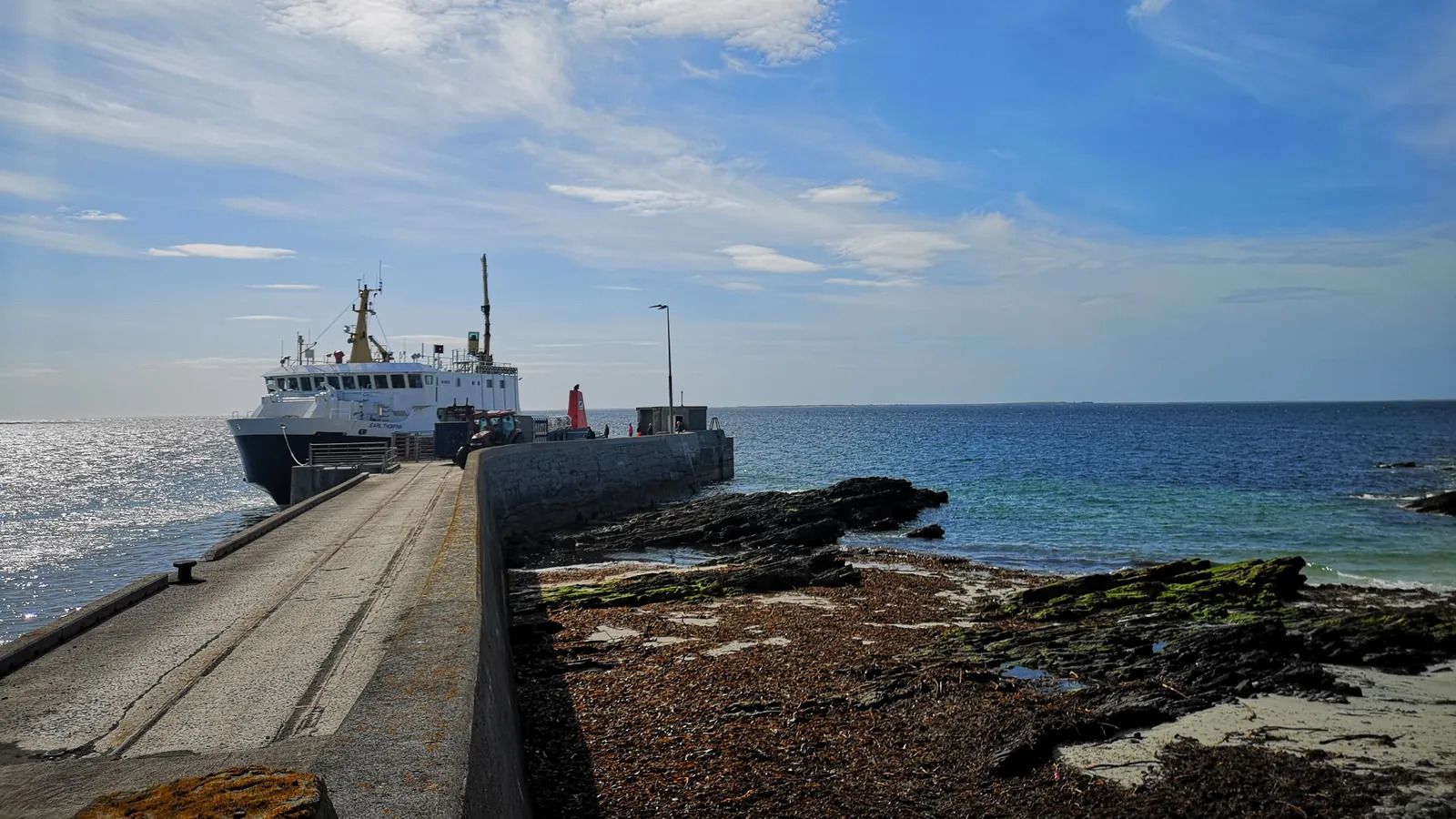 There are two ways to get to North Ronaldsay: by ferry or eight-seater plane

Taking the morning ferry from Kirkwall, Orkney's main town, I sailed the 36 miles north, binoculars glued to my eyes watching black guillemots bobbing in the water and the odd gannet and fulmar swooping across the stern. Getting to North Ronaldsay is very much in the hands of the weather and tidal gods. Orkney Ferries operates a two-and-a-half-hour service from Kirkwall, which can be somewhat unpredictable; while Loganair runs multiple 17-minute flights daily that are also weather dependent.

I disembarked under a welcome blue sky to find a bicycle leaning against the small ferry terminal, as promised by North Ronaldsay bike hire. At around four miles long and two miles wide, and with virtually no public transport, North Ronaldsay's gently rolling landscape is best navigated on two wheels and this was the logical way for me to go sheep-spotting.

A few wheel-turns up from the pier was the North Ronaldsay Bird Observatory, the beating heart of the community. The island is a popular stopping-off point for migratory birds, such as whinchats, wheatears, spotted flycatchers and, if you're lucky, rare bluethroats, and this centre monitors them all. It also has a restaurant where some of the island's 50 inhabitants come to dine (I spied "North Ronaldsay mutton" scrawled on the chalkboard) and overnight accommodations for visitors.

It's also where Heather Woodbridge, an instantly impressive young woman who wears many hats – including those of deputy leader of Orkney Islands Council, director of The North Ronaldsay Trust and trustee of The Orkney Sheep Foundation – helps out as an administrator. In addition, she manages a flock of North Ronaldsay sheep, which I could see grazing between the picture windows and the sun-dappled bay.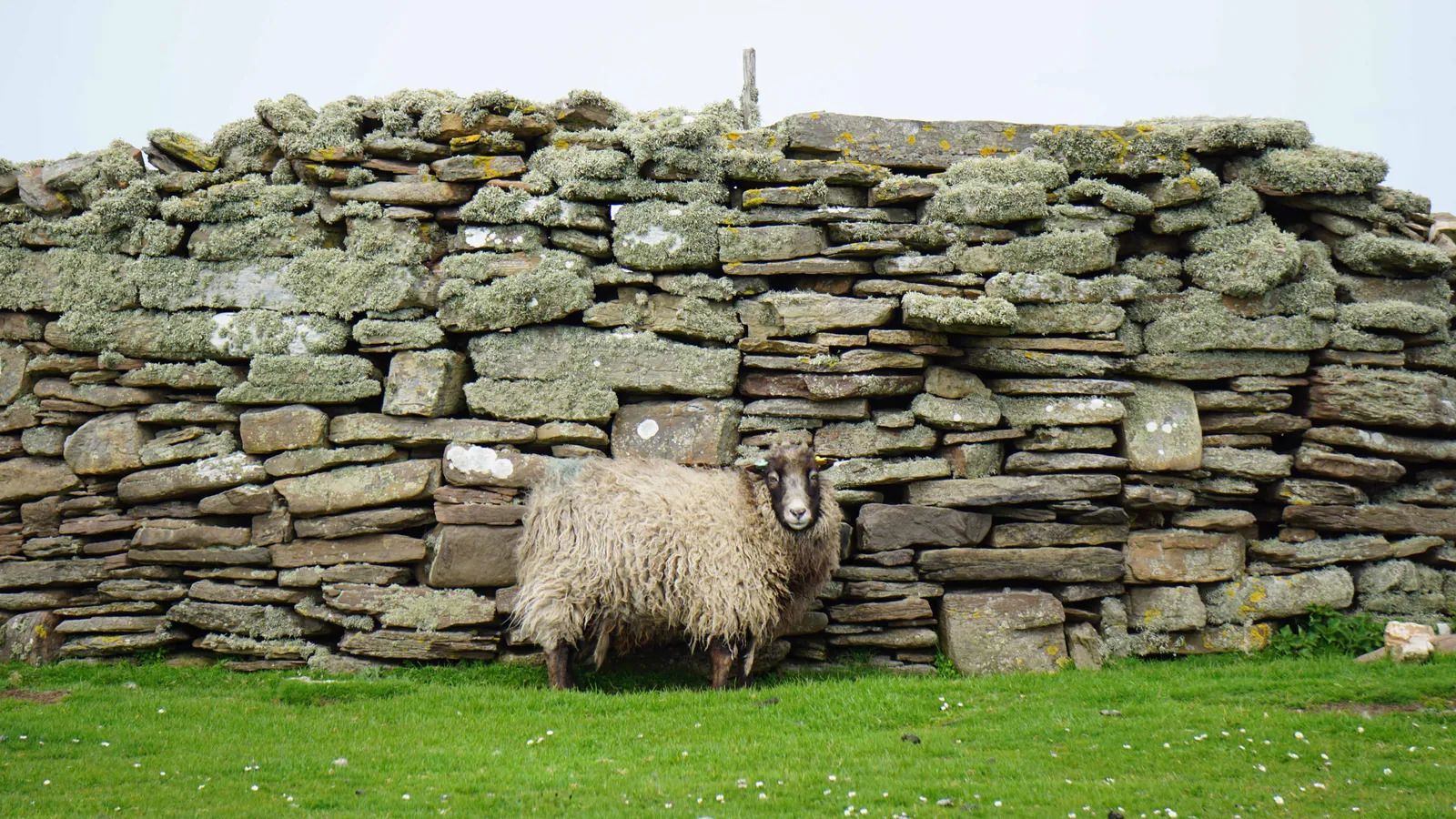 Due to their extreme isolation, North Ronaldsay sheep are genetically identical to their ancestors

I peered out at the sheep admiring their squat stature and shaggy coats, which varied in colour from white to creams, near-orangey hues and very dark browns. Rams looked on formidably, lashes beating between large, curled horns, near sweet, soft-faced ewes. It was easy to see why Woodbridge said she and her mother have poured "years of love and nurturing" into looking after their animals.

The sheep may be the superstars of the island today, but their story is one of survival for both man and beast. In the 19th Century, the island was struggling with poverty when its main business of exporting kelp (the iodine-rich ashes of which could be used to make antiseptic balms, soap, glass and pottery) collapsed due to the influx of cheaper European iodine blocks. This led to rural unemployment, but the Laird, or landowner, of North Ronaldsay was quick to introduce a new economy in the shape of cattle.


Within a short time period, the sheep adapted to be very efficient at getting their nutrients from the kelp

In a bid to conserve the valuable grass for the more profitable cows, sheep were excluded from inland grazing in 1832 by a 13-mile-long drystone wall, known as the sheep dyke, that was laboriously hand-built to encircle the entire island. The sheep, confined to the shore and cut off from the rest of the island, quickly adapted to a diet of kelp.

"Within a short time period, the sheep adapted to be very efficient at getting their nutrients from the kelp," Woodbridge said. "Now, when they come back to the grass, they are so good at extracting minerals they can get a bit ill, so they can't stay on grass for too long."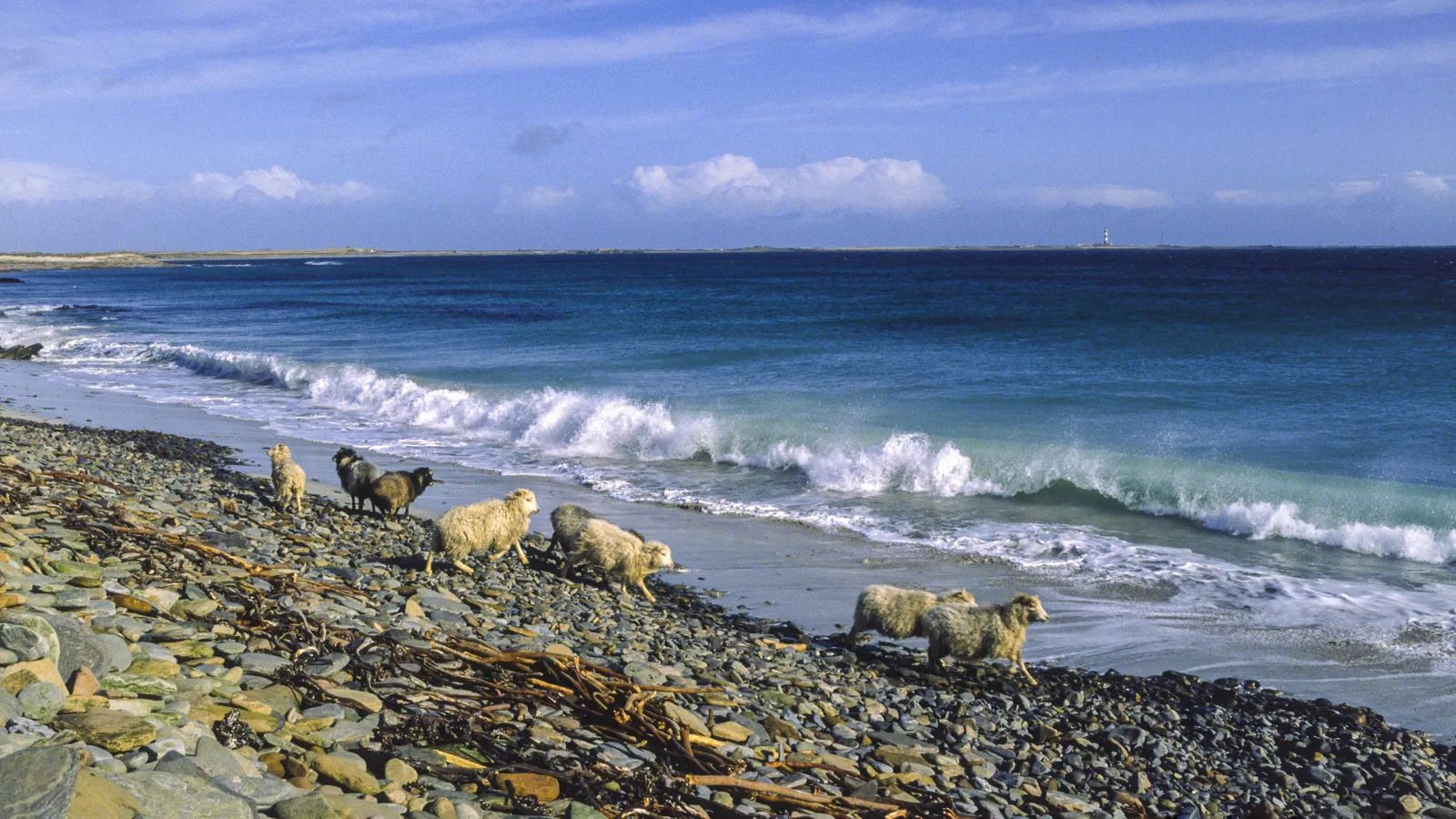 The sheep are mostly confined to the shore by a 13-mile-long drystone wall that encircles the island

Their isolation has also meant that their genetics remain virtually unchanged from those of their ancestors. When DNA tests were carried out on sheep bones found at the Iron Age broch, it showed that those grazing today were genetically identical to the sheep that had grazed thousands of years previously – even if their diet has changed somewhat.

What's more, the island's sheep live longer than most other commercial sheep breeds, which are bred to be big, quickly. According to Woodbridge, North Ronaldsay sheep are naturally small and "slow-growing", so it takes them around four years to reach their peak size and weight, making the meat mutton, not lamb when it reaches the plate.

This ageing, combined with the seaweed diet, gives these nimble-footed beasts a distinctive flavour. "The meat is very lean and rich, and it does have a different taste to Scottish lamb," said Woodbridge. "People describe it as 'gamey'. If it's cooked in the right way – traditionally you'd roast it all day, five hours in the oven – slow-roasted mutton is absolutely delicious, it's just fantastic."

Scott Smith, chef and co-owner of award-winning contemporary Scottish restaurant Fhior in Edinburgh, agrees. He recently chose North Ronaldsay meat for his inaugural Native & Rare dining experience. The North Ronaldsay breed is so unique," he said. "Although you don't taste the seaweed or coastal herbs in the meat, they give it a unique salinity and a very concentrated flavour. It is like comparing farmed duck to wild."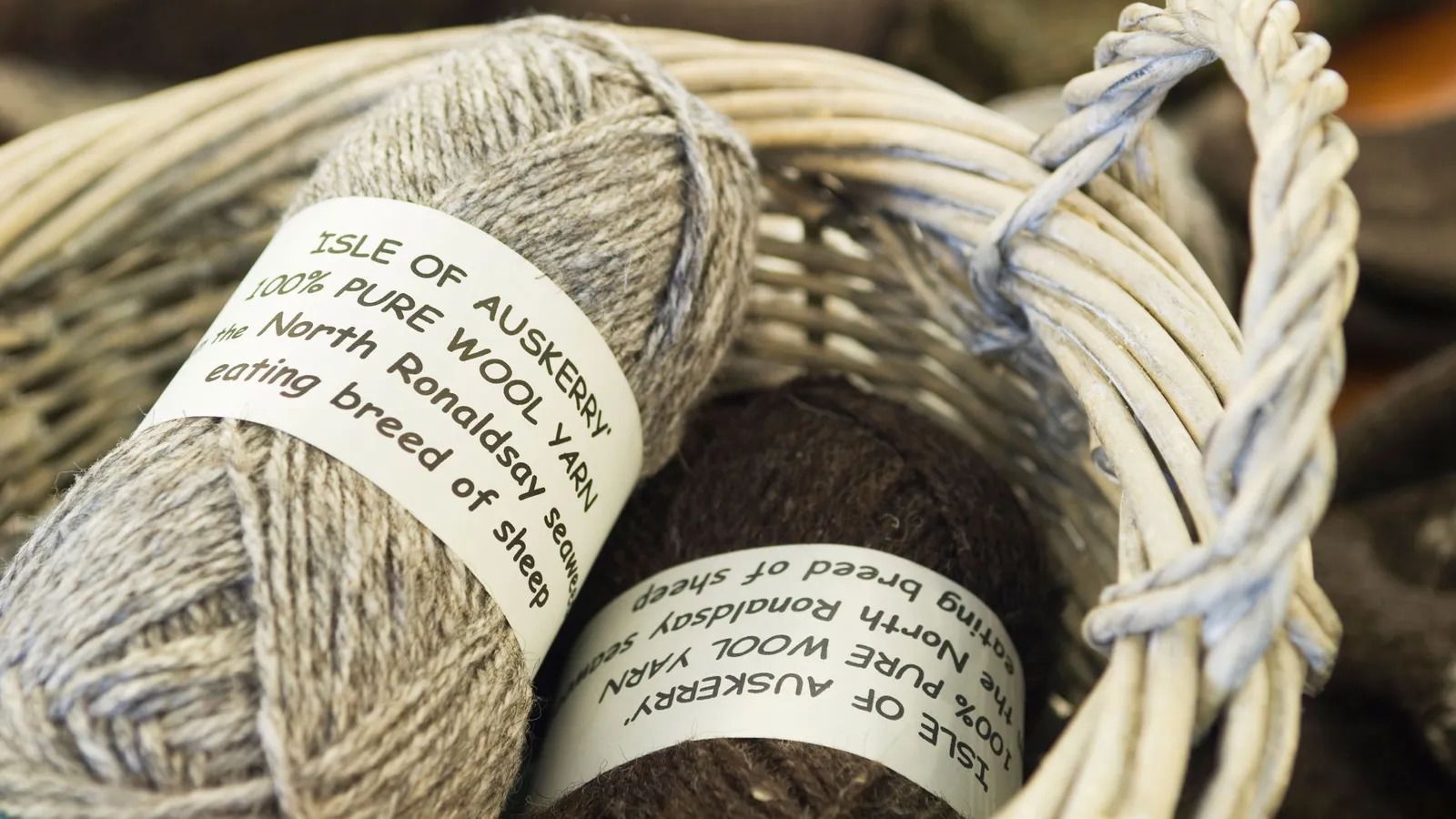 North Ronaldsay's mill spins premium sheep wool in a range of natural hues

And it doesn't stop with the meat. Their thick fleeces make premium wool that's spun locally in North Ronaldsay's very own mill. I popped in for a brief tour of the mill, which is currently running at full capacity due to high demand for this undyed wool, before taking a breather at the Lighthouse Café under the watchful beams of the grand old Victorian lighthouse.

Back on my bike, I passed sheep clip-clopping along the shore. Each animal in the 2,000-strong flock is individually owned, but the flock as a whole is communally farmed, and it's been done this way for centuries. According to the Orkney Sheep Foundation, they're the only domesticated sheep in Scotland still under a communal system of farming, whereby each shepherd keeps an eye on them as they make their way around the shore. "They run as a flock, so it's a community effort to manage them as a whole," Woodbridge said.

These traditions can also be seen in the wonderfully named Sheep Court, which was established in 1839 to manage the flock. Still in operation today, it consists of elected (human) members and is presided over by the Laird, with its purpose to settle disputes and ensure that the sheep dyke is well-maintained.

This 190-year-old Grade A-listed structure, which is constructed from smooth, flat rocks that wash up on the beach, frequently topples in sections, be it from the winds or, commonly, from sheep having a good scratch against it. It requires careful reconstruction to allow just the right sizes of gaps to let it "breathe" and give a little in the gales that can whip the island.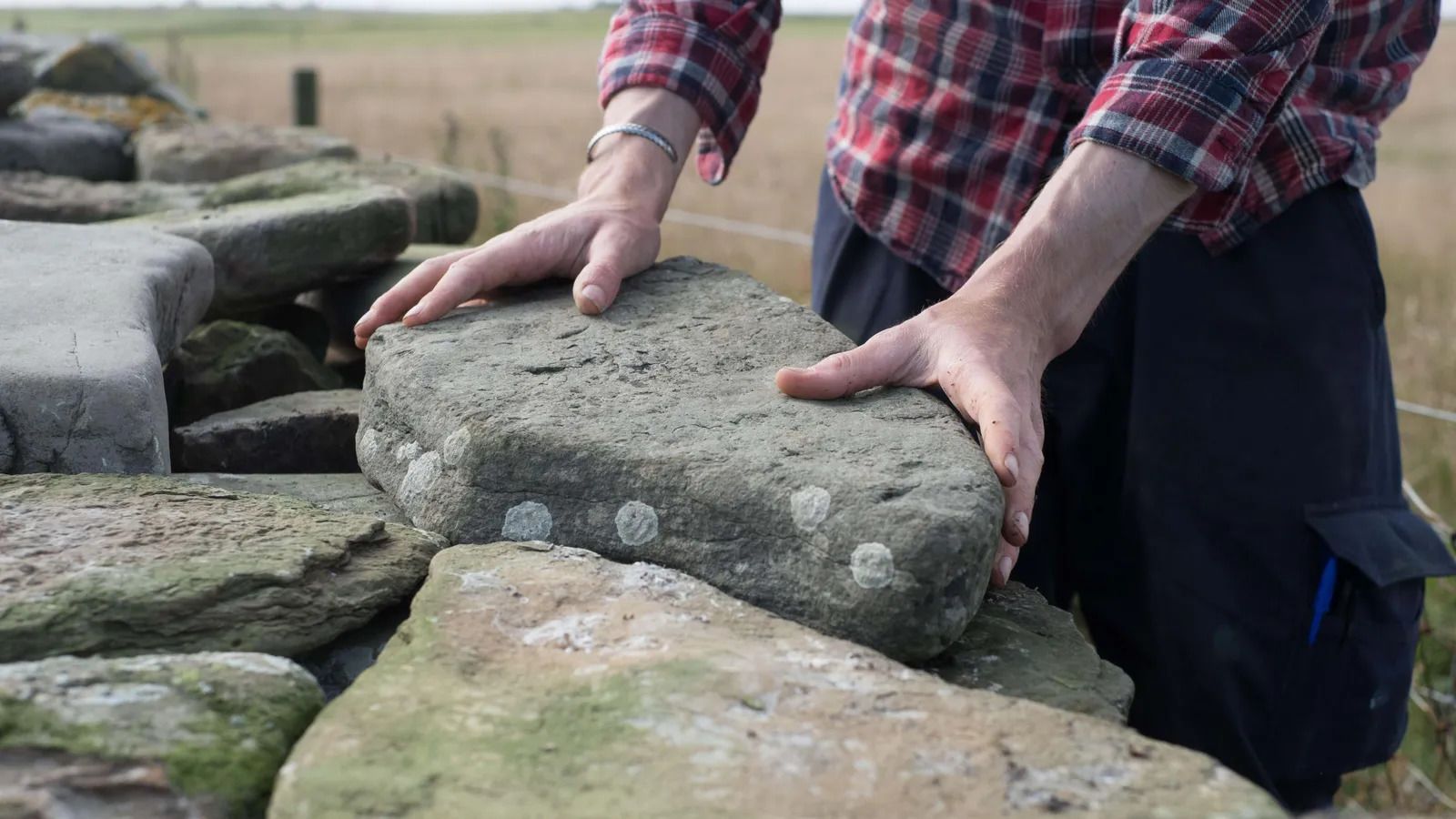 Just nine farmers are currently responsible for maintaining the sheep dyke, so extra hands are often required

In the years following the building of the dyke, when the island's human population was still in the hundreds, one of the early tasks of the Sheep Court was to divide the sheep dyke into "chains", a measurement of length used to allocate responsibility for the dyke. How many chains a household had depended on the size of the croft or farmstead (which also determined the number of sheep they could keep). Over the past decades, younger generations have increasingly left to find education and work elsewhere, leaving just nine farmers with the overwhelming task of maintaining the dyke.

For North Ronaldsay residents, dyke "bygging", or building, has always been a major social event, when family members return and the community pulls together to rebuild broken sections of the wall. But, in 2016, it became clear that they needed more hands, and so SheepFest was born. The annual summer festival invites volunteers to the island to help rebuild the sheep dyke for a week or two while immersing themselves in local hospitality, music and traditions.

After the success of SheepFest, the island created the position of sheep dyke warden in 2019. Siân Tarrant, the first, moved from East Sussex village of Icklesham to take up the post. For two years she worked to repair the dyke, but admitted it was a "Sisyphean task [given that] there is so much of the wall to rebuild and repair, roughly a quarter of the 13-mile long structure". The island is currently advertising for a new warden.

Cycling under a hazy sun, I passed an alarming number of abandoned farmsteads, their broken walls and buckled roofs testament to the depopulation suffered here over the centuries. They're also a stark reminder of the challenges faced in this isolated outpost. Without young farmers willing to continue the tradition of rearing these sheep, their very existence will be called into question.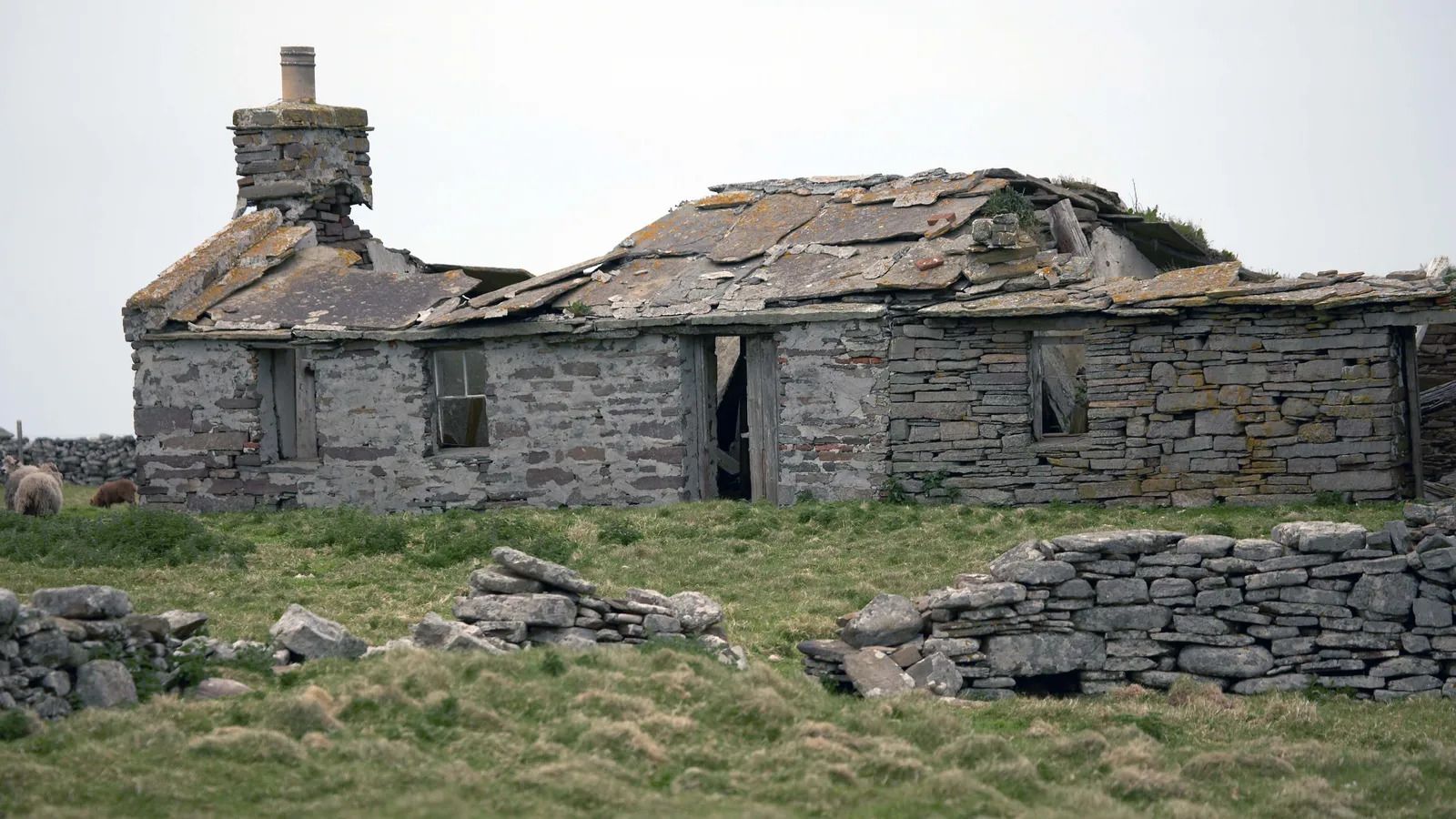 Depopulation is a major challenge for the island, with younger generations leaving to find education and work elsewhere

But this is something Tarrant, who "loved being out on the coast each day and learning about the island's heritage", is tackling head-on. In 2021, she and her partner Olly invested in a croft in need of some TLC and soon opened Milldam Croft, a renovated farmstead where visitors can meet, and even support through adoption, their growing flock of North Ronaldsay sheep. Guests can also take a croft tour or stay overnight in a glamping tent.

Opting for a speedier route back to Kirkwall, I returned my bike to the shed in front of North Ronaldsay's airport and left the required fee in the honesty box. Having bundled into Loganair's snug, eight-seater aircraft, I was soon bouncing along the runway, swooping up and over the green fields and rocky shoreline dotted with sheep below. In the afternoon sunshine, it was an idyllic sight and all too easy to dream of a life-altering move to fill the currently-vacant sheep dyke warden post – but I think I'll try a week at SheepFest first.