Scotland has experienced its second earthquake in less than a week after the Highlands was hit by a tremor.
The British Geological Survey (BGS) said a 2.2 magnitude earthquake was registered just outside Roybridge, near Spean Bridge, at 09:29 on Friday.

The organisation said it had a depth of 7.5km (4.6 miles).

The survey said: "A small number of reports have been received by members of the public in Roybridge indicating they felt this event."

Friday's quake was the latest night-time tremor to hit the country.

A 3.3 magnitude earthquake was reported by the BGS, just before 02:00 on Tuesday, with its epicentre at Achnamara, about 11 miles west of Lochgilphead in Argyll and Bute, 88 miles north-west of Glasgow.

More than 30 people reported that they had felt the tremor, with reports coming from as far as Edinburgh and Ballycastle in Northern Ireland. It also registered on all the seismographs across Ireland.

That quake happened 10km (6.2 miles) below the Earth's surface.
Data from the BGS shows that between 200 and 300 earthquakes are detected in the UK every year, with tremors of between 3.0 and 3.9 magnitude occurring on the mainland once every three years on average.

Glenn Ford, the BGS seismic analyst on call at the time of the tremor, said he was surprised it had been felt as it was "absolutely tiny" compared with other earthquakes seen around the world

"In UK terms, because we are a very low seismic area, we only perhaps get about 15 earthquakes a year of this size or greater, so it's quite unusual in that respect," he said.

'House shook'

Iain MacDonald, who was staying in the village, felt and heard the tremor.

"It was about 9.30pm and I felt the tremor, but I heard it much more. It was really quite loud, like a train rumbling past the house," he said.

"I knew what it was straight away, I have heard it before and felt the tremor before."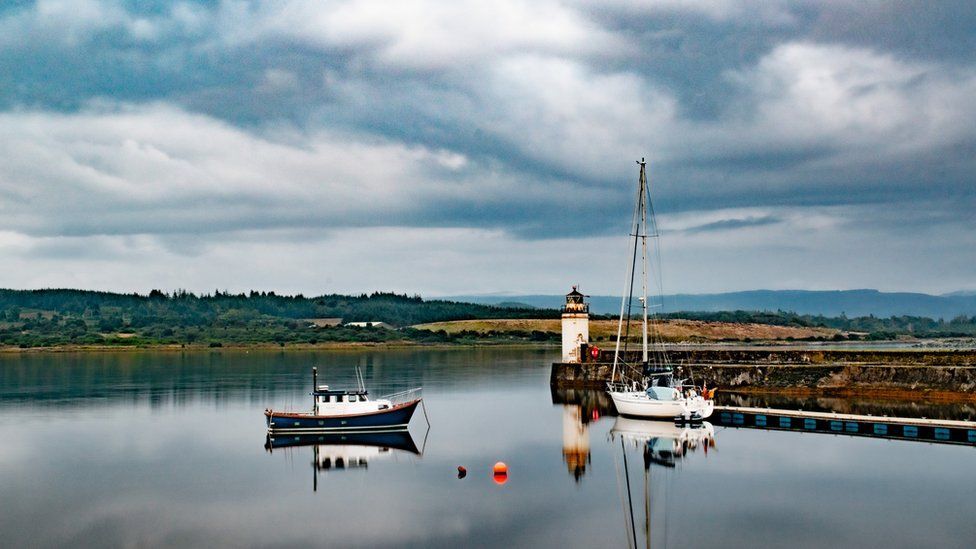 Tuesday's earthquake's epicentre was west of Lochgilphead

Resident Michael Sillars said he "heard a big rumble and the house shook". "It did feel like a really loud, close passing train," he said.

Mr Ford said the tremor was 17 billion times smaller than the earthquake which devastated Japan in 2011.

"You literally wouldn't look up from your coffee or your newspaper for an earthquake that size in California or Japan," he said.

Nice and still

He added there were a number of factors as to why people felt earthquakes in the UK, including size and depth and the time of day.

"Because people are not used to earthquakes in the UK, they put a small earthquake, because it could just be a small tremor, down to traffic noise", he said.

"So if somebody is in a very remote area like this which occurred last night there is much better opportunity to actually feel it because they are nice and still, it was late at night, and probably in a sedentary position.

"Normally if the roads had been busy or you're near a motorway, you'd just put it down to traffic."

As for the recent quakes in Scotland, Mr Ford said there had "obviously been a little bit of stress built up in that area".

Why do earthquakes occur in Scotland?

Quakes are associated with a geological feature called a fault, which is a fracture or an area of fractures between two huge blocks of rock.

During an earthquake there is a sudden movement between these blocks, such as one slipping down or up against the other.

In Scotland, these faults can run for hundreds of miles.

According to BGS, most Scottish earthquakes occur in western Scotland with events felt in places such as Islay in the Inner Hebrides and also Fort William and, in November last year, in Glen Coe.

In the Highlands, one of the most active areas, seismic activity is related to what are known as the Highland Boundary Fault Zone, Great Glen Fault Zone, Strathconon Fault, Kinlochhourn Fault and the Loch Maree Fault.

The Great Glen Fault is probably the best known of the fault zones. At least 300 miles (483 km) in length it cuts diagonally across the Highlands from Inverness to Fort William and has its origins in events that happened about 400 million years ago.

It is home to the world-famous Loch Ness, just down the road from Inverness.