The Met Office amber warning for extreme heat could be extended to cover a larger part of Scotland, the Scottish government has said.
Temperatures are expected to hit 30C (86F) in parts of southern Scotland on Monday and Tuesday.

Justice Secretary Keith Brown, who attended the UK Cobra emergency committee on Saturday, warned that this could be extended to a wider area.

He urged the public to take "basic precautions" and prepare for the heat.

Mr Brown told BBC Scotland: "It's getting close to the hottest weather we've had in Scotland.

"We have no indication a red warning will be issued, but we do think it's possible that the amber warning could be extended to larger area than was previously expected."

A national emergency has been declared in the UK, with the first ever red extreme heat warning issued in England.

Temperatures could reach 41C (106F) in England next week, while the rest of the UK could also see new record highs.

The highest temperature recorded in Scotland was 32.9C (91.2F) at Greycrook in the Borders in August 2003.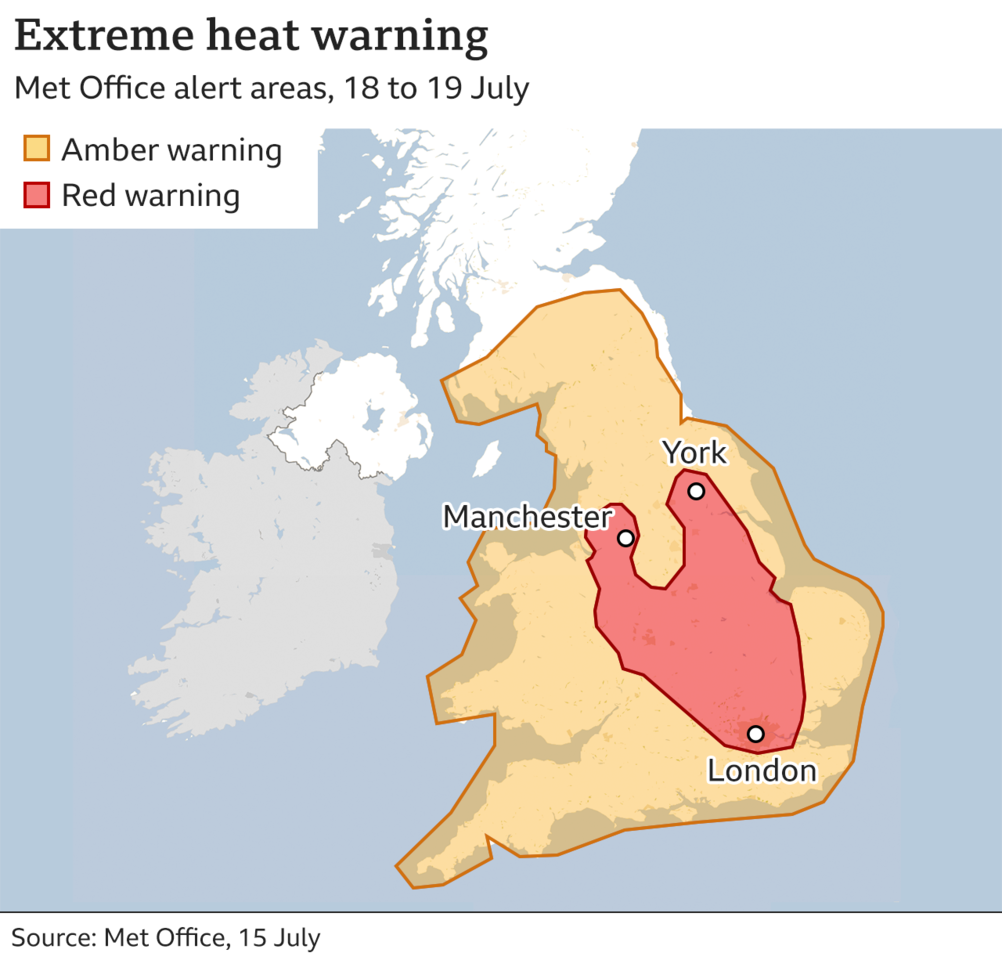 Mr Brown said the main concern was for younger and older people.

He said: "We're asking people to take cover and keep out of direct sun, make sure you're well hydrated, and look after others who may be suffering from the heat.

"All public services - police, fire, water and health services are making sure they stand ready - we're asking people to make sure they are ready too and take basic precautions."

Scottish Water has requested that people help maintain normal supplies by being as efficient as possible with water use.

It urged the public to use watering cans rather than hoses in gardens, not to fill up paddling pools and to take shorter showers.

The Scottish Environment Protection Agency (Sepa) also advised businesses to reduced their water usage.

Sepa's head of water and planning, Nathan Crichlow-Watton, said there had been a water scarcity warning every year since 2018 - but this year was "particularly bad".

"Several businesses rely on the environment for the well-being of their business," he said.

"They take water - primarily from rivers, but also groundwater - and use it for irrigating crops, watering golf courses or producing whisky for example.

"People think of Scotland as a wet country, but the last six months have had below average rainfall.

"We're not prepared for the scarcity situations that we're seeing, and when we need to conserve water the most, people use more of it."

The Met Office red warning - the highest level - covers an area including London, Manchester and York on Monday and Tuesday.

Southern Scotland and the rest of England and Wales are under an amber warning for extreme heat - while in Europe, deadly wildfires have broken out in Portugal, Spain and southwestern France.
Susan Powell looks at the high temperatures expected by day and night