The Queen made it. As the first hymn began with "He who would valiant be 'gainst all disaster" she appeared and took her place.
Westminster Abbey, which has seen centuries of dramas, felt a collective sigh of relief.

Stick in hand, the 95-year-old monarch was sticking at it.

Even on the morning of this service of thanksgiving for Prince Philip, there had been a nervous delay in confirming she would be well enough to attend.

But the "mobility issues" - a phrase both specific and vague - had been sufficiently overcome.

And word that she had definitely left Windsor for Westminster had gone round those waiting outside like the ripple of camera shutters.

'Beloved' Philip

The service itself was a celebration of the prince's decades of public service.

As the Queen has been the longest-serving monarch, so he was the longest-serving consort, her "beloved" Philip.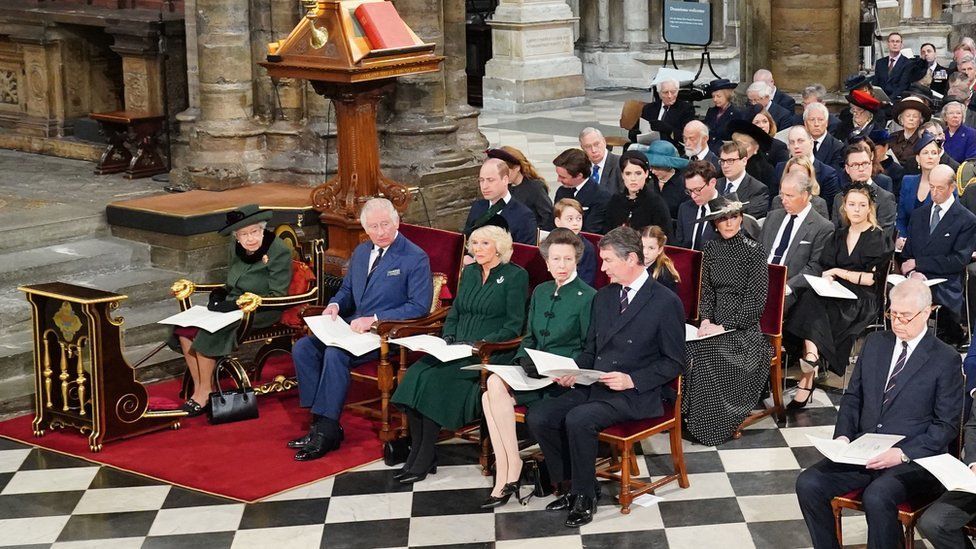 Four generations of the Royal Family attended the Westminster Abbey service

But despite the pomp, it wasn't a pompous occasion.

And Dean of Windsor the Very Rev David Conner used his sermon to puncture any idea of the prince as a "plaster saint".

"He was part of flawed humanity," Dean Conner said, with the "usual human foibles and failings".

He had been energetic, sympathetic, full of ideas, with a self-deprecating humour.

"Yet, there were times when he could be abrupt - maybe, in robust conversation, forgetting just how intimidating he could be," the dean told the congregation.

"A kind of natural reserve sometimes made him seem a little distant.

"He could be somewhat sharp in pricking what he thought to be bubbles of pomposity or sycophancy."

Day trippers

The prince would have approved of much of this service - not least because he had a hand in planning it, for what was expected to be his funeral.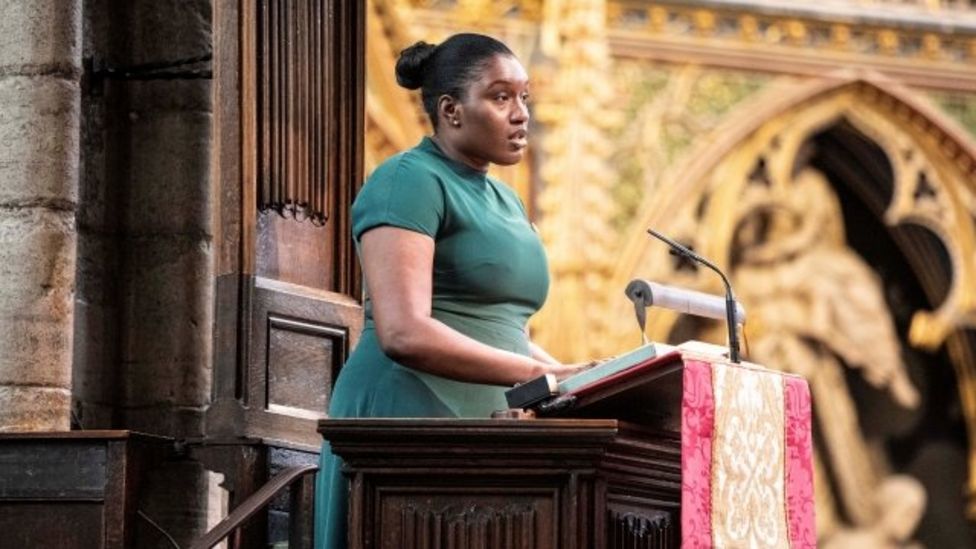 Doyin Sonibare spoke to the Queen at the end of service

But as for many families, the pandemic put limits on his funeral, last year.

So a year later, the congregation was singing Guide Me, O Thou Great Redeemer and hearing Benjamin Britten's Te Deum in C.

It was a congregation that mapped his interests. There were representatives of charities, sports organisations and the armed services.

European royalty had arrived together in a couple of coaches, looking like upmarket day trippers.

The Queen stood with her family - four generations of royals - wearing a brooch the prince had given her more than 50 years ago.

She had been wearing it when they had photographs taken for their 70th wedding anniversary.

And she had stood in the same church when they married, both in their 20s, in 1947, in a London still pitted with wartime bombsites.

They had also been there for her father's funeral and then her own coronation.

There must have been a long lifetime of memories.

Tributes were paid to the prince's life of public service

This service also saw the the Duke of York's first appearance since he settled the civil court case brought against him in the United States.

But he did not have to face the crowds outside.

Helping the Queen into the abbey, Prince Andrew arrived with her through a side entrance, walking up the checkerboard tiles of the aisle.

And he was there to help her out at the end of the service, when they stopped to talk to Doyin Sonibare, who had spoken about how the Duke of Edinburgh's Award scheme had helped open opportunities for her.

Ms Sonibare, now studying for a PhD researching sickle cell disease, said the Queen had thanked her for her speech and asked her about the award scheme.

It was a day she would tell her children and grandchildren about, Ms Sonibare added.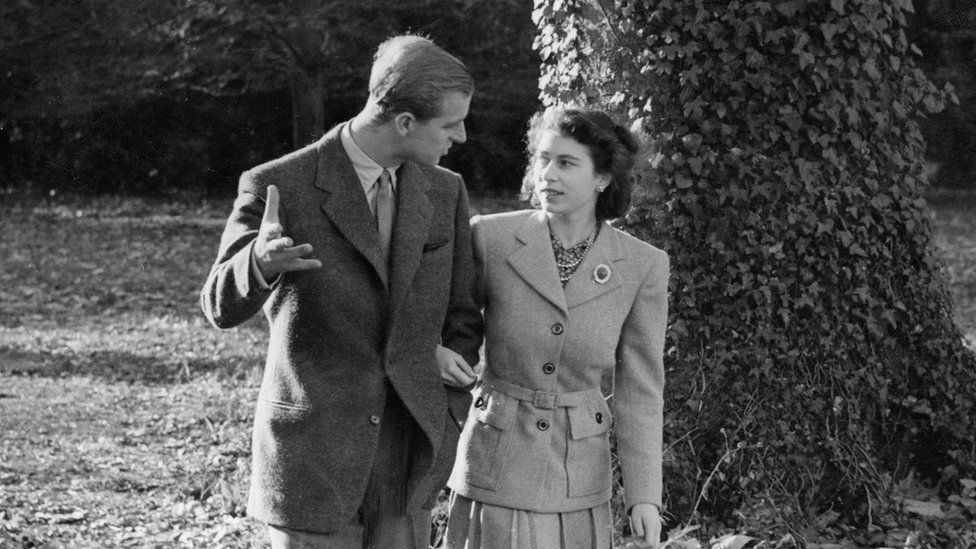 The Queen and the prince on honeymoon, in 1947

Funerals and memorials are milestones for every family - but for the royals, their private lives are lived in public.

As the service ended, the Prince of Wales and the Duchess of Cornwall went through the main doors at the back of the abbey and into their waiting car.

He looked out the window as it swung away, having to wave to the crowds as he left his father's memorial service.

Prince Philip had been a "man of rare ability and distinction", Dean of Westminster the Very Rev David Hoyle said.

His had been a "long life lived fully".