Rail strikes that will cancel 90% of ScotRail trains on three days next week will be "catastrophic", the hospitality industry has warned.
The Scottish Hospitality Group said it was expecting revenues to drop by a third, during RMT industrial action.

The union confirmed strikes on Tuesday, Thursday and Saturday after talks failed to resolve a pay dispute.

The action by about 40,000 Network Rail staff will affect services across Scotland, England and Wales.

Some hotels and restaurant businesses said there had already been a large number of cancellations.

Stephen Montgomery, from the Scottish Hospitality Group, said: "People are cancelling ahead of the weekend because of uncertainty.

"Even with a reduced timetable we are seeing further cancellations. It is having a catastrophic effect on us.

"We are expecting more cancellations and we are sitting on the edge just now - crippled with debt, crippled with recruitment issues."

Mr Montgomery said he expected revenue in his own restaurant business to drop by a third due to the strikes.

"Hospitality seems to bear the brunt of this all the time," he added.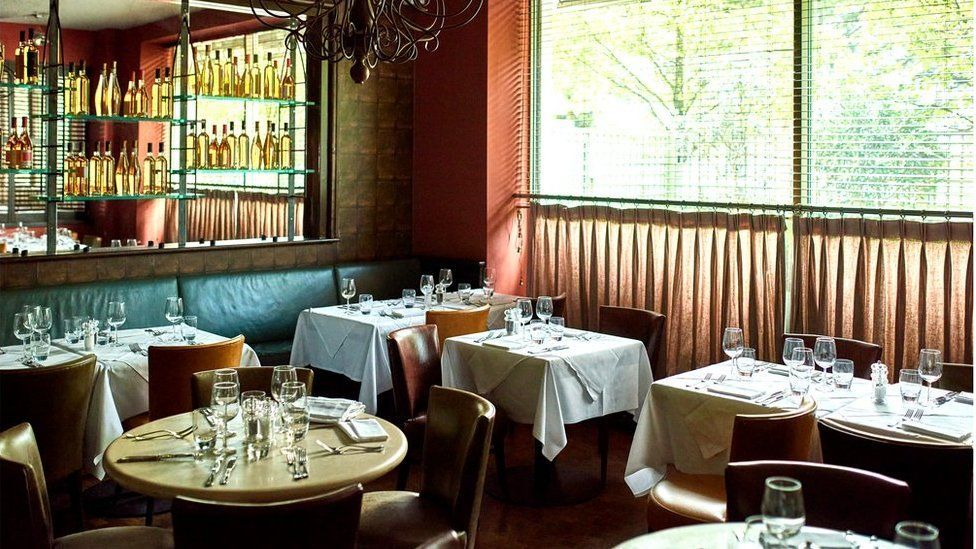 The Scottish Hospitality Group said it was expecting revenues to drop by a third

Following the Covid pandemic, Scotland's hospitality industry is already dealing with the impact of cancelled flights and a shortage of hotel workers.

Colin Wilkinson from the Scottish Licenced Trade Association said the situation was serious.

He said: "This is adding to a summer that is shaping up to be a perfect storm for the industry.

"Cost of living increases, staff shortages, we don't need anything else to slow down that recovery."

Bosses at the Moor of Rannoch hotel and restaurant in highland Perthshire said they had suffered "mass cancellations" ahead of the RMT action.

With 70% of its customers travelling by train to the remote beauty spot, they said they had "lost almost all bookings" for the week.

'Astronomical disruption'

Leon Thompson, of UK Hospitality Scotland, said there was a "lot of concern in the sector" about the financial impact of the strikes.

He told BBC Radio's Good Morning Scotland: "I have got member businesses saying they are already taking cancellations, hotels are saying people are cancelling their trips, cancelling their stays, even for this weekend, because of the disruption next week.

He said: "Businesses are still living with the financial shadow of Covid, they desperately need to be able to trade at their optimum level.

"Having industrial action on our railways is really just going to hold our businesses back," he said.

ScotRail has warned it would only be able to operate a limited service on five routes in the central belt, with the action leaving vast parts of Scotland without any train services.

RMT union regional organiser Gordon Martin told BBC Scotland the strikes were planned to cause "astronomical disruption".

He said: "Rather than blaming the RMT, people need to look at the UK government, the UK Treasury and the Department for Transport who are putting a tight leash on Network Rail and the train operating companies and avoiding settlement of this dispute."