The rail strike on Thursday will go ahead after talks between the RMT union and railway employers broke down.
The RMT accused Transport Secretary Grant Shapps of "wrecking" negotiations by refusing to allow Network Rail to withdraw redundancy threats.

Mr Shapps called the claim "a total lie", adding the union was solely to blame for the "massive disruption".

Millions were affected on Tuesday, the start of the largest strike in decades, and another walkout is due on Saturday.

A Network Rail source told the BBC there had been little progress in Wednesday's talks and, if anything, the union's position appeared to have hardened. No new pay offer was made.

Mick Lynch, general secretary of the Rail, Maritime and Transport (RMT) workers' union, said: "Grant Shapps has wrecked these negotiations by not allowing Network Rail to withdraw their letter threatening redundancy for 2,900 of our members.

"Until the government unshackle Network Rail and the train operating companies, it is not going to be possible for a negotiated settlement to be agreed."

He said the industrial action affecting services across Britain will continue until the union gets a deal giving job security and a pay rise that "deals with the escalating cost of living crisis".

Mr Shapps said he had no involvement in Network Rail's letter, adding that he understood it did not mention the 2,900 redundancies claimed by the RMT.

The Department of Transport has said the rail industry is leading the negotiations, but a contract seen by the BBC says that train operating companies' handling of strike action is "subject to the secretary of state's direction".

Speaking earlier today, Network Rail's chief negotiator Tim Shoveller said about 1,800 jobs were expected to be cut but the "the vast majority" would be through "voluntary severance and natural wastage".

The government-run rail infrastructure company is also asking the RMT to enter talks on "dumping outdated working practices and introducing new technology", he said.

The RMT is calling for a pay rise of at least 7% to offset the cost of living crisis, as inflation hits 9.1% and is forecast to reach 11% in the autumn.

Employers have offered a maximum of 3%, on condition that the union accepts new working practices.

But rail employers said they had suffered a loss of income, with passenger numbers only at 80% of pre-pandemic levels.

The Rail Delivery Group, which represents train operating companies, said it wanted to give "a fair deal on pay while taking no more than its fair share from taxpayers", which meant modernising the railway to attract passengers back.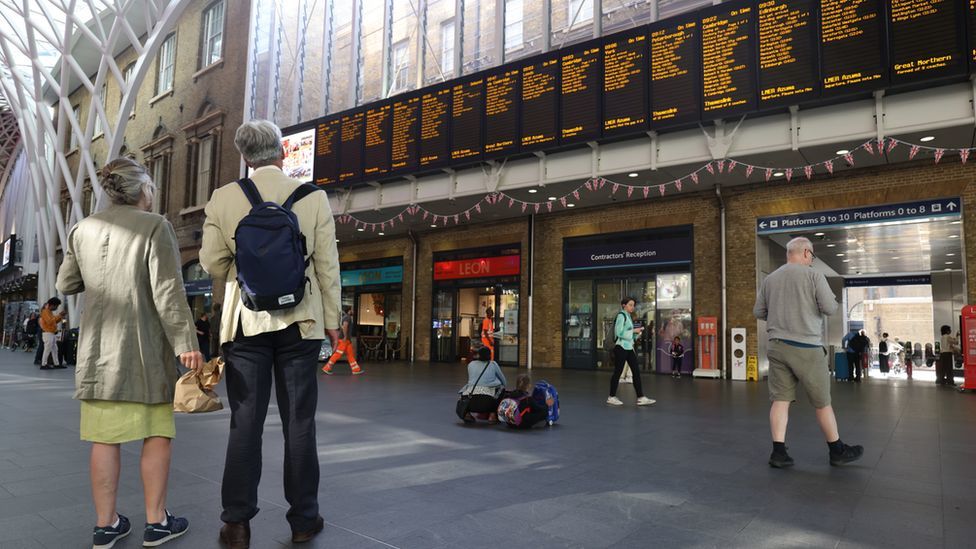 Services started later than normal on Wednesday as trains were delayed depots

Thursday's strike is set have a similar impact to the first day of industrial action, with half of the network closed and only 20% of services running. But Tuesday's Tube strike in London is not due to be repeated.

The second day of strikes will also coincide with a yellow Met Office weather warning for a thunderstorm across much of southern England, which could further hamper travel plans.

With 48 hours' notice, disruption on Saturday could be avoided if a deal is agreed, it is understood.

On Tuesday, the prime minister urged the country to "stay the course" and resist high pay rises, as the walkout by about 40,000 RMT members working for Network Rail left many parts of the country with no rail service at all.

Disruption continued on Wednesday, with only about 60% of normal services running.

At Prime Minister's Questions, Labour leader Sir Keir Starmer accused Boris Johnson and the transport secretary of not "lifting a finger" to stop the strikes.

'We are stranded due to the strike'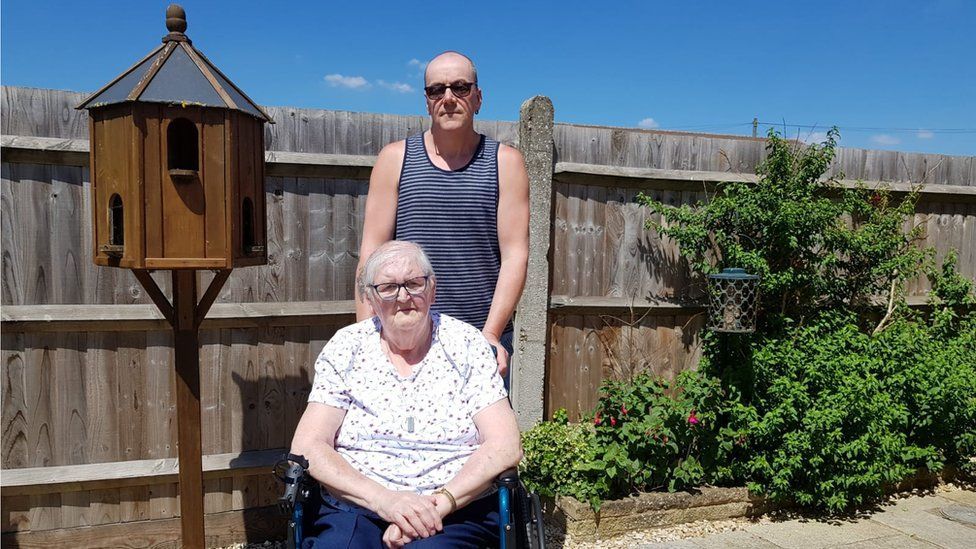 Adam Taylor and his mother were due to leave Windsor today but are now stranded

Adam Taylor, from Scotland, and his mother are stuck in Windsor, Berkshire, after their train was cancelled on Wednesday.

The pair had been visiting family when the strike disrupted their return home. They have only managed to get new tickets for Monday.

"It's annoying," Mr Taylor said. "I've only just started getting back on my feet after the pandemic and losing a week of work will really set me back again."

The disruption also means his mother, who uses a wheelchair, has to get her medication delivered to Berkshire.

"I'm totally against the striking," he adds. "It's putting me right back to the beginning again in terms of my work and it has put stress on my family...

"The world is too greedy."

He told the Commons: "The prime minister of this country and his transport secretary haven't attended a single meeting, held a conversation or lifted a finger to stop these strikes...

"So rather than blame everyone else why doesn't he do his job, get round the table and get the trains running?"

Mr Johnson responded that the government was doing "everything we can to prevent these strikes" and it was up to the railway companies to negotiate.

He said 25 Labour MPs having joined picket lines to back strikers was "a disgrace" and accused Sir Keir of not having the "gumption to speak out against the rail strikes".

Meanwhile, the government is planning to introduce a new law this week to make it legal for employers to bring in agency staff to replace striking workers - but it will not impact the planned rail strikes on Thursday and Saturday.