Passengers across Britain faced journeys hours longer than usual and surging road traffic at the start of the largest rail strike in decades.
The first of three strikes by the RMT union over cuts to jobs, conditions, real-terms pay and pensions left just one in five trains running.

Boris Johnson urged the country to "stay the course" and resist pay rises in line with soaring inflation.

RMT boss Mick Lynch said the union was "leading the way" over pay concerns.

The RMT and railway employers are due to hold fresh talks on Wednesday aimed at resolving the dispute. But more strikes are scheduled for Thursday and Saturday.

About 40,000 members of the Rail, Maritime and Transport (RMT) union working for Network Rail and 13 train operators walked out in the first of the three planned strikes.

Half of all lines were closed and much of the country had no rail service at all, including most of Scotland and Wales, the whole of Cornwall and Dorset, and places such as Chester, Hull, Lincoln and Worcester.

Many stations that are normally crammed with commuters were almost deserted except for union picket lines, as strikes also took place on London Underground lines on Tuesday.

Commuters who made it into work by rail faced a dash for their last trains before the network shut down at 18:30 BST.

Disruption is set to continue on Wednesday, because the lack of overnight staff is expected to delay the first trains by up to four hours in some places, and only about 60% of normal services are due to run.

Network Rail's chief executive Andrew Haines said by late morning, "we'll be running a full service" and it was expected that would continue throughout the day."So, again, disruption - but far less disruption than today," he added.

Mr Johnson - speaking at a cabinet meeting on Tuesday - said without modernisation to the industry, train operators risked going bust and passengers faced ever-increasing prices that could lead to them abandoning rail travel.

"I say this to the country as a whole, we need to get ready to stay the course," he said.

"Because these reforms, these improvements in the way we run our railways, are in the interests of the travelling public, they will help to cut costs for fare payers."

The prime minister said the strikes were "so wrong and so unnecessary", making it "more difficult for people to get to work, risking people's appointments, making it more difficult for kids to sit exams - all sorts of unnecessary aggravations".

Downing Street said the prime minister believed the government had to "work within our means" and resist calls for pay rises that would lead to greater inflation later.

The RMT is calling for a pay rise of 7%, while employers have offered a maximum of 3%. Inflation - the rate at which prices are rising - is currently 9% but the Bank of England forecasts it will reach about 11% in the autumn.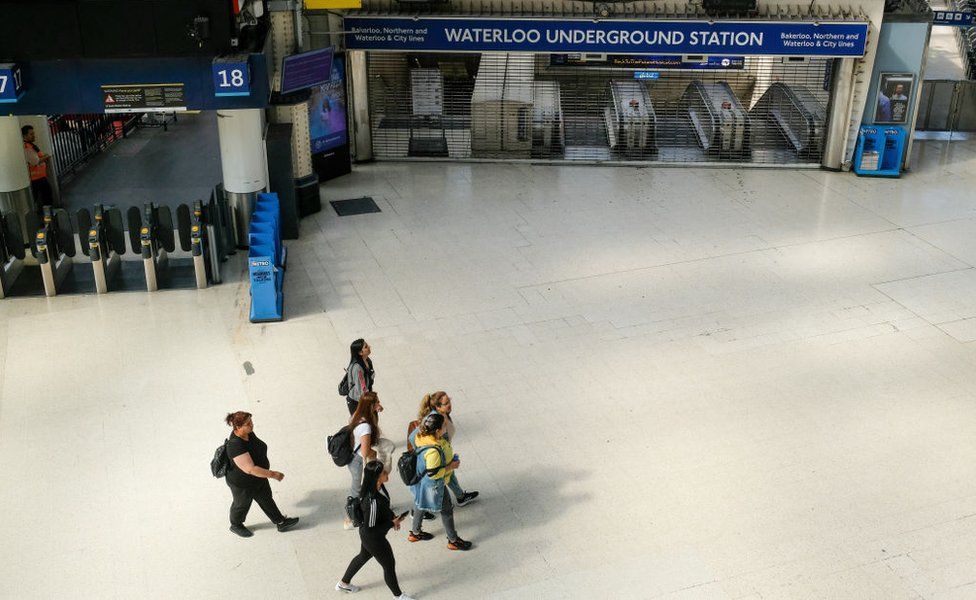 Many stations that are normally crowded with commuters were almost deserted
Mr Lynch apologised for the disruption to passengers, but accused the government, which owns Network Rail, of actively preventing employers and the RMT from reaching a settlement.


He said members had shown "outstanding unity" as the union opposed plans for thousands of job cuts, changed working conditions and reduced pension benefits, along with making its pay demands.

Mr Lynch said railway staff were "leading the way" for workers who were "sick and tired of having their pay and conditions slashed".

"Now is the time to stand up and fight for every single railway worker in this dispute that we will win," he said.

'My sons are worried about their exams'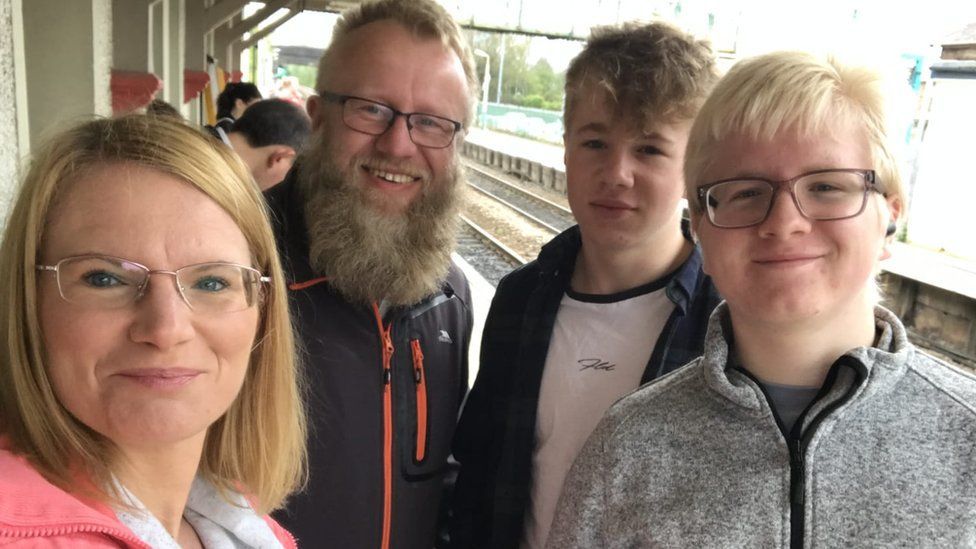 Marta Kotlarek's sons Jakub and Michal have exams on two of the strike days

Marta Kotlarek, from Holywell, Flintshire, says she has had to take time off work to drive her sons to their exams during the rail strike.

Jakub, 16, and Michal, 18, usually take the train from Flint to school in Colwyn Bay. But with GCSE and A-level exams on the morning of the strikes on Tuesday and Thursday, they couldn't make the journey this week.

"This is a crucial year for them... they are a little bit worried," says Marta.

She says there's no point in doing the hour-long round trip twice, so she's waiting around until they finish their exams before driving back to Holywell.

As commuters switched from trains to cars to avoid the impact of the strike, some places saw long queues on the roads.

Location technology firm TomTom said congestion levels at 11:00 BST were higher than at the same time last week in a number of urban areas.

London congestion increased from 38% to 51%, in Cardiff it went up from 24% to 29% and Manchester saw a rise from 27% to 34%. The percentages reflect the additional time needed for journeys compared to free-flowing traffic.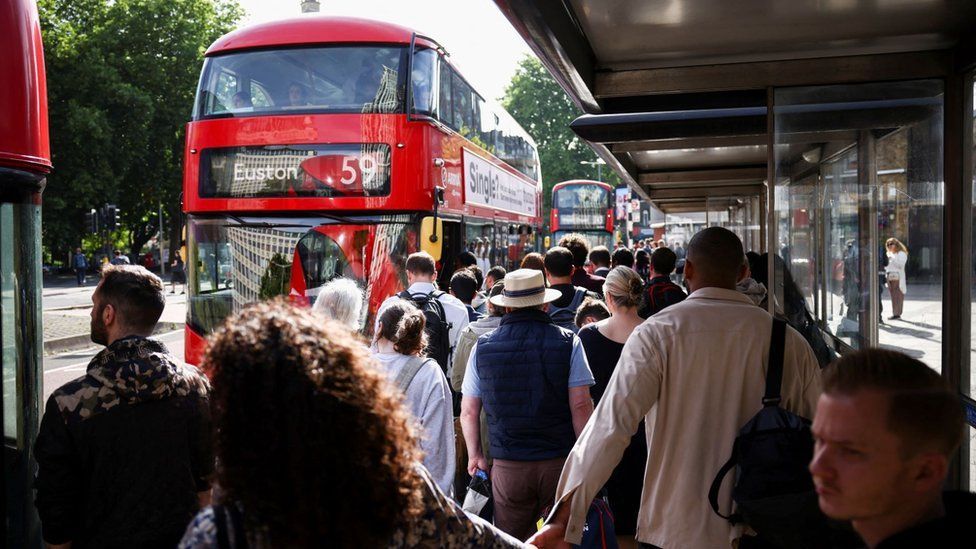 Bus stops were crowded as people sought alternative routes

There were also long queues on outer London sections of the M1, M4, A4 and A40.

But National Highways told the BBC that many parts of the motorway network have been quieter than a normal Tuesday, as employees took advantage of post-pandemic work-from-home policies.
Watch: One striking RMT worker says "enough is enough"