A number of Labour MPs have shown support for this week's rail strikes by appearing at picket lines outside stations, despite warnings from Sir Keir Starmer's office.
Senior Labour MPs were told not to show support for the strikes.

However, frontbenchers Kate Osborne, Paula Barker and Navendu Mishra are among those to have tweeted pictures of themselves at picket lines.

The Scottish Labour leader also offered "solidarity" to the strikers.

Anas Sarwar tweeted a picture of himself at Edinburgh Waverley station saying: "The workers don't want strikes. The unions don't want strikes. The public don't want strikes" and added: "This is a crisis entirely of the government's making."

Asked about the subject in the Senedd, Welsh Labour leader Mark Drakeford said: "No inhibition exists on members of my group demonstrating their support for the trade union movement", adding that Sir Keir was working in "a different context", with Conservative criticism of his position.

At least 15 backbench Labour MPs have also expressed support for the unions.
Beth Winter, who represents Cynon Valley, posted a photo of herself and other MPs at London's Victoria station with the message: "The trades unions are the organised working class. In the words of Mick Lynch, 'If you're not bargaining, you're begging, and the British working class should not have to beg'."

And veteran Labour MP Diane Abbott tweeted: "On the RMT union picket line at the Seven Sisters depot. (But don't tell Keir Starmer)."

It is understood that Labour may take disciplinary action against frontbench MPs who defy the call not to appear on picket lines, but it's not expected immediately.

Millions of rail passengers in England, Scotland and Wales have been hit by the strike, which started on Tuesday and is due to continue on Thursday and Saturday.

The RMT union - whose members voted to strike - is asking for a pay rise of at least 7% to offset the rising cost of living, but it says employers have offered a maximum of 3%, on condition they also accept job cuts and changes to working practices.

The Conservatives have repeatedly accused Labour of failing to condemn the industrial action - and Justice Secretary Dominic Raab said the party had "actively encouraged the inconvenience commuters are suffering".

Responding to the strikes, Labour's deputy leader Angela Rayner said: "Workers have been left with no choice.

"No one takes strike action lightly - I will always defend their absolute right to do so for fairness at work."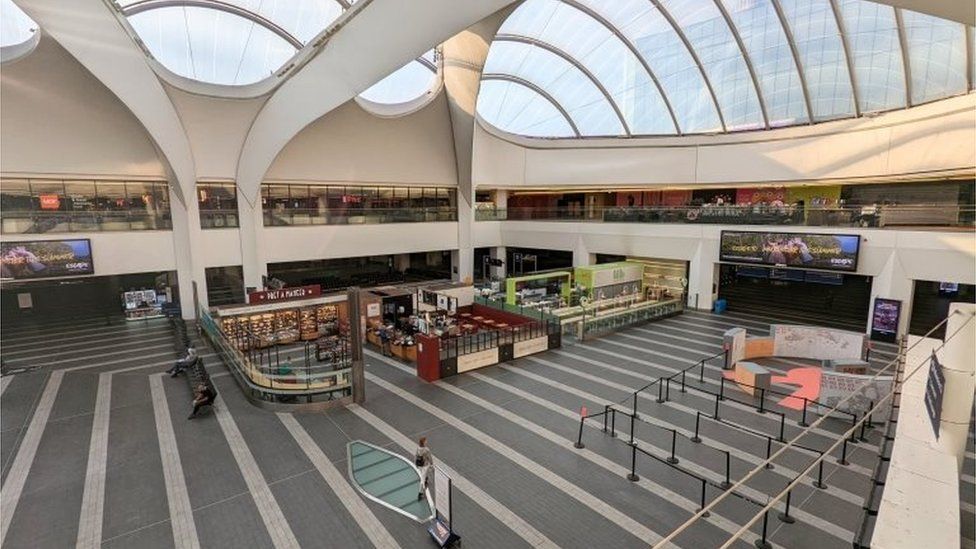 Birmingham New Street station on the morning of the first day of rail strikes

She argued that Boris Johnson's government had caused the situation adding: "Now they must solve it."

Labour's stance has frustrated many trade unions, which are among the party's biggest donors.

Sharon Graham - head of the Unite union - said: "The Labour Party was founded by the trade unions and we expect Labour MPs to defend workers, by words and by actions.

"To instruct Labour MPs not to be on picket lines with workers speaks volumes.

"You don't lead by hiding. No one respects that. It's time to decide whose side you are on. Workers or bad bosses?"


Labour insiders say the party was clear it did not want the strikes to go ahead, so it was logical to warn frontbenchers off the picket lines.

The party leadership doesn't just blame the RMT for the industrial action, but the government for not reaching an agreement.

The Labour party seemed to escape relatively unscathed from the Conservative attack that it hadn't condemned the strikes.

But more harm is likely to be inflicted on its leadership by friendly fire.

Predictably, some junior frontbenchers have taken to social media to highlight their support for the RMT.

Less predictably, the pro-Starmer Scottish Labour leader Anas Sarwar has joined them.

But what might do the most damage is criticism of the leadership's stance not by the RMT, but the giant Unite union.

Its leader, Sharon Graham, has already threatened to withdraw funding from Labour over other disputes.

Clearly the Labour leadership thought that appearing to be too close to a striking union would exact a political cost.

But discouraging its MPs from standing on picket lines could come potentially at a heavy financial cost.
WATCH: Ros Atkins on… Why rail strikes are happening