Other members of the Royal Family will stand in for the Queen when the traditional garden parties return this summer, Buckingham Palace has said.
The Queen, who is 96 and has mobility problems, has cut back on several engagements in recent months.

More than 30,000 people are usually invited each year to Buckingham Palace or the Palace of Holyroodhouse.

A Palace spokesman said details of which royals would attend would be confirmed later.

The first garden party in the Queen's Platinum Jubilee year is set to take place next Wednesday at Buckingham Palace, with others following on 18 and 25 May, as well as on 29 June at the Palace of Holyroodhouse, her official residence in Edinburgh.

Because of the pandemic, it is the first time in three years members of the public have been invited to the Queen's home for the garden parties.

The parties are used by Buckingham Palace to recognise and reward public service, with guests nominated by a network of sponsors including Lord-Lieutenants, government departments, the armed forces and faith groups.


The Queen, a former private secretary once quipped, was "as strong as a yak, had very good legs and could stand for a long time". And the garden parties require a lot of standing.

A selection of guests is gently shepherded into semi-circles and the hosting royal makes their way around the group chatting with each one.

It is a fair amount of time on one's feet for anyone. For a 96-year-old it is a big ask. And for a 96-year-old with mobility issues, it is just too much. Today's announcement is among the least surprising of the royal year.

The Queen is not immobile. She made her way, on her son Prince Andrew's arm, to her seat at Westminster Abbey a month ago for the service of thanksgiving for Prince Philip.

Photos of her meeting and greeting officials and visiting politicians are put out pretty regularly by the Palace.

But an hour or so of walking, standing and chatting at a garden party is currently beyond her.

An appearance at the State Opening of Parliament next week - with its long public walk to the throne - must be unlikely, as the Queen prepares to celebrate her 70th Jubilee in early June.

The decision for other royals to host the parties comes after the Queen reached the 70th year of her reign in February and overcame a bout of Covid in the same month.

She celebrated her 96th birthday privately on 21 April at her Sandringham estate.

Since the pandemic began, the Queen has spent most of her time living at Windsor Castle, rather than at Buckingham Palace.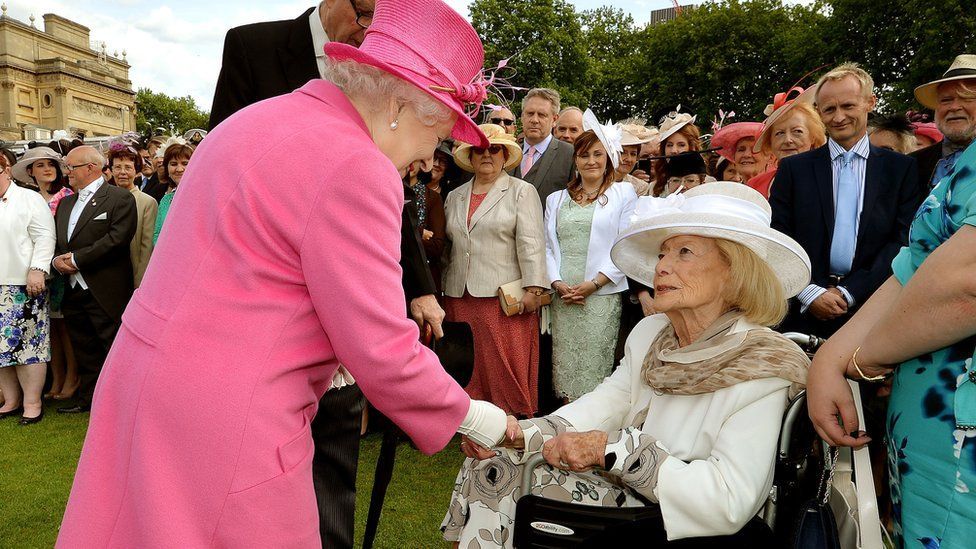 The Queen met Holocaust survivor and educator Gena Turgel at a garden party in 2015

Last October, the monarch spent a night in hospital and for three months was under doctors' orders to only carry out light duties, missing a number of prominent events.

The Queen has been using a walking stick in public since last October, when she attended a service marking the centenary of the Royal British Legion.

There has been no announcement yet about whether the Queen will attend the State Opening of Parliament on Tuesday.

After that, there will be a series of events to mark the Platinum Jubilee over an extended bank holiday weekend between 2 and 6 June.

Pub opening hours in England and Wales will be extended to 01:00 BST and, on 2 June, more than 1,400 soldiers, 200 horses and 400 musicians will take part in Trooping the Colour on the Queen's official birthday.

On 4 June, 10,000 members of the public will attend a concert in front of Buckingham Palace, with George Ezra among the performers.