The Queen has postponed an online meeting of the Privy Council after being advised to rest by doctors, Buckingham Palace has said.
The palace said that after "a full day" on Tuesday the monarch, 96, had accepted the medics' advice.

In a break in tradition she met outgoing Prime Minister Boris Johnson and his successor Liz Truss in Balmoral, in Aberdeenshire.

The Queen has suffered from mobility issues in recent times.

The monarch remains at Balmoral and the latest advice does not involve a hospital stay.

She had been due to hold the Privy Council virtually on Wednesday evening, during which Ms Truss would have taken her oath as First Lord of the Treasury and her new cabinet ministers would have been sworn into their roles.

The Privy Council is a formal body, mainly made up of senior politicians, which advises the Queen.

In a statement a Buckingham Palace spokesman said: "After a full day yesterday, Her Majesty has this afternoon accepted doctors' advice to rest.

"This means that the Privy Council meeting that had been due to take place this evening will be rearranged."

During her 70-year reign the Queen has typically had an audience with her new prime minister at Buckingham Palace.

It is understood the decision for Ms Truss and Mr Johnson to travel to Scotland was taken to provide certainty for the new prime minister's diary.

Photographs of the monarch, carrying a walking stick, and Ms Truss were published shortly after their meeting on Tuesday.

As head of state, it is the Queen's duty to appoint the prime minister who leads the government.

The Queen has been taking her traditional summer break in Scotland with family and guests. She usually stays at the estate from August to October.

As well as ongoing mobility issues in recent months, the monarch had Covid in February.

In the past seven months, Buckingham Palace has tended to confirm the Queen's attendance at public engagements on the day, depending on how she is feeling.

During this period she has missed several high-profile engagements, including the State Opening of Parliament, the Platinum Jubilee Concert and the commemorative Derby.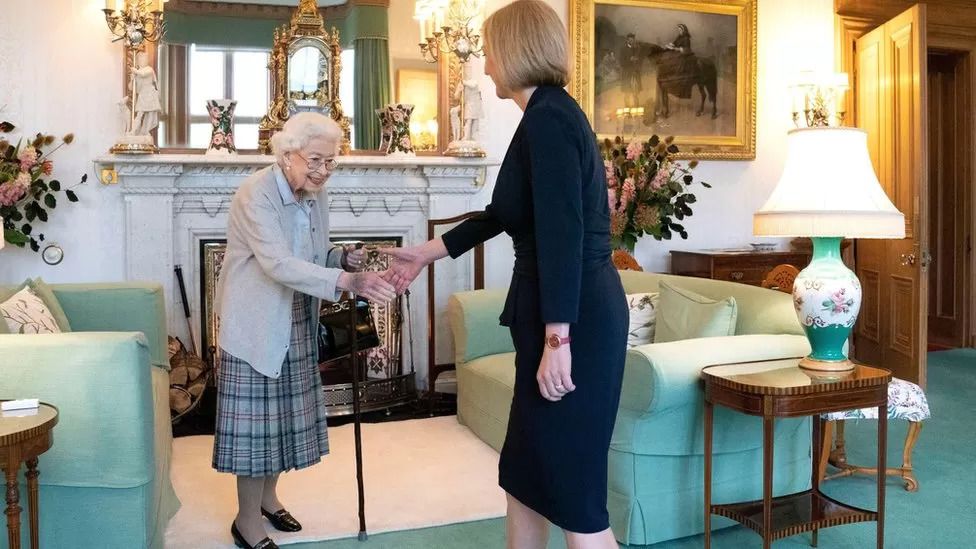 As head of state it is the Queen's duty to appoint the prime minister