The government unveils pay deals for public sector workers as inflation eats into salaries.
The government has announced pay rises for millions of public sector workers as inflation eats into salaries.

More than a million NHS staff in England will get a pay rise of at least £1,400, with lowest earners getting up to 9.3%.

Police in England and Wales will get £1,900 salary uplift, equivalent to 5% overall pay award.

Unions are pressing for pay to reflect living costs, with inflation running at 9.1%.

Pay deals covering 2.5 million public sector workers, including teachers, nurses, doctors, police officers, and members of the armed forces, are being unveiled.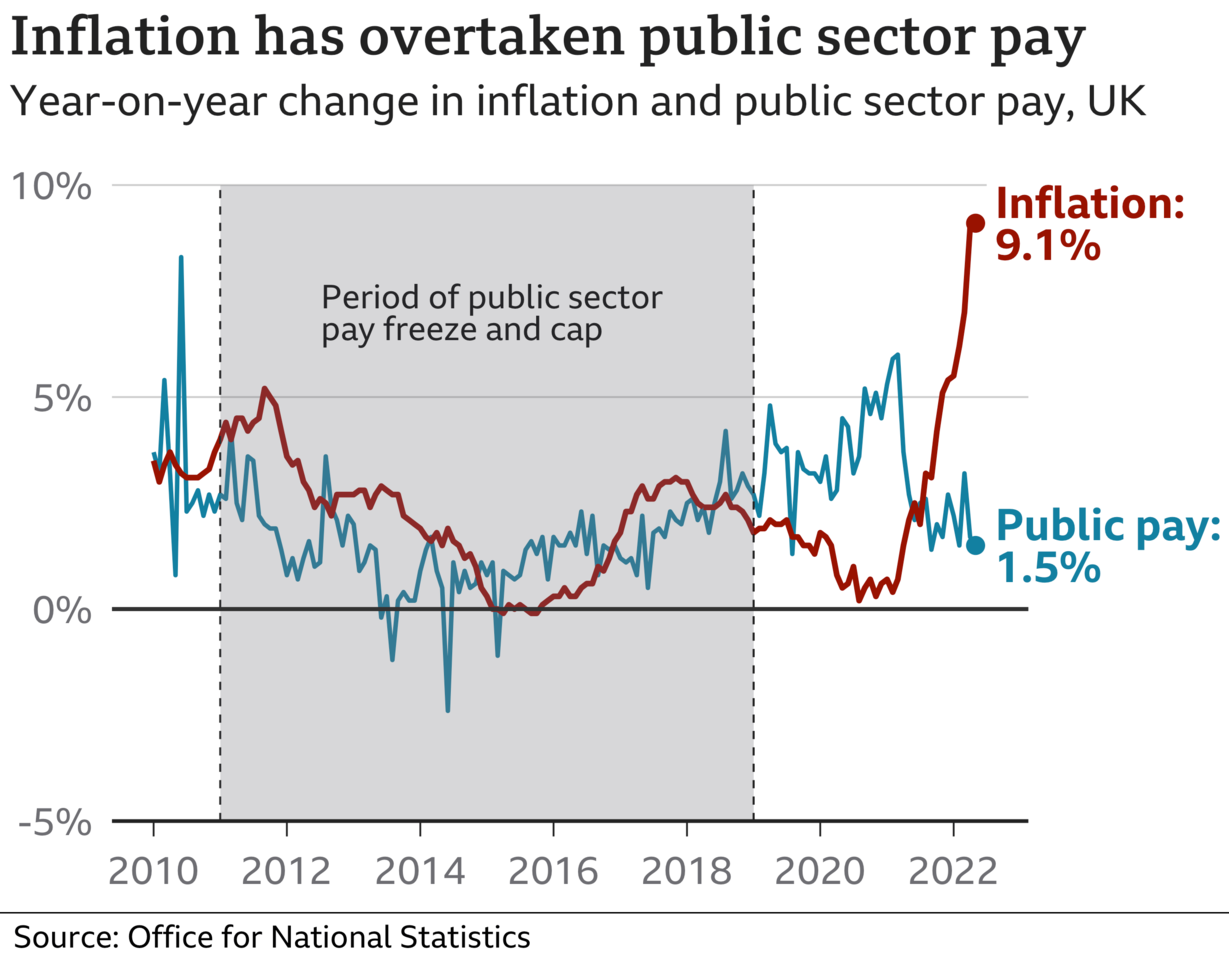 The government said it had accepted the recommendations of NHS, police and teacher pay review bodies in full.

Pay increases of between 5% and 8.9% have been awarded to teachers in England, and 3.75% for members of the armed forces across the UK.

Ahead of the announcements, ministers conceded that pay awards would not keep pace with rising prices, but argued that doing so would fuel inflation.

The Bank of England predicting that inflation could reach more than 11% later this year.

Setting public sector pay for this year was one of the big outstanding decisions facing Prime Minister Boris Johnson before he is due to leave office in September.

More than 115,000 Royal Mail workers have voted to go on strike in a dispute over pay, with other public sector unions threatening industrial action.

And the National Education Union has said it will ballot teachers over their pay aware in England, raising the prospect of industrial action in schools later this year.

Unite union general secretary Sharon Graham called the pay announcements "a kick in the teeth".

"The so-called wage offer amounts to a massive national pay cut," she said. "We expected the inevitable betrayal but the scale of it is an affront."

Pay rises at-a-glance

NHS staff in England:

*  Over one million staff will have a pay rise of at least £1,400 this year backdated to April 2022

*  The lowest earners - such as porters and cleaners - will see a 9.3% increase in their basic pay

*  Eligible dentists and doctors will receive a 4.5% pay rise

*  Junior doctors agreed a four-year deal in 2019 and will get just over 2% this year

Police in England and Wales:

*  All police officers will get £1,900 salary uplift

*  This will apply to all ranks from 1 September, equivalent to 5% overall pay award

*  The award will be targeted at those on the lowest pay, providing them with an uplift of up to 8.8%

Teachers in England:

*  Pay increases of between 5% and 8.9% from September

*  The starting pay for teachers outside London will rise by 8.9%, with salaries reaching £28,000 in the 2022/23 academic year

*  Experienced teachers to get 5% pay award in 2022/23

Armed forces in UK:

*  All members will receive an increase in base pay of 3.75%, with accommodation charges are capped at 1%

*  A pay rise of 3.5% for senior members of the military

Christina McAnea, general secretary of the Unison public sector union, said: "Fed-up staff might well now decide to take the matter into their own hands.

"If there is to be a dispute in the NHS, ministers will have no one to blame but themselves."

And Laurence Turner, policy officer at the GMB union, said: "An offer below inflation is a cut by another name.

"Recruitment and retention problems are now severe across the public sector and ministers are failing to invest in the services that the economic recovery needs."

The government sets pay on a UK-wide level in some areas, such as for the armed forces, while in others - such as health and education - it is set by ministers in the devolved administrations of Scotland, Wales and Northern Ireland.

All four remaining candidates to replace Boris Johnson as Tory leader and prime minister - Rishi Sunak, Liz Truss, Penny Mordaunt and Kemi Badenoch - have ruled out an across-the-board above-inflation pay rise for public sector workers.

On Tuesday, latest official figures showed regular pay for all workers is falling at the fastest rate since 2001, when inflation is taken into account.

Before taking account of inflation, average total pay growth for March to May 2022 was 7.2% in the private sector and 1.5% in the public sector.