A Nobel Prize-winning scientist has revealed he is using his prize money to support young Scots at university.
Prof David MacMillan, who is from North Lanarkshire, told the BBC he had set up a foundation in his parents' honour.

The Princeton University chemist was jointly awarded a Nobel Prize for chemistry with German scientist Benjamin List in October.

He grew up in New Stevenston, near Bellshill, and graduated in chemistry at the University of Glasgow.

He then moved to the US for postgraduate studies.

His work with Prof List - on building molecules that are mirror images of one another - gained the international award, and a half share of the 10 million krona (£842,611) prize.

Their chemical toolkit has been used for discovering new drugs and making molecules that can capture light in solar cells.

Speaking to BBC Radio Scotland's Off the Ball, Prof MacMillan, 54, said he was giving all the money from his Nobel award away, including money for talks he is giving in the year after getting the prize .

"The Nobel money, we're giving it all to charity," he said. "And all honorariums from all the talks I'm giving for the first year, all going to charity as well.

"What we're doing is giving it to underprivileged kids in Scotland who are trying to get to uni."

He has set up a charity - the May and Billy MacMillan Foundation - to honour his parents' support of his education.

He attended state schools New Stevenston Primary and Bellshill Academy and has said he was "very, very proud" of his "working class" upbringing.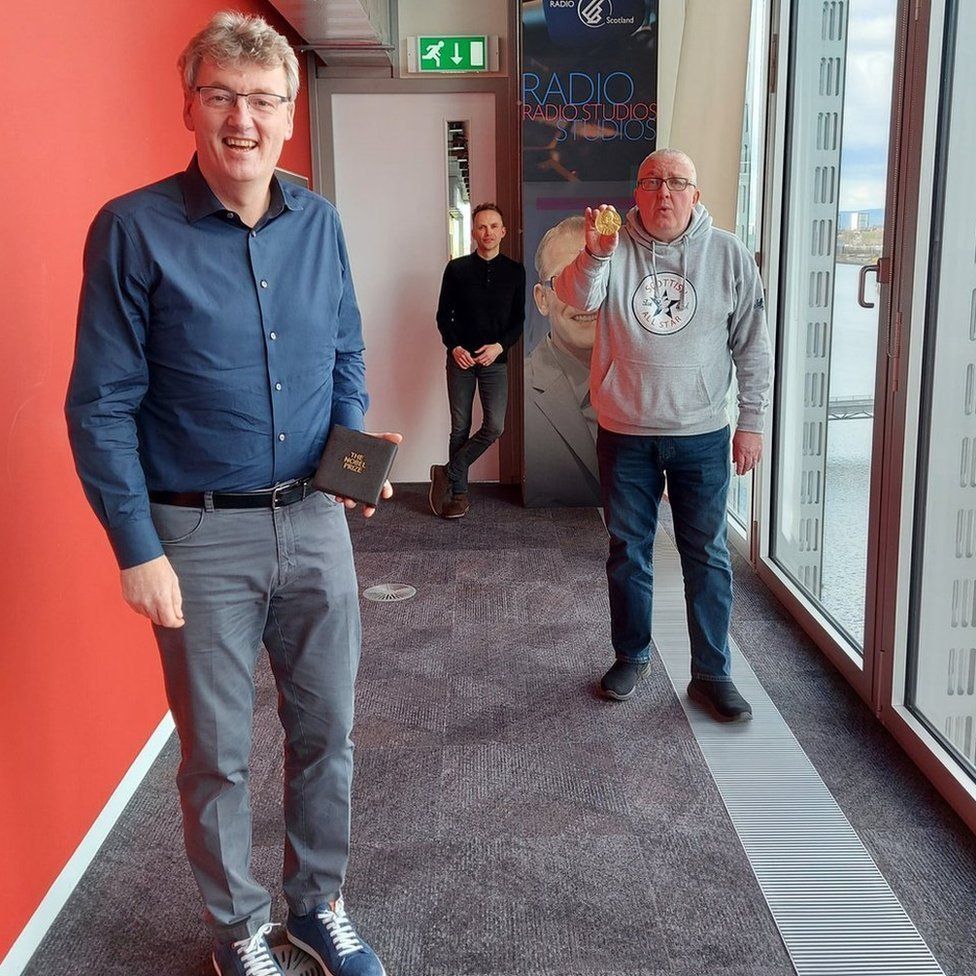 Prof David MacMillan took his gold Nobel award into the BBC studios in Glasgow

The Rangers fan, who now lives in Hawaii with his wife and three children, was in Glasgow to attend the Old Firm match at Ibrox Stadium as a guest of honour on Sunday,

He took his solid gold Nobel medal into the BBC studios for his second appearance on the irreverent football programme since becoming a Nobel laureate.

Prof MacMillan previously said the prize was his "pathway to Off The Ball", which he listens to online from the US every week, and described being interviewed on the show in October as an "absolute dream come true".

He also admitted he still owed $1,000 to Prof List - "the German boy I stole the idea from".

"He actually phoned me up in the morning to tell me I'd won it because they couldn't get hold of me, and I didn't believe him," he said.

"So, I bet him $1,000 that he was full of it, and then I went back to sleep.

"And so afterwards he reminded me 'you owe me $1,000' and I haven't given him the money yet."