Talks to end Scotland's bin strikes will resume on Friday as industrial action spreads to more areas.
Deputy First Minister John Swinney met unions and council body Cosla on Thursday afternoon, after pay negotiations broke down on Wednesday.

Talks between councils and unions continued - ending without agreement after 22:00 on Thursday night.

Refuse workers in Edinburgh are midway through a two-week strike that has left bins overflowing on the streets.

Staff in 13 other areas walked out on Wednesday.

They are joined on Friday by several more local authorities, with most of the councils involved in the dispute not expected to have any bin collections until the end of the month.

The affected areas include Glasgow, Aberdeen, Dundee and the Highlands.

Further strikes have also been scheduled on dates between 6 and 13 September by refuse workers in more than 20 council areas.

Schools, nurseries and early years' centres many areas are also due to see strikes from unions members including catering staff, janitors and classroom assistants next month.

Glasgow City Council has confirmed that the strike will close all of its nurseries, primaries and ASL schools for three days on 6, 7, and 8 September.

Mr Swinney has described the bin situation in Edinburgh as already being "deeply concerning" for public health, with visitors to the city's arts festival speaking of their shock at the piles of waste lying next to overflowing public bins.

He said the latest round of talks were aimed at ensuring there was "intense dialogue" around resolving the dispute, adding: "I do hope that leads to substantive progress.

"It is in the interests of members of staff who want certainty about their pay, and also it is in the interest of local authorities and members of the public to have public services restored.

"So I would encourage everybody to engage in that dialogue and the government will do what it can to be helpful".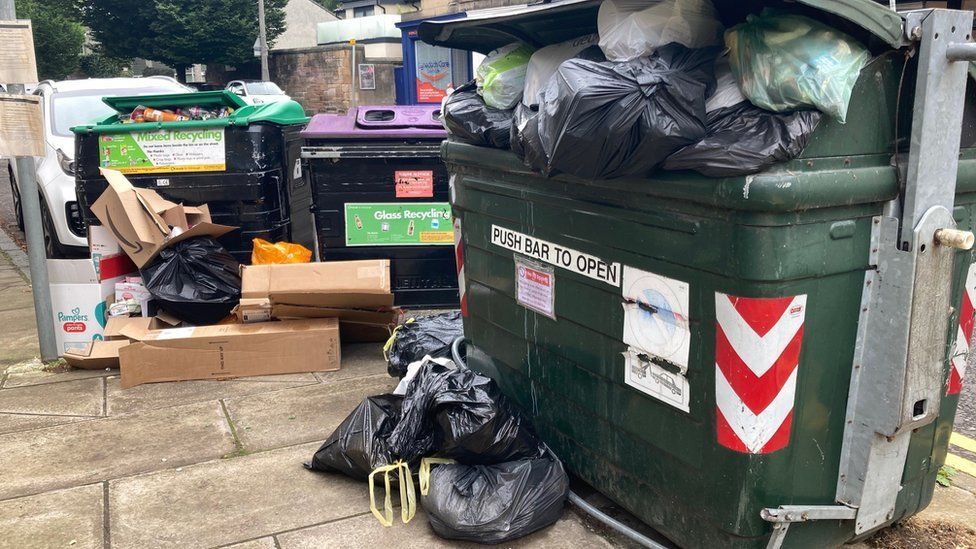 Edinburgh residents have been asked to keep their rubbish in their homes

BBC Scotland's Jamie McIvor said there would be no additional government money to help fund a council pay deal but it is looking at what else it can do to help. This could include freeing up more of the money councils get from the government to support a better pay offer.

Speaking ahead of Thursday's meeting, Unite general secretary Sharon Graham said its members had been "failed miserably" by politicians.

She added: "For five months Cosla and the Scottish government have dithered and bickered with each other while our members have increasingly faced a cost of living crisis.

"We will fully support them in their fight for better jobs, pay and conditions."

Cosla said the unions had rejected a pay offer earlier this week that would have meant the lowest paid 12% of council workers would get a pay increase of more than 5%.

It has also said the latest pay offer amounts to "one of, if not the best offer in decades for Scottish local government workers" with some workers getting an overall 7.36% increase.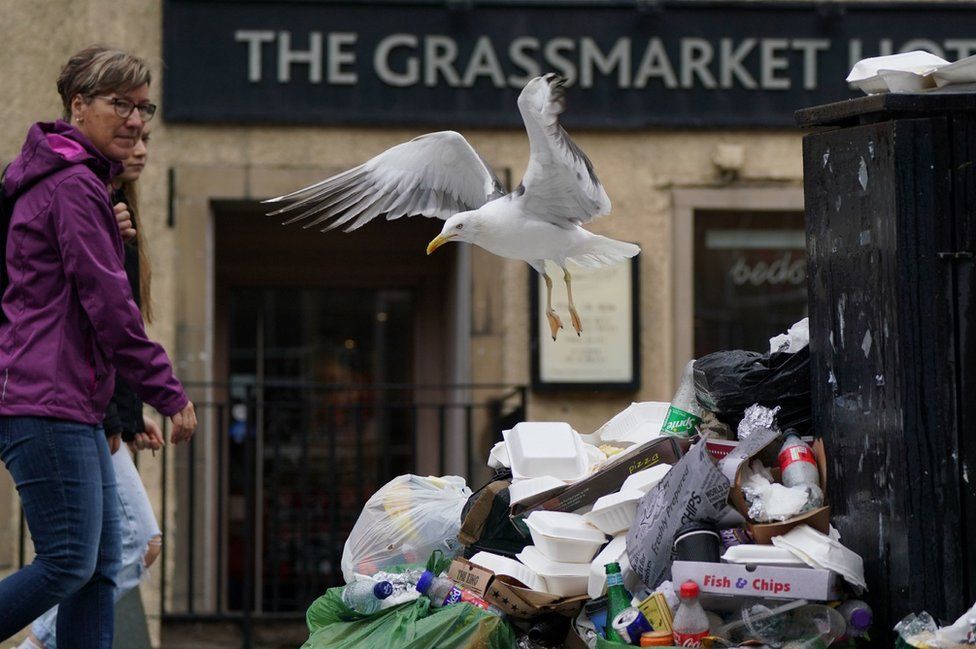 Unions have called for more funding from the government to pay for an improved offer and rejected a request from the government to suspend the strikes while negotiations were held with Cosla.

Unite said that for more than half of local government workers, Cosla's offer represented an offer of between £900 to £1,250 when the UK government is offering council workers in England a £1,925 flat rate pay offer.

The union believes a flat rate increase would be most beneficial for low-paid workers, and says it has been told by some members that the cost of living crisis has led them to take holidays or sick days because they cannot afford to go to work.

Johanna Baxter, Unison Scotland's head of local government, said ahead of the latest talks with Mr Swinney that the union was "a long way" from agreement.

She added: "We need to rethink the construction of the pay offer, so that those on the lowest incomes are fairly treated, and we also need to explore ways in which we can increase the overall cash available to come to a fair offer."

The GMB has described the package currently on offer as "bitterly disappointing and frankly shameful".

Is there a bin strike in my area?

Refuse workers in Edinburgh began industrial action on 18 August. Bin collectors from 12 other councils began their strike on 24 August:

* Aberdeen
* Angus
* Dundee
* East Ayrshire
* East Renfrewshire
* Falkirk
* Glasgow
* Highland
* Inverclyde
* South Ayrshire
* South Lanarkshire
* West Lothian

East Lothian expect domestic bin collections to continue despite strike action because of the number of workers involved.

From 26 August, workers will join the strike action in:

* Aberdeenshire
* Clackmannanshire
* North Lanarkshire
* Stirling
* Midlothian
* Orkney
* Perth and Kinross

The industrial action runs until the end of the month in most local authority areas though some councils have fewer strike days.

On various days between 6 and 13 September, refuse workers will also strike in:

* Aberdeenshire
* Aberdeen City
* Angus
* Clackmannanshire
* Dumfries and Galloway
* Dundee
* East Ayrshire
* East Dunbartonshire
* East Lothian
* East Renfrewshire
* Edinburgh
* Falkirk
* Fife
* Glasgow
* Highland
* Inverclyde
* Midlothian
* Orkney
* Perth and Kinross
* North Ayrshire
* South Ayrshire
* South Lanarkshire
* North Lanarkshire
* Stirling
* West Lothian


Where are school and nursery staff set to strike?

Some staff in schools, nurseries and early years' centres in these council areas are scheduled hold strikes between 6, 7, 8 and 9 September, with the exact days differing between local authorities.

* Aberdeenshire
* Angus
* Clackmannanshire
* Dundee City
* East Renfrewshire
* Glasgow City
* Inverclyde
* Orkney
* North Lanarkshire
* Stirling
* South Lanarkshire