Red paint has been thrown over UK government offices in Edinburgh by climate activists protesting against the Jackdaw gas field.
Campaign group Just Stop Oil daubed "blood on your hands" on the front of Queen Elizabeth House.

Police arrived after the paint was thrown and spoke to a group of protesters who sat down in front of the building and refused to leave.

The Jackdaw field, east of Aberdeen, was given the go ahead on Wednesday.

The original proposals had been rejected by on environmental grounds in October, but UK Energy Secretary Kwasi Kwarteng said the revised plan would reinforce the country's energy security.

The gas field, being developed by Shell, is said to have the potential to produce 6.5% of the UK's gas output.

Shell has said it eventually hopes to reduce the climate change impact by capturing carbon dioxide and storing it underground in Aberdeenshire.

But the approval has angered environmentalists and Greenpeace has threatened legal action.
A spokeswoman for Just Stop Oil said they believed they had to do "anything in our power" to oppose such "destructive policies".

"New oil and gas is not the solution, it's not providing energy security or dealing with the cost-of-living crisis," she said.

"If this government really wanted that they would be insulating homes and investing in renewables.

"We are demanding an affordable, reliable energy supply that doesn't destroy the economy, doesn't cause a cost-of-living crisis and doesn't destroy the liveable planet for generations to come."

Police Scotland said it was aware of the protest and that officers were "engaging" with the group.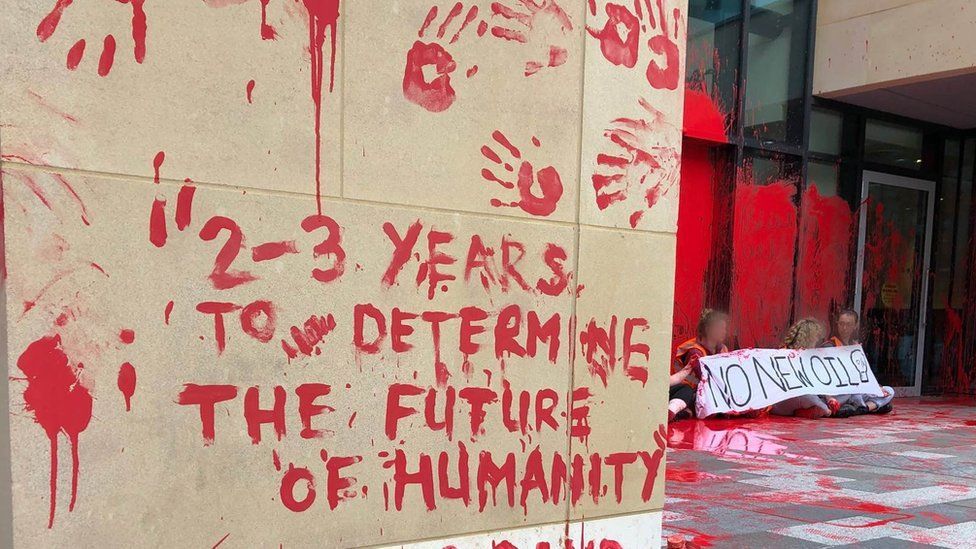 A spokeswoman for HM Revenue & Customs, which owns the building, said: "There was a small demonstration outside our Queen Elizabeth House site in Edinburgh this afternoon.

"Police have been in attendance and our services are unaffected."