Protests have taken place at ports over P&O Ferries' sacking of 800 workers in favour of lower-paid replacements.
Unions rallied at Dover, Hull and Liverpool, chanting slogans such as "seize the ship". Protests caused disruptions, and vehicles in Hull were at one stage turned away.

It comes after authorities detained P&O Ferries' European Causeway in Northern Ireland, saying it was "unfit to sail".

P&O Ferries said it would make changes to return the ship to service.

Unions have said that crews without experience of the vessels are a danger to shipping.

In Hull, protestors from the RMT union at one stage attempted to block access to P&O ferry the Pride of Rotterdam at the city's King George Dock. They want customers to boycott the company.

BBC correspondent Paul Murphy, at the scene, said picketers at one stage turned away cars and lorries attempting to board Saturday's 20:30 GMT sailing.

However, the Pride of Rotterdam ferry left Hull on schedule for The Netherlands.

Earlier, the Trades Union Congress had tweeted a video it said showed P&O dockers in Rotterdam refusing to load freight onto a ferry set for Hull in solidarity with sacked workers.

Niek Stam, general secretary of the Docker Workers' Union in Rotterdam, told the BBC Radio 4's PM programme they hoped the protests would make "P&O come back to the table", adding "what they have done is outrageous".

Mr Stam said: "We believe in solidarity, and we will punish every employer who refuses to consult unions."

He added that the protests will carry on in the coming days "if it is necessary".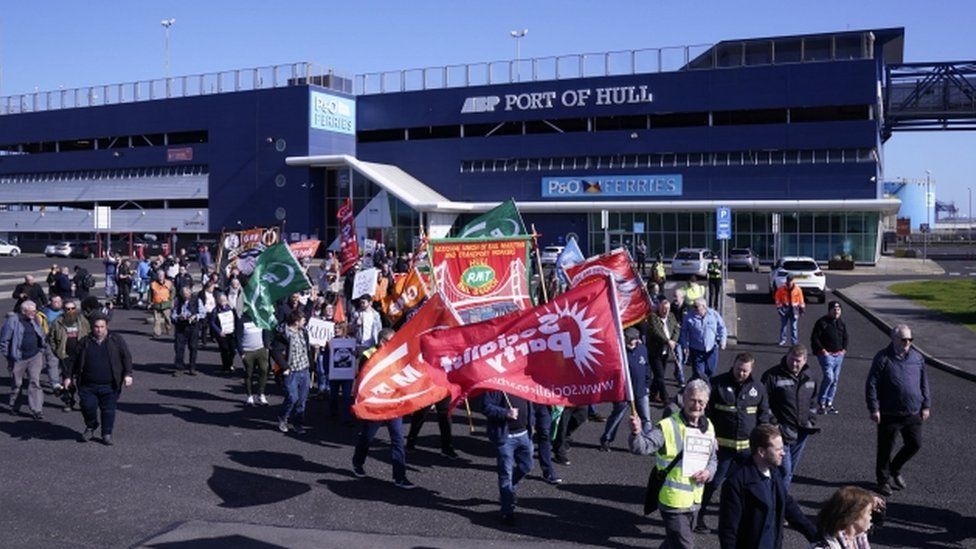 Protests have been held across the UK and Ireland since P&O Ferries announced they were firing 800 members of staff on 17 March

Unions have raised fears over a lack of training of new crew, after the firm replaced their members with agency workers whose average hourly rate of pay would be £5.50 - less than the UK minimum wage.

As the company's ships operate internationally and are registered overseas, the UK minimum hourly rate of £8.91 does not apply.

The company has said it had to replace crews as it was losing £100m a year, and would not be a viable business without making the changes.

P&O Ferries boss Peter Hebblethwaite admitted to MPs on Friday that the decision to sack 800 workers without notice broke the law.

He said there was "absolutely no doubt" that under UK employment law the firm was required to consult unions before making the mass cuts.

But Mr Hebblethwaite said no union would have accepted the plan and it was easier to compensate workers "in full" instead.

At Saturday's Dover protest, RMT union national secretary Darren Procter said: "Bringing a crew on board a vessel they're not familiar with to sail across the busiest shipping lane in the world, carrying passengers, is going to be a dangerous act."

He said the Maritime and Coastguard Agency (MCA) should detain every P&O Ferries vessel around the UK, on the basis they are not fit to sail.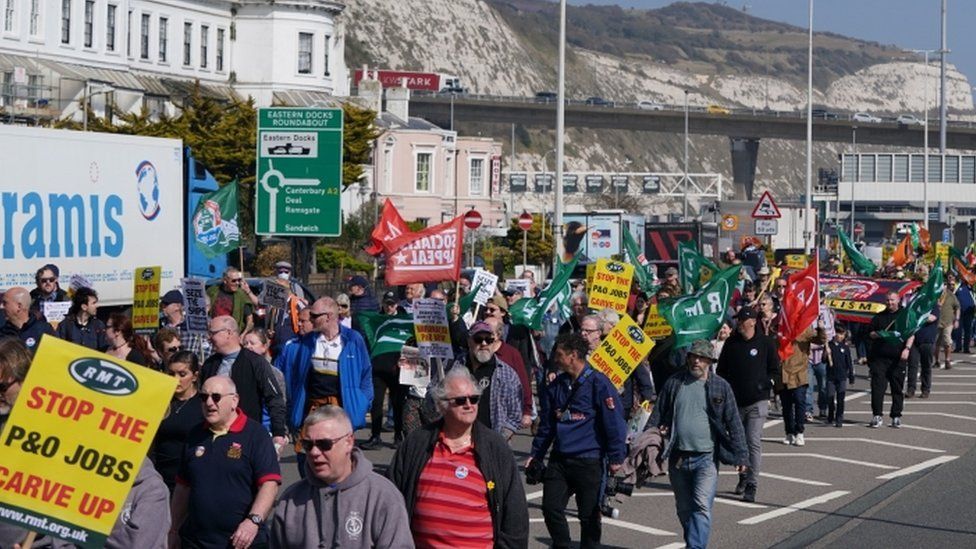 This was the scene in Dover, where protesters condemned the dismissal of P&O workers

On Saturday, the MCA said the European Causeway had been impounded in Larne over "failures on crew familiarisation, vessel documentation and crew training".

No passengers or freight were aboard, it said, adding that the vessel would remain under detention until all issues were resolved by P&O Ferries.

Transport Secretary Grant Shapps wrote on social media that the ship's detention had followed an instruction from him to the MCA to inspect "all P&O vessels" before they entered back into service.

"I will not compromise the safety of these vessels, and P&O will not be able to rush inexperienced crew through training," he added.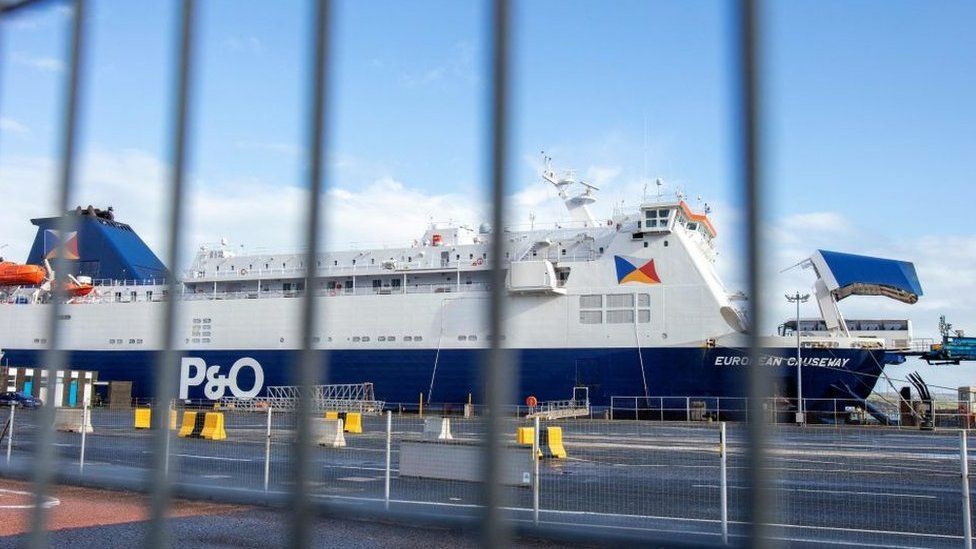 P&O Ferries said it would review the findings of the MCA's inspection, "make any changes required and continue to work closely with the MCA to return the ship to service".

The company's services on the route the ferry sails - from Larne to Cairnryan, in Scotland - are currently suspended.

'Not sustainable'

Seamus Leheny, of freight industry body Logistics UK, said rival ferry operator Stena had increased capacity through Belfast by 50% but the situation at Larne was still causing difficulties for businesses.

"It's not sustainable to have so much freight coming through Belfast... we want that Larne service back up and running as soon as possible," he added.

P&O Ferries services between Dover and Calais remain cancelled. The firm said it would organise an alternative carrier for passengers.


Saturday evening's service from Rotterdam to Hull is also suspended, the firm said - but services between Dublin and Liverpool are expected to run as usual.