There will be no further Covid restrictions in England before the new year, Sajid Javid has said.
But the health secretary said people should "remain cautious" and celebrate outside on New Year's Eve if possible.

Prime Minister Boris Johnson said ministers would continue to monitor the data and urged people to get their "first, second or booster jab without delay".

Meanwhile, both England and Scotland reported record cases over Christmas.

Some 113,628 new infections were reported in England on 25 December, 103,558 on 26 December and 98,515 on 27 December.

Provisional data for Scotland for the same three days showed there were 8,252 cases on Christmas Day, with 11,030 the following day and 10,562 on Monday.

Only partial Covid data for the UK has been published over the Christmas period, and full figures will be released later this month.

Dr Sarah Pitt, a virologist at the University of Brighton, told the BBC the cases data was "likely to be an underestimate" for several reasons, including people being less inclined to get a test on Christmas Day and data processing delays over the festive season.

First Minister Nicola Sturgeon said the expected steep rise in cases in Scotland "is now materialising".

Northern Ireland has not published any cases data since Christmas Eve, while Wales recorded another 5,335 cases on 26 December.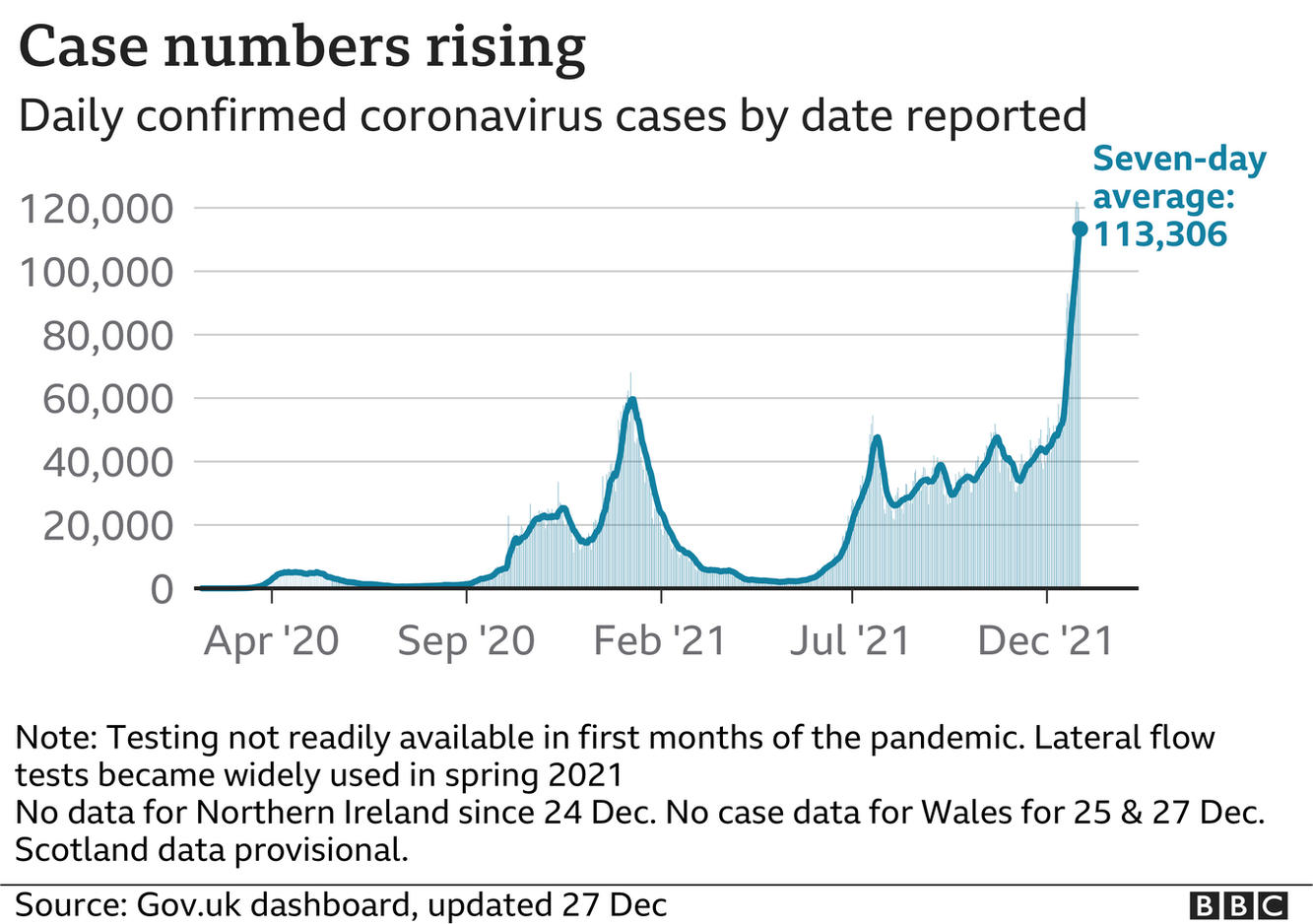 Mr Javid said the government would reassess whether more measures were needed in the new year.

The decision not to introduce new measures came hours after the prime minister was briefed by England's chief medical officer Prof Chris Whitty and chief scientific adviser Sir Patrick Vallance.

It puts England out of step with the rest of the UK: Wales has already introduced more curbs, while Scotland and Northern Ireland both tightened rules for a second day.

Labour's shadow health secretary Wes Streeting said many people would be relieved, but urged the government to release the data that informed the decision, "so that the public can be reassured that... Boris Johnson is not simply capitulating to his own opponents in the Tory Party".


Data emerging in England points to a very difficult month ahead for the NHS, but not a completely overwhelming one.

Last week estimates were published suggesting Omicron was causing milder illness.

But it was unclear what that would translate to in the real world - if infections rose high enough there was still a threat the NHS would not cope.

London, which was the first area to see an Omicron wave, gives us an indication of what to expect.

The first half of December saw cases detected double week on week.

But the growth in hospital admissions - taking into account the lag between initial infection and becoming seriously ill - has been much lower, at about two-thirds.

And those that are admitted appear to be spending less time in hospital.

What's more, the surge in infections looks like it started levelling off before Christmas.

If this is right and the trends hold and are repeated elsewhere, it would suggest hospital numbers will peak at under half of what was seen last winter - very much best-case scenario territory.

That, though, is a lot of ifs. But it looks like it has been enough to convince ministers more restrictions cannot be justified for now.

The health secretary said 90% of cases across England were now the Omicron variant, which was first identified in South Africa a month ago.

Latest figures showed there were 8,474 people with Covid currently in hospital in England - the highest since March, but well below last winter's peak of more than 34,000.

Not all the patients in hospital will have been admitted for Covid - about three in 10, according to the latest data, have the virus but were admitted to hospital for something else.

The UK has massively ramped up its booster programme in response to Omicron, with a record 968,665 booster jabs and third doses were reported in one day last week.

More than 12,000 vaccinations were given in England on Christmas Day - including 955 first doses - and the NHS said a further 1.5 million vaccination slots were available in the coming days.


Downing Street sources said Boris Johnson had seen nothing in the data to suggest he had to "push the red button".

While the government has not ruled out further restrictions in England at some point, avoiding any new measures this week also averts the need to recall parliament.

Earlier this month 100 Conservative MPs rebelled against the introduction of Covid passes.

And some in the prime minister's own party were predicting there would have been a larger rebellion if he had tried to push ahead with new measures this week in the absence of hard data that the NHS would be overwhelmed.

But Mr Johnson is now taking something of a political gamble.

He will get plaudits from beyond his own party if he succeeds in keeping the economy open and the NHS continues to cope.

But if hospital admissions rise sharply in the new year, his opponents will accuse him of putting politics ahead of public health.

Omicron: What we know so far

*  This variant is very contagious and spreads faster than others

*  Vaccines and boosters are still essential and do a great job at protecting against severe disease

*  It is milder - if you catch it, the risk of needing hospital treatment is up to 70% lower than with previous variants - but that is largely because many of us have built up immunity from vaccines and past infections rather than changes to the virus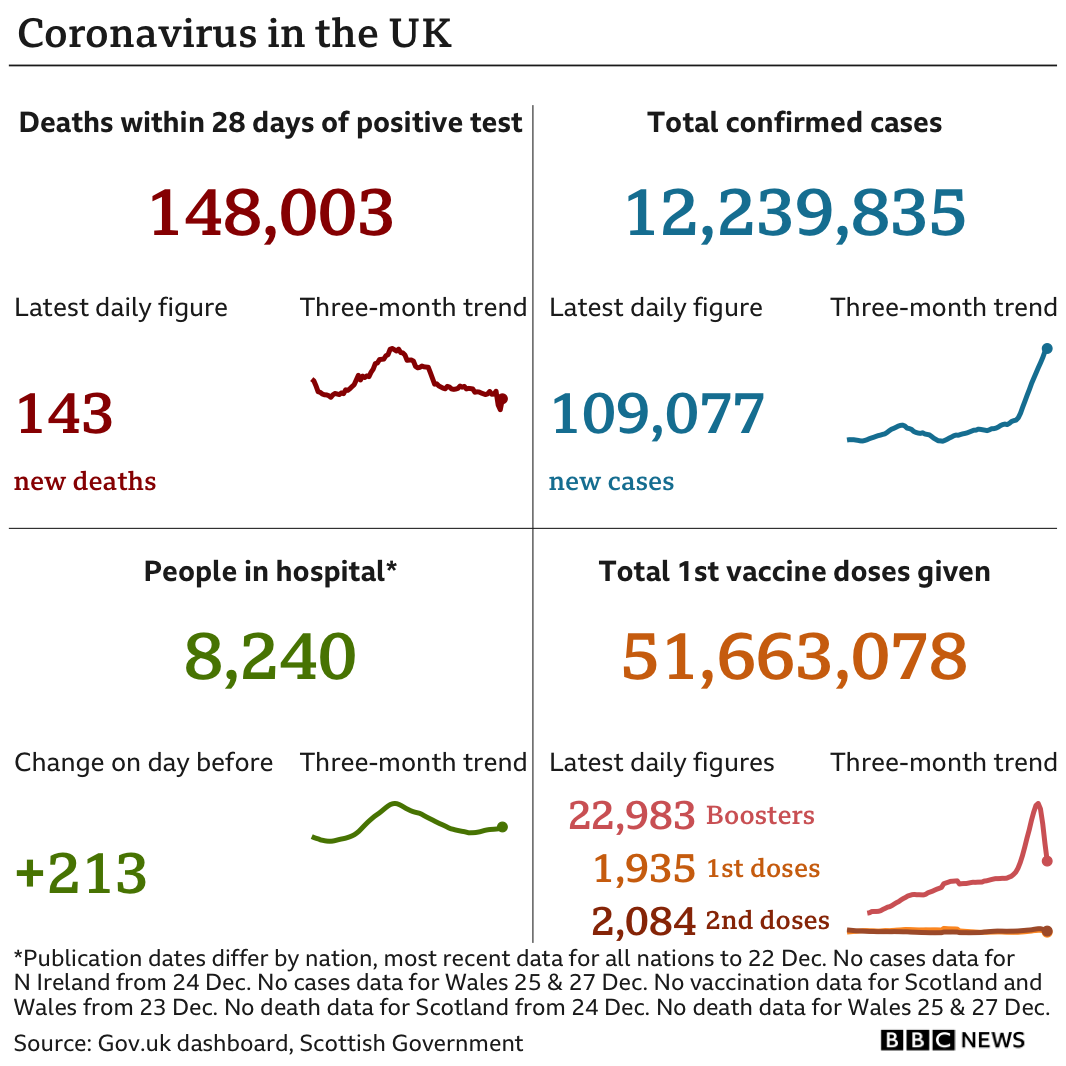 Watch: Sajid Javid confirms no new restrictions and defends why England is differing from the other nations