First minister asks public to keep festive celebrations 'as small as your family circumstances allow'
Scots should limit their indoor social mixing to no more than three households over the festive season, but family Christmas celebrations can go ahead, Nicola Sturgeon has said.

Emphasising that nobody should cancel their Christmas Day plans, Scotland's first minister urged people to cut down social contacts "as much as possible" over the coming weeks in an attempt to slow the spread of the Omicron variant while the vaccine booster programme accelerates across the country.

Sturgeon also asked the public to keep celebrations around Christmas Day itself "as small as your family circumstances allow", to make sure all those gathering have been vaccinated and have done a test in advance, to keep rooms ventilated and follow strict hygiene rules.

Sturgeon set out the new advice – which will not be a legal requirement – as she updated the Holyrood parliament on the progress of the booster vaccination programme.

She told MSPs: "We are not banning or restricting household mixing in law as before. We understand the negative impact this has on mental health and wellbeing".

"But we are asking everyone - and we will issue strong guidance to this effect - to cut down as far as possible the number of people outside our own households that we are interacting with just now".

Sturgeon also said that her government would amend regulations to put a legal requirement on businesses to minimise the risk of transmission, including measures to avoid crowding in shops and bars, improved physical distancing and the reintroduction of protective screens.

She said further measures were necessary with Scotland facing a "likely tsunami" of new infections in the weeks ahead and a "very significant" impact on health services.

Referencing the "very high attack rate" of the new Omicron strain, Sturgeon explained: "That means if just one person in a gathering is infectious, that person is likely to infect many more people in the group than was the case with the Delta variant".

Reiterating these messages in a televised address to the nation on Tuesday evening, Sturgeon said: "Speaking to you in these terms is the last thing I wanted to be doing a few days before Christmas. We've all had enough of this. But the threat from Omicron is severe. And we must respond seriously."

Meanwhile, on Tuesday afternoon the UK Treasury pledged extra funding to devolved governments to support the vaccine rollout and wider health response.

Sturgeon said her government had identified £100m from its own resources to help businesses affected by last week's advice to postpone work Christmas parties.

Sturgeon, who is expected to make a televised address on Tuesday evening, earlier rejected calls from Scotland's largest teaching union, the EIS, to close schools immediately, stating her priority was to keep them open safely.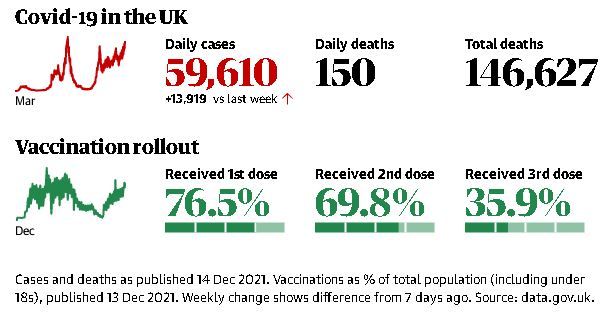 Opposition parties have called on her to speed up the booster rollout, with the Scottish Conservatives leader, Douglas Ross, urging the Scottish government to reopen mass vaccination centres.

Sturgeon responded that Scotland had the fastest progress on vaccinations of any UK nation and argued that mass clinics had high rates of non-attendance.

Ross also challenged Sturgeon over the requirement for household contacts of a person who tests positive for Covid to self-isolate for 10 days, regardless of age, vaccination status or PCR test result, after she introduced an exemption for essential workers.

Scottish Labour's health spokesperson, Jackie Baillie, raised concerns about care packages being withdrawn due to staff absence.

Last Thursday, Public Health Scotland said it was "strongly urging" people to cancel Christmas parties after a number of Omicron outbreaks linked to festive get-togethers.

On Friday, the Scottish government published an evidence paper on Omicron, which suggested that the doubling time of the new strain was close to two days, and that it was very quickly going to overtake Delta as the country's dominant strain.