Rail passengers have been warned to expect serious disruption as the first of three 24-hour rail strikes hits services in Scotland.
ScotRail has cancelled 90% of its services while cross-border services are also likely to be badly affected.

About 40,000 Network Rail staff were expected to walk out on at midnight on Tuesday in a dispute over pay, working conditions and redundancies.

Last ditch talks between the RMT union and Network Rail failed on Monday.

Mick Lynch, the union's general secretary, blamed the "dead hand" of government, saying ministers did not allow employers to negotiate freely.

The UK transport secretary, Grant Shapps, said "outdated unions" were "opposing progress".

Further strikes are scheduled to take place on Thursday and Saturday but services are likely to be disrupted even on non-strike days.

People have been advised to plan ahead and only travel by rail if it is necessary.

Which trains are running?

ScotRail said it would run very limited services on five routes in the central belt only, with no replacement buses or taxis throughout the period of industrial action.

The routes are:

*  Edinburgh - Glasgow via Falkirk High: two trains per hour
*  Edinburgh - Bathgate: two trains per hour
*  Glasgow - Hamilton/Larkhall: two trains per hour
*  Glasgow - Lanark: two trains per hour
*  Edinburgh - Glasgow via Shotts: one train per hour

Trains will only run from 07:30 on those routes, with the last trains departing well before 18:30.

Anyone who has bought a ticket they are unable to use will be able to claim a full refund.

Trains in England and Wales will also be badly affected, including services between London and Scotland on both the East and West Coast mainlines.

Dispute over pay, conditions and safety fears

This dispute between the RMT union and the companies which run Britain's railway centres on pay, job losses and changes to workers' terms and conditions.

Staff working for ScotRail are not involved in this industrial action but the train operator, which was nationalised on 1 April, relies on Network Rail workers to operate signal boxes and maintain the track across the UK.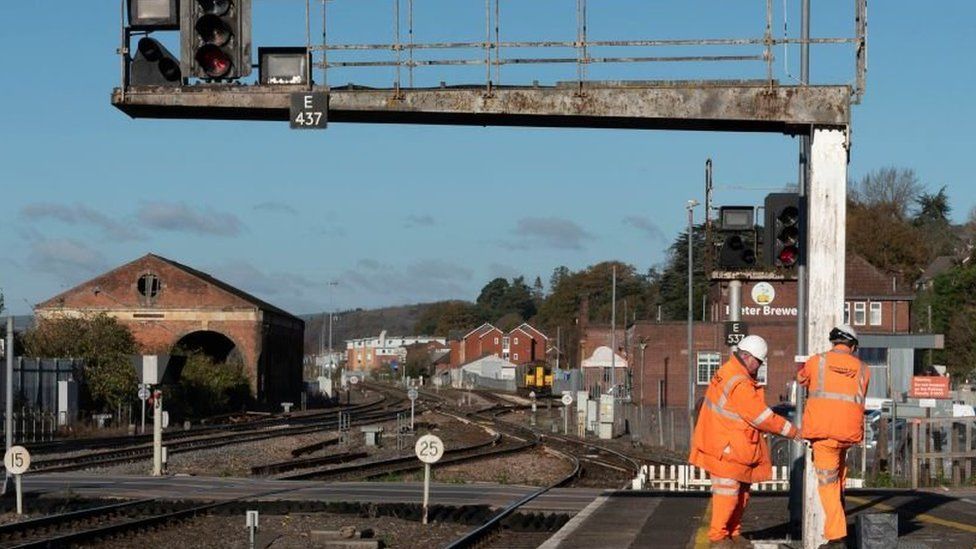 Network Rail staff operate signal boxes and maintain other key railway infrastructure

The RMT said Network Rail's plans to cut 2,500 jobs would put safety at risk and has warned that strikes could continue over the next six months.

Speaking to BBC Scotland, Network Rail Scotland spokesman Nick King said: "Today's strike is going to be very disruptive to the public. We are going to see a very, very limited service running in Scotland - principally only a few routes in the central belt.

"We are still keen to reach a resolution with the union, postpone further strike action if we can, but any deal that is done has to be fair on both our workers and on the taxpayer, who ultimately funds Network Rail's operations."

On Monday UK Transport Secretary Gran Shapps told the House of Commons that rail workers were endangering their livelihoods by taking industrial action.

He said the UK government had plans for rail reform and a more "agile, flexible workforce - not one that strikes every time someone suggests a change to the railways".

Gordon Martin, RMT organiser, told BBC Scotland they had been "forced" to take strike action.

"This is of the UK government's making," he said. "We have been forced into this as a defensive measure. Our members' jobs and livelihoods are at risk here.

"More importantly, the safety of the rail infrastructure is at risk and safety in railway stations and on trains is at risk."

'Body blow' to hospitality

Meanwhile businesses in Scotland are bracing for an impact on their takings.

Alan Henderson, who owns 10 hospitality outlets across Aberdeen, told BBC Radio Scotland's Lunchtime Live that the strike was a body blow.

"The impact is quite straightforward, hotel rooms will be cancelled B&Bs will be cancelled, less visitors will come to the north east and the north of Scotland, given that there is absolutely no trains heading north from the central belt," he said.

"It's a real body blow to the industry which is just recovering from Covid."

One of Scotland's main bus operators said it was prepared for increased demand on strike days.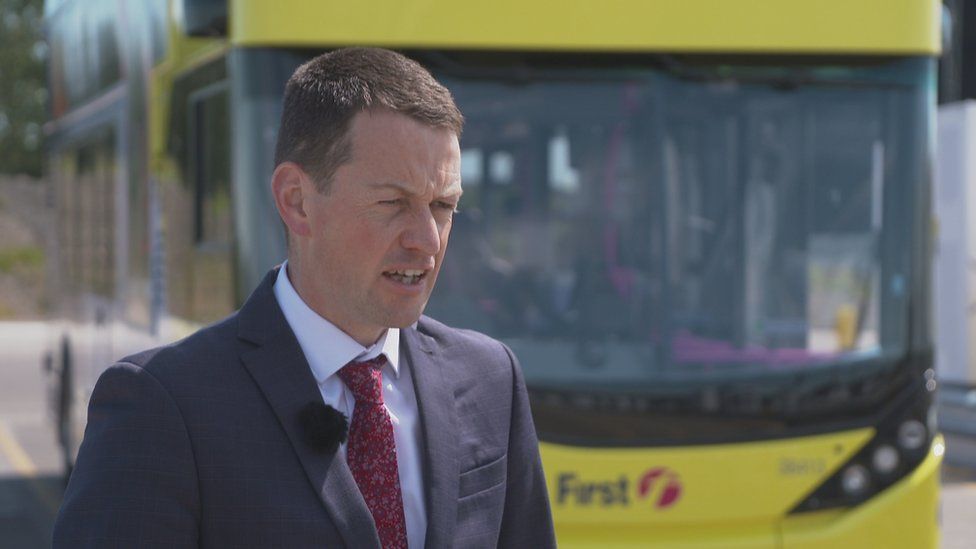 Duncan Cameron, managing director of First Bus Scotland, said they were planning to increase capacity

First Bus managing director Duncan Cameron told BBC Scotland that despite still not being back to pre-pandemic levels, bus travel "massively overweighs rail use across the country", carrying passengers on about 74% of public transport journeys.

He said: "It will be difficult for rail users over the coming days with no rail running, but given those margins we believe we can accommodate those who want to move to bus, and where possible we will introduce additional vehicle capacity to do that."

National Express said coaches were also in high demand but warned it was not possible for the firm to match the demand of the rail network.

"We do expect and are prepared to be busy but also recommend that customers allow plenty of time when planning their journey," a spokesman said.

The Network Rail industrial action is not related to a separate dispute between ScotRail and train drivers' union Aslef which led to a temporary timetable with 700 fewer services introduced last month.

The union struck a 5% pay deal and improved terms and conditions with ScotRail earlier this month, with its members now being asked whether they want to accept it and end the dispute. RMT officials rejected a similar offer.