"The future is here and it's Ncuti" is how returning Doctor Who showrunner Russell T Davies announced the casting of Ncuti Gatwa as the 14th Doctor.
Doctor Who is a drama centred on the renewal and regeneration of its main character and in many ways, 29-year-old Gatwa embodies that renewal.

He arrived in Scotland in 1994 as a refugee fleeing a genocide and is now preparing to take on the role of one of the most iconic characters in British TV.

Who is the new Doctor?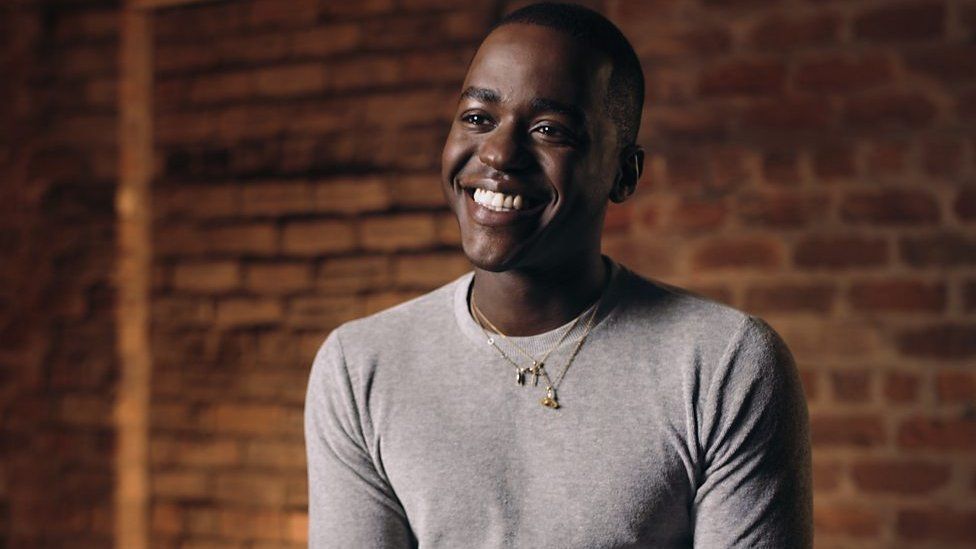 Gatwa was interviewed for the BBC Scotland documentary, Black and Scottish, in 2019

Gatwa was born in Kigali, Rwanda, in October 1992 when the country was already fully embroiled in a civil war. He and his family moved to Scotland when he was just two years old.

He spoke about his experience in 2019, as part of the BBC Scotland documentary Black and Scottish.

"We came to the UK because of the genocide that happened in Rwanda in 1994," he said.

"We were refugees, we were refugees coming to the UK and I definitely now view myself as a Rwandan-Scotsman. Yes there's such a term and I'm giving it a name today."

Gatwa was raised mostly in Dunfermline and Edinburgh. He attended Boroughmuir High School and Dunfermline High School before moving to Glasgow to study acting at the Royal Conservatoire of Scotland.

The 29-year-old said he didn't encounter many people like him as he grew up in Scotland.

"I definitely felt growing up that I wasn't seen as the same as anyone around me because no-one around me looked like me.

"I remember my mum being like, 'everyone looks the same'. She travelled all around Edinburgh... trying to find someone that was black and she couldn't see anyone.

"Role models? There were no black Scottish role models. I felt like I was the only black person in the world."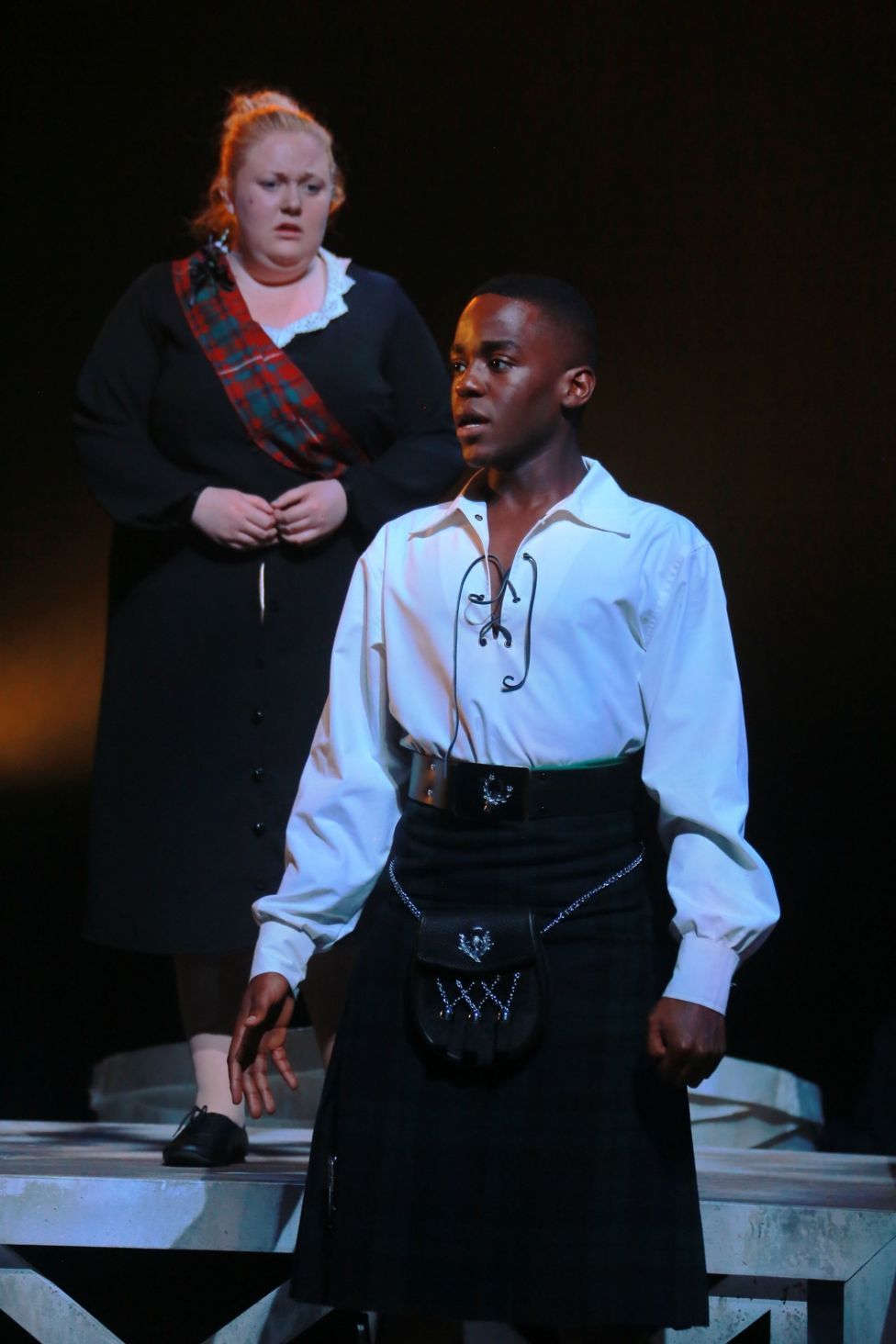 Gatwa was part of the graduate actor scheme at Dundee Rep theatre during the 2013-2014 season

The idea that he might become an actor first came when he was 17, and after training at the Royal Conservatoire of Scotland he moved to London.

Andrew Panton is the artistic director of Dundee Rep Theatre, where Gatwa used to perform. He told BBC Scotland the theatre was hugely proud of him.

"I think Ncuti always had something special about his work, he has always been really focused and there is a mischievousness to a lot of the work he does," he said.

"I will be excited to see what he brings to Doctor Who because every actor who plays that role can do something with it. I have no doubt that Ncuti is going to do something really special."

Gatwa's first TV acting role came with a brief appearance in Scottish sitcom Bob Servant, alongside Brian Cox and Jonathan Watson.

For a time in 2018 he ended up homeless and acting auditions weren't just potential opportunities, they were lifelines.

Breakthrough role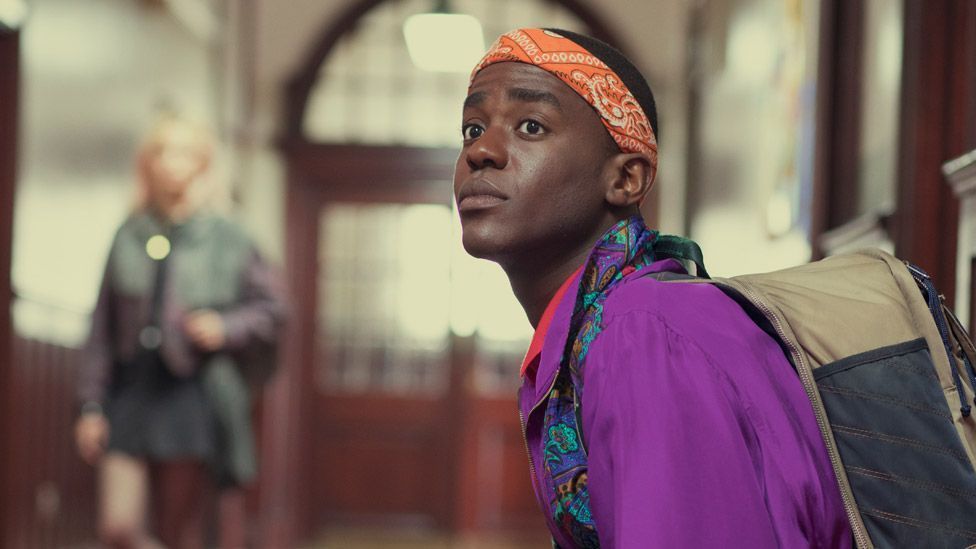 Gatwa plays Eric Effiong in Netflix's Sex Education, receiving several Bafta nominations for the role

In 2019, Gatwa's career took off in a big way after landing a role in Netflix's Sex Education.

He plays Eric Effiong, a gay teenager from a British Nigerian family in the critically-acclaimed series.

His character is bursting with energy, sass and joyfully flamboyant - comfortable in his sexuality, but true to his African heritage.

This was the breakthrough that earned Gatwa a Scottish Bafta and many Bafta nominations as well.

It was also the role that shot him to stardom and eventually into the world of Doctor Who.

'You just are who you are'

Gatwa will be the fourth Scottish actor to take on the role of the Doctor. However, the actor has spoken of his struggle over how to show off his Scottish identity.

"I've always been a bit scared to say that I was Scottish because it was almost as if people wouldn't believe me, or people wouldn't buy that from me, or people wouldn't accept it," he said.

"Now, I think nobody's got the right to tell you who you are. You just are who you are."

Stewart Kyasimire, who made BBC Scotland's Black and Scottish documentary, said Gatwa taking on the role of the Doctor would create a new role model for black Scots.

"I think for the creative community in Scotland and throughout, seeing this young black Scot and seeing him as the next Doctor Who - I think it opens up a lot of conversations," he told BBC Radio's Good Morning Scotland programme.

"I have been speaking to a lot of people in the black community and they are like, 'I don't know much about Doctor Who but just know that I am 100% invested now.'

"Then you have your Sex Education fans who are a younger demographic as well. It's opened up a wide audience".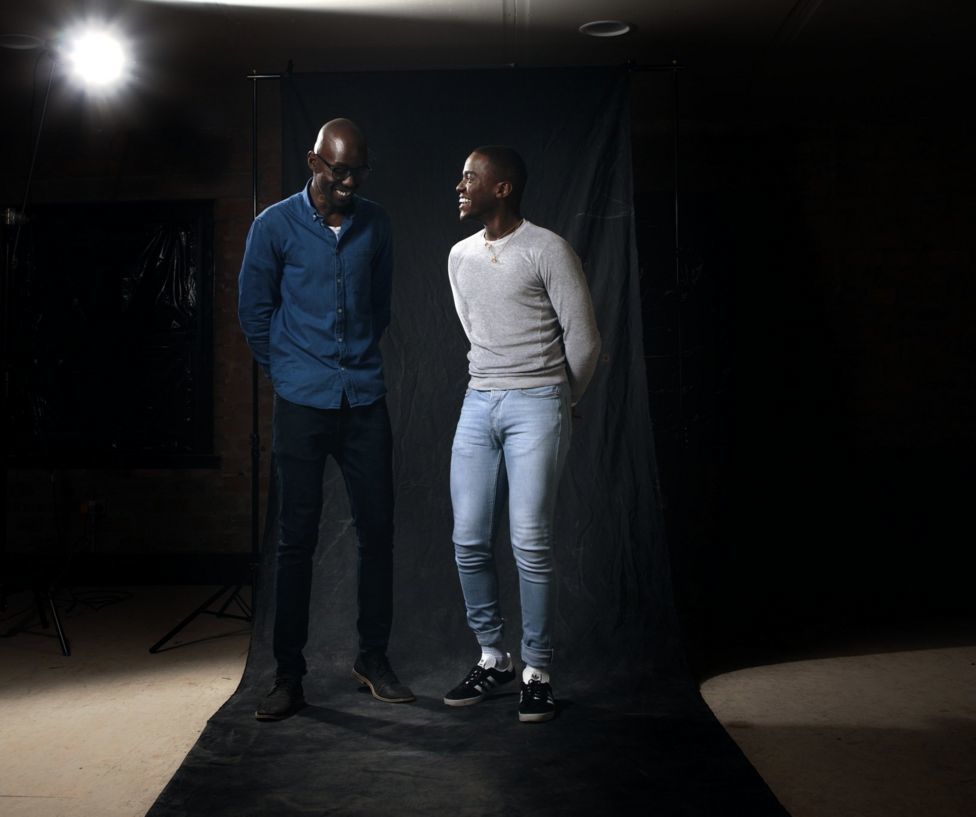 Black and Scottish filmmaker Stewart Kyasimire (left) said Gatwa would create a new role model for young black Scots

Davies, who is is returning as Dr Who's showrunner after leaving in 2009, praised Gatwa's "blazing" audition and said he was the future of Doctor Who.

"It was our last audition. It was our very last one," the writer and producer said. "We thought we had someone, and then in he came and stole it.

"I'm properly, properly thrilled. It's going to be a blazing future."

Doctor Who prides itself on being inclusive and a show which provides a safe space for individuality.

Gatwa is likely to open the show up to new audiences and give another generation of fans a new role model when he makes his debut as the Time Lord next year.