Former SNP MP Natalie McGarry has been found guilty of embezzling £25,000 from two pro-independence groups.
The jury returned the majority verdicts on two charges after three hours of deliberations.

It was alleged during the six-week trial at Glasgow Sheriff Court that McGarry spent some of the money on expenses such as rent and shopping.

Her lawyers admitted that her finances were "disorganised" and "chaotic", but she denied both charges against her.

They related to funds embezzled from Women For Independence (WIFI) and the Glasgow Regional Association (GRA) of the SNP.

McGarry was the MP for Glasgow East between 2015 and 2017.

She was found guilty of embezzling £19,974 while treasurer of WFI between April 2013 and November 2015, and £4,661 when she was treasurer, secretary and convener of the Glasgow Regional Association of the SNP between April 2014 and August 2015.

WFI brought in Ms Young due to "concerns" about Ms McGarry's handling of the organisation's finances.

During the trial, McGarry, 41, of Clarkston, East Renfrewshire, told the court that "thousands" of pounds in pro-independence group expenses would have been paid in cash.

Jurors heard that only records of items that cost over £200 had to be kept for the Electoral Commission, and she lost some records when her phone was seized by police.

McGarry, who was not an accountant and had linked campaign PayPal accounts to her own bank account to manage the finances, said she was receiving about £1,500 to £1,600 a month from her father Brian and aunt Tricia Marwick, a former MSP, at the time.


'Very serious breach of trust'

An overall total of £66,029 was put into her account from WFI sources.

A WFI financial probe in late 2015 discovered an income and expenditure gap of £31,824 and the matter was reported to the police.

McGarry paid back £6,436.21 on September 2015, funded by a £6,500 loan from a friend.

Sheriff Tom Hughes deferred sentencing until next month while background reports are prepared and continued McGarry's bail.

He said: "As a result of all the available information to them and your involvement in working with these organisations, you were successfully nominated for potential election on two separate occasions.

"You were successfully a member of parliament and as all this was going on the jury established you were involved in embezzling funds from these organisations - this was a very serious breach of trust which the organisations placed on you."


Earlier conviction quashed

In December 2019 McGarry had an earlier conviction for embezzlement quashed after judges ruled she had suffered a miscarriage of justice.

Earlier that year the former SNP Glasgow East MP was sentenced to 18 months in prison over the same embezzlement charge.

She was freed on bail a few days later after lodging an appeal.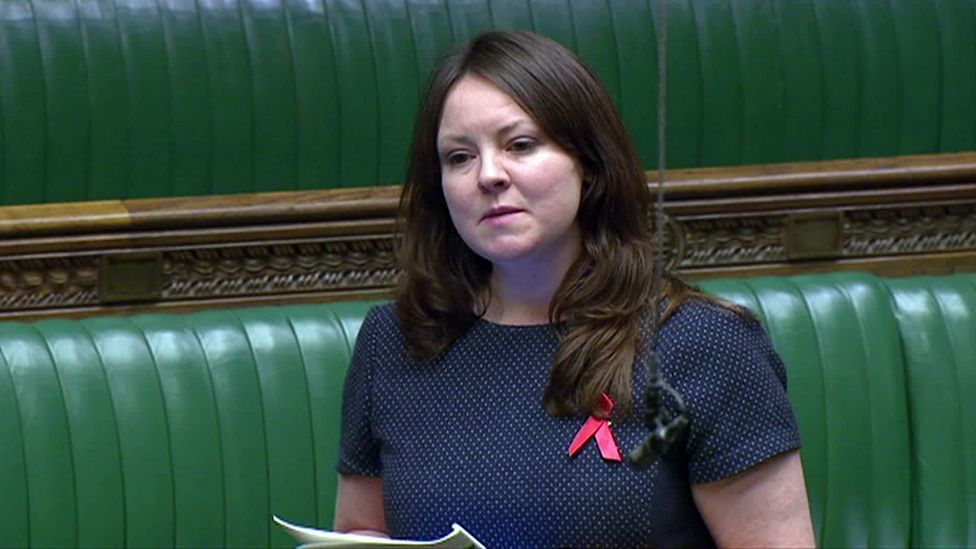 McGarry was elected as the MP for Glasgow East in 2015, but did not stand in the snap general election two years later

In the 2019 trial, McGarry pled guilty to two charges of embezzlement and later had her attempt to withdraw the guilty pleas.

She had not guilty pleas accepted to another embezzlement charge, and a charge that she refused to give police the passcode for a mobile phone.

Her lawyer in that trial told the court she had suffered mental health issues over the years, including depression and anxiety, and also had postpartum depression following the birth of her daughter in November 2017.

McGarry was elected as an SNP MP in 2015 but resigned the party whip after the allegations against her were first made.

She did not seek re-election in the 2017 general election.

Former health secretary Jeane Freeman, who appeared as a witness at the trial last month, told BBC Scotland she had no regrets about reporting McGarry to police, and said she had not acted out of her "own personal hurt" at being let down.

"I'm pleased after seven long years this situation is now been resolved," she said.

"It has been a very difficult and distressing one for everybody.

"I also have to say that I maintain that we were right as a group of women from Women for Independence to, in a situation where there was a significant sum of money that could not be accounted for, put that into the hands of the police and let them, then the Crown Office, decide if there was any case to answer.

"What we were talking about was a question of trust."

She said the money came from ordinary people wanting women's voices heard in the 2014 referendum, "who had had given us their hard earned cash often in situations when they could least afford to do that".

She added: "It is now for the court to decide what happens next."
Women for Independence group member, Jeane Freeman, said it was right to tell police about the unaccounted sum of money